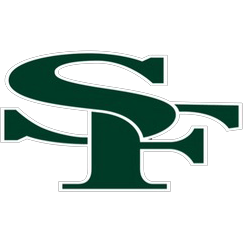 Edmond Santa Fe Wolves
Edmond, OK 73003
Football
Boys Basketball
Girls Basketball
Baseball
Fastpitch
Boys Soccer
Girls Soccer
2017-2018 Football Schedule
Record: 4-0 | Rank: 5
@ Norman
11/2
7PM
vs Jenks
10/26
7PM
@ Westmoore
10/18
7PM
vs Broken Arrow
10/12
7PM
@ Enid
10/5
7PM
vs Yukon
9/28
7PM
@ Edmond Memorial
W
7-42
9/20
vs Norman North
W
49-13
9/14
vs Mustang
W
29-14
9/7
@ Edmond North
W
7-31
8/31
|

Ben Johnson
Can't sugarcoat the truth: it was a rough go of it for everyone not named Michael Swisher last week. Old man Swisher managed to pull off a 16-8 slate with Week 1 picks, but we can all assume he cheated somehow. As it stands now, Swisher leads the pack through two weeks at 27-13, and I'm three games off his pace. Randy Turney is currently third at 23-17 and Whitt Carter is hovering just above .500 at 21-19.

It's our vow to you to be better this week (or something like that). Week 2 picks right here:

Broken Arrow at Owasso

Michael Swisher: Broken Arrow 24, Owasso 14

Ben Johnson: Broken Arrow 37, Owasso 20

Whitt Carter: Broken Arrow 31, Owasso 17

Randy Turney: Broken Arrow 21, Owasso 17

Carl Albert at Del City

Michael Swisher: Carl Albert 31, Del City 20

Ben Johnson: Carl Albert 34, Del City 16

Whitt Carter: Del City 28, Carl Albert 27

Randy Turney: Carl Albert 24, Del City 20


Union at Jenks

Michael Swisher: Union 33, Jenks 24

Ben Johnson: Union 20, Jenks 17

Whitt Carter: Jenks 34, Union 24

Randy Turney: Union 24, Jenks 23


Lincoln Christian at Vian

Michael Swisher: Lincoln Christian 22, Vian 19

Ben Johnson: Vian 32, Lincoln Christian 27

Whitt Carter: Lincoln Christian 28, Vian 21

Randy Turney: Lincoln Christian 34, Vian 24


Tuttle at Plainview

Michael Swisher: Tuttle 21, Plainview 20

Ben Johnson: Tuttle 29, Plainview 22

Whitt Carter: Tuttle 34, Plainview 31

Randy Turney: Tuttle 35, Plainview 21



Booker T. Washington vs. Horn Lake (Miss.)

Michael Swisher: Booker T. Washington 35, Horn Lake 14

Ben Johnson: Horn Lake 24, Booker T. Washington 22

Whitt Carter: Booker T. Washington 35, Horn Lake 27

Randy Turney: Horn Lake 28, Booker T. Washington 17



Bishop McGuinness at Bishop Kelley

Michael Swisher: Bishop Kelley 31, Bishop McGuinness 24

Ben Johnson: Bishop Kelley 16, Bishop McGuinness 13

Whitt Carter: Bishop McGuinness 20, Bishop Kelley 16

Randy Turney: Bishop Kelley 21, Bishop McGuinness 20



Heritage Hall at Clinton

Michael Swisher: Heritage Hall 30, Clinton 20

Ben Johnson: Heritage Hall 35, Clinton 18

Whitt Carter: Heritage Hall 35, Clinton 21

Randy Turney: Heritage Hall 31, Clinton 20



Anadarko at Blanchard

Michael Swisher: Blanchard 29, Anadarko 18

Ben Johnson: Blanchard 29, Anadarko 16

Whitt Carter: Blanchard 42, Anadarko 21

Randy Turney: Blanchard 24, Anadarko 7



Davis at Sulphur

Michael Swisher: Sulphur 18, Davis 16

Ben Johnson: Sulphur 30, Davis 14

Whitt Carter: Sulphur 34, Davis 12

Randy Turney: Sulphur 21, Davis 20



Coweta at Tahlequah

Michael Swisher: Coweta 23, Tahlequah 17

Ben Johnson: Coweta 27, Tahlequah 19

Whitt Carter: Coweta 34, Tahlequah 27

Randy Turney: Tahlequah 17, Coweta 10



Southwest Covenant at Empire

Michael Swisher: SW Covenant 48, Empire 28

Ben Johnson: SW Covenant 44, Empire 29

Whitt Carter: SW Covenant 38, Empire 22

Randy Turney: SW Covenant 34, Empire 17



Stillwater at Norman North

Michael Swisher: Stillwater 29, Norman North 19

Ben Johnson: Stillwater 42, Norman North 19

Whitt Carter: Stillwater 34, Norman North 24

Randy Turney: Stillwater 24, Norman North 17



Mustang at Edmond Santa Fe

Michael Swisher: Edmond Santa Fe 24, Mustang 21

Ben Johnson: Edmond Santa Fe 28, Mustang 24

Whitt Carter: Edmond Santa Fe 35, Mustang 28

Randy Turney: Edmond Santa Fe 18, Mustang 16



Lawton MacArthur at Lawton

Michael Swisher: Lawton 28, Lawton MacArthur 20

Ben Johnson: Lawton 33, Lawton MacArthur 31

Whitt Carter: Lawton MacArthur 41, Lawton 28

Randy Turney: Lawton 21, Lawton MacArthur 14



Ada at Noble

Michael Swisher: Noble 24, Ada 18

Ben Johnson: Noble 33, Ada 23

Whitt Carter: Noble 21, Ada 13

Randy Turney: Ada 21, Noble 7

Edison at Memorial

Michael Swisher: Memorial 23, Edison 16

Ben Johnson: Edison 26, Memorial 24

Whitt Carter: Edison 27, Memorial 21

Randy Turney: Memorial 14, Edison 13
Adair at Locust Grove

Michael Swisher: Adair 38, Locust Grove 22

Ben Johnson: Adair 38, Locust Grove 22

Whitt Carter: Adair 34, Locust Grove 18

Randy Turney: Adair 28, Locust Grove 13
Oklahoma Christian Academy at Crescent

Michael Swisher: Crescent 30, OCA 15

Ben Johnson: OCA 35, Crescent 30

Whitt Carter: Crescent 21, OCA 20

Randy Turney: OCA 28, Crescent 21


Let us know what you think. Tweet your predictions to us at @Skordle.

|

Ben Johnson
Wild Friday for Ford
Edmond Santa Fe's pep assembly last Friday couldn't start soon enough for Wolves standout Trace Ford. After all, he had a secret to let out.
In the hours before Edmond Santa Fe was slated to take on Edlam rival Edmond North, Ford, a 6-foot-2, 220-pound defensive lineman, announced in front of a full gymnasium that he had decided to verbally commit to Oklahoma State.
"It was very hard keeping it a secret, especially when school started and every single classmate asked me where I was going and if I knew," Ford said. "I wanted to tell but I wanted it to be a surprise."
Ford told the Oklahoman that he managed to keep it a secret for a month, but he was finally ready to get it out, choosing OSU over the likes of Arkansas State, Baylor and California.
Then the Wolves hammered Edmond North for a 31-7 victory, capping a memorable day for Ford.
"Friday was extremely crazy," he said. "I was a superstar in the hallways, and I had crazy adrenaline pumping. And then after winning the game later on, it was probably one of the best days of my life."
The Wolves take on Mustang Friday, and the rest of the season Ford has a mission in mind.
"I want all the schools that believed I wasn't big enough or good enough, or the schools that didn't offer me to wish they did and regret the decision," Ford said.
Walker runs wild in Stillwater victory

There will be no such thing as a sophomore slump for Stillwater's Qwontrel Walker. After emerging as one of the state's top tailbacks as a freshman, Walker picked up where he left off in the Pioneers' 61-18 thrashing of Edmond Memorial last week.
"Qwontrel was incredible," Stillwater coach Tucker Barnard said of Walker's 25-carry, 275-yard, four-touchdown performance. "We watched video (following the game) and were absolutely amazed at some of his runs. His strength, balance, redirection and burst really are special. He's a sophomore, but he's -- no doubt in my mind -- one of the best around."
And there were plenty of other standouts on offense for Stillwater (1-0) against the Bulldogs.
Quarterback Gunnar Gundy completed 13 of 16 passes for 220 yards and two touchdowns. He also accounted for a rushing touchdown, too.
Anthony Bland led the Pioneers' receiving group with six catches for 110 yards and one touchdowns, and Cal Tracy and Andrew Winn combined to haul in eight receptions for 107 yards and a score.
"Gunnar and our receivers protected the running game," Barnard said. "Gunnar is so accurate and his arm is great, so he can make every throw you want a quarterback to make and he doesn" t="" put="" the="" ball="" in="" jeopardy."<="" span="">
On tap for the Pioneers will be road game at Norman North on Thursday.
*Photos courtesy of Jimmy Gillespie/Stillwater NewsPress/CNHI

|

Ben Johnson
Here's the top 10 in each class heading into Week 1.
Class 6AI
1. Broken Arrow (3) - 1-0
2. Owasso (2) - 1-0
3. Jenks (3) - 1-0
4. Union (4) - 0-1
5. Norman North (5) - 0-0
6. Mustang (6) - 0-0
7. Westmoore (7) - 0-0
8. Norman (8) - 0-0
9. Edmond Santa Fe (9) - 0-0
10. Yukon (10) - 1-0
Class 6AII
1. Booker T. Washington (1) - 0-1
2. Midwest City (2) - 1-0
3. Stillwater (3) - 0-0
4. Bixby (4) - 0-1
5. Lawton (5) - 0-0
6. Del City (6) - 0-0
7. Putnam City (7) - 0-0
8. Sand Springs (8) - 0-0
9. Muskogee (9) - 0-0
10. Shawnee (10) - 0-1
Class 5A
1. Carl Albert (1) - 0-0
2. Bishop McGuinness (2) - 0-0
3. Coweta (3) - 0-0
4. Ardmore (4) 0-0