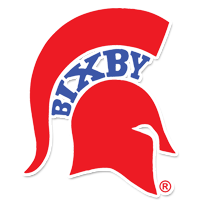 Bixby Spartans
Bixby, OK 74008
Football
Boys Basketball
Girls Basketball
Baseball
Slow Pitch
Fastpitch
Boys Soccer
Girls Soccer
2017-2018 Football Schedule
Record: 2-1 | Rank: 3
@ Muskogee
11/2
7PM
vs Shawnee
10/26
7PM
@ Sand Springs
10/18
7PM
vs Bartlesville
10/12
7PM
@ Ponca City
10/5
7PM
vs Booker T Washington
9/28
7PM
@ Sapulpa
W
0-45
9/21
vs Putnam City
W
64-0
9/14
vs Mansfield Timberview
W
36-33
8/31
vs Jenks
L
14-28
8/24
|

Ben Johnson
Well, I can't lie, my performance in Week 3 was disgraceful. It's been a rough go of it for myself and Whitt this season. But we're just waiting for district play to kick it into gear.
Week 3 picks - Swisher 11-3 | Coach Turney 10-4 | Whitt 9-5 | Ben 8-6
Overall - Swisher 51-22 | Turney 48-25 | Ben 43-30 | Whitt 42-31

Week 4 picks comin' at ya:

Jenks at Broken Arrow

Michael Swisher: Broken Arrow 23, Jenks 14

Ben Johnson: Broken Arrow 24, Jenks 17

Whitt Carter: Broken Arrow 27, Jenks 17

Randy Turney: Broken Arrow 21, Jenks 20

Blanchard at Bethany

Michael Swisher: Blanchard 34, Bethany 25

Ben Johnson: Blanchard 32, Bethany 27

Whitt Carter: Blanchard 34, Bethany 31

Randy Turney: Blanchard 28, Bethany 7


Lawton at Midwest City

Michael Swisher: Midwest City 35, Lawton 30

Ben Johnson: Lawton 21, Midwest City 20

Whitt Carter: Midwest City 27, Lawton 17

Randy Turney: Midwest City 35, Lawton 31


Owasso at Union

Michael Swisher: Owasso 38, Union 30

Ben Johnson: Union 34, Owasso 28

Whitt Carter: Union 42, Owasso, 40

Randy Turney: Union 28, Owasso 24


Thomas at Hooker

Michael Swisher: Hooker 21, Thomas 18

Ben Johnson: Hooker 25, Thomas 24

Whitt Carter: Thomas 21, Hooker 14

Randy Turney: Hooker 20, Thomas 14
Noble at Duncan

Michael Swisher: Duncan 22, Noble 7

Ben Johnson: Duncan 28, Noble 24

Whitt Carter: Duncan 28, Noble 14

Randy Turney: Duncan 24, Noble 13

Wagoner at Catoosa

Michael Swisher: Wagoner 24, Catoosa 22

Ben Johnson: Catoosa 20, Wagoner 17

Whitt Carter: Wagoner 27, Catoosa 24

Randy Turney: Wagoner 34, Catoosa 20

Bixby at Sapulpa

Michael Swisher: Bixby 29, Sapulpa 20

Ben Johnson: Bixby 33, Sapulpa 31

Whitt Carter: Bixby 42, Sapulpa 21

Randy Turney: Bixby 30, Sapulpa 14


Lawton MacArthur at Ardmore

Michael Swisher: Ardmore 31, Lawton MacArthur 22

Ben Johnson: Ardmore 32, Lawton MacArthur 23

Whitt Carter: Ardmore 34, Lawton MacArthur 21

Randy Turney: Ardmore 22, Lawton MacArthur 7


Cashion at Christian Heritage

Michael Swisher: Cashion 33, Christian Heritage 14

Ben Johnson: Cashion 41, Christian Heritage 17

Whitt Carter: Cashion 37, Christian Heritage 27

Randy Turney: Cashion 34, Christian Heritage 14


Guthrie at Piedmont

Michael Swisher: Guthrie 28, Piedmont 21

Ben Johnson: Guthrie 30, Piedmont 20

Whitt Carter: Guthrie 21, Piedmont 13

Randy Turney: Guthrie 31, Piedmont 13


Stigler at Lincoln Christian

Michael Swisher: Lincoln Christian 31, Stigler 24

Ben Johnson: Lincoln Christian 22, Stigler 20

Whitt Carter: Lincoln Christian 38, Stigler 28

Randy Turney: Lincoln Christian 38, Stigler 20



Chandler at Jones

Michael Swisher: Jones 30, Chandler 19

Ben Johnson: Chandler 17, Jones 16

Whitt Carter: Jones 32, Chandler 20

Randy Turney: Jones 42, Chandler 14

Haskell at Sperry

Michael Swisher: Sperry 34, Haskell 10

Ben Johnson: Sperry 27, Haskell 20

Whitt Carter: Sperry 34, Haskell 13

Randy Turney: Sperry 20, Haskell 14
Meeker at Kellyville

Michael Swisher: Kellyville 19, Meeker 14

Ben Johnson: Kellyville 22, Meeker 18

Whitt Carter: Kellyville 21, Meeker 17

Randy Turney: Kellyville 18, Meeker 14
Spiro at Vian

Michael Swisher: Vian 33, Spiro 23

Ben Johnson: Vian 29, Spiro 21

Whitt Carter: Vian 42, Spiro 21

Randy Turney: Vian 31, Spiro 20
Pawnee at Tonkawa

Michael Swisher: Tonkawa 24, Pawnee 18

Ben Johnson: Tonkawa 20, Pawnee 16

Whitt Carter: Tonkawa 37, Pawnee 26

Randy Turney: Tonkawa 28, Pawnee 20
Davenport at Strother

Michael Swisher: Davenport 55, Strother 20

Ben Johnson: Davenport 61, Strother 12

Whitt Carter: Davenport 50, Strother 14

Randy Turney: Davenport 58, Strother 12
Let us know what you think. Tweet your predictions to us at @Skordle.

|

Ben Johnson
District play has arrived in full force, and there are great games all over the state this week.
Narrowing down the list to the top 10 games wasn't easy, but here it is:
1. 6AI No. 2 Jenks (3-0) at 6AI No. 1 Broken Arrow (3-0): This game was an offensive showcase for both teams last year, despite a relatively low-scoring 26-13 final, which was won by Jenks. Both teams accumulated more than 400 yards on offense, and Noah Cortes rushed for 164 yards on 22 carries. But it was Jenks quarterback Ian Corwin who passed for 365 yards and three scores. And thus Jenks' domination of Broken Arrow throughout the years continued. The Trojans have gone 14-2 against Broken Arrow since the Tigers won back-to-back seasons against Jenks in 2002 and '03.

2. 4A No. 1 Blanchard (3-0) at 4A No. 5 Bethany (3-0): Heck of a way to get things started in 4A-2. Blanchard is 6-3 against Bethany since 2008, but the two club have altered wins in the series since 2013. And it was Blanchard who won last year, 17-0.

3. 6AII No. 6 Lawton at 6AII No. 2 Midwest City (2-1): Expect points aplenty. Between Lawton's Miles Davis and Midwest City's Preston Colbert, there should be plenty of offensive fireworks. Midwest City has won the last two meetings, including a 41-35 victory last season.

4. 6AI No. 3 Owasso (1-2) at 6AI No. 4 Union (1-2): The Rams have scored at will this season with Will Kuehne at quarterback, but Owasso's defense has failed to stop anyone. Owasso is yielding an average of 44 points per game, and that's exactly how much Union scored against the Rams in last year's regular-season showdown. But then Owasso got its revenge with a 21-14 victory in the 6AI title game.

5. A No. 5 Thomas (2-1) at A No. 1 Hooker (3-0): Hooker has punished some out-of-state teams recently with wins over Booker (Texas) and Clayton (New Mexico). But now the Bulldogs return the the Sooner State and get fifth-ranked Thomas in District 1 play. Thomas won last year's game, 20-0, and expect another moderately low-scoring game again this year.

6. 5A No. 10 Noble (2-1) at 5A No. 8 Duncan (3-0): Talk a one-sided matchup throughout history. Since 1999, Duncan is 8-0 against Noble and the closest result along the way a 21-0 win for Duncan in 2006. The rest have been routs, including the last meeting between the two -- a 41-0 pummeling in 2011.

7. 4A No. 2 Wagoner (3-0) at Catoosa (3-0): Copy and paste the Noble-Duncan series information here. Only it's Wagoner owning the series for more than two decades. Since 1996, Wagoner is 10-1 against Catoosa, with the Indians' lone victory in 2011 (45-27). The two clubs have shared District 4A-3 real estate since 2010, and this one will go a long way in determining who finishes atop 4A-3 this year.

8. 6AII No. 3 Bixby (2-1) at 6AII No. 8 Sapulpa (3-0): Eli Williams and Co. have posted some impressive wins over Edison, Claremore and East Central and are off to a 3-0 start -- the best start to a Chieftains' season since going 4-0 to begin the 2013 campaign. The winning streak in 2013 was snapped by Jenks in Week 5 and Bixby followed with a win over the Chieftains. That actually began a current five-game winning streak for the Spartans over Sapulpa, including last year's 48-10 rout.

9. Lawton MacArthur (1-1) at 5A No. 2 Ardmore (3-0): The Tigers may be the higher-ranked team here, but it's been Lawton MacArthur with all the wins in this series dating back to 2005. The Highlanders won last season against Ardmore, 36-7, but the games in 2016 and 2015 were both decided by one point apiece.

10. A No. 2 Cashion (4-0, 1-0 A-3) at Christian Heritage (2-1, 1-0): These two reunite for the first time since 2009. The Wildcats' offense gets its rightful share of attention, but so far it's been the Cashion defense that has been dominant, allowing a total of 18 points through four games. And in an incredibly-deep District A-3, every victory is important.


Honorable mention
5A No. 9 Guthrie at Piedmont: Bluejays are 7-1 since the two started playing each other in 2006.

Stigler at 3A No. 4 Lincoln Christian: District 3A-3 is going to be deep, and someone among Lincoln Christian, Seminole, Stigler, Checotah and Idabel is going to miss the playoffs. Look for plenty of offensive fireworks in this one.

Chandler at 2A No. 4 Jones: Jones is 4-0 against Chandler since 1999, including a 58-6 victory in last year's playoffs.

Haskell at 2A No. 2 Sperry: The last time these two met was 2007 -- a 20-7 win for Sperry.

Meeker at Kellyville: Both clubs are off to surprising 3-0 starts, and they meet for the first time.

Spiro at 2A No. 3 Vian: Wolverines are 4-0 against Spiro since 2006, including a 32-14 win in the last meeting in 2013.

Pawnee at Tonkawa: Playoffs spots in District A-5 look like they will be difficult to come by with the likes of Barnsdall, Morrison, Pawhuska, Tonkawa and Pawnee off to solid starts. Since 2008, Tonkawa has won seven of eight meetings against the Black Bears.

B No. 2 Davenport at Strother: The Bulldogs have mercy-ruled Strother the past two seasons, but Strother is coming off solid wins of its own against Bowlegs and Sasakwa. One problem for Strother: Davenport posted 80 points last week!




So who wins all the matchups? Check back for our weekly picks on Thursday.
|

Ben Johnson
Here's the top 10 in each class heading into Week 1.
Class 6AI
1. Broken Arrow (3) - 1-0
2. Owasso (2) - 1-0
3. Jenks (3) - 1-0
4. Union (4) - 0-1
5. Norman North (5) - 0-0
6. Mustang (6) - 0-0
7. Westmoore (7) - 0-0
8. Norman (8) - 0-0
9. Edmond Santa Fe (9) - 0-0
10. Yukon (10) - 1-0
Class 6AII
1. Booker T. Washington (1) - 0-1
2. Midwest City (2) - 1-0
3. Stillwater (3) - 0-0
4. Bixby (4) - 0-1
5. Lawton (5) - 0-0
6. Del City (6) - 0-0
7. Putnam City (7) - 0-0
8. Sand Springs (8) - 0-0
9. Muskogee (9) - 0-0
10. Shawnee (10) - 0-1
Class 5A
1. Carl Albert (1) - 0-0
2. Bishop McGuinness (2) - 0-0
3. Coweta (3) - 0-0
4. Ardmore (4) 0-0