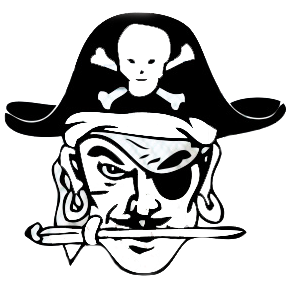 Locust Grove Pirates
Locust Grove, OK 74352
Football
Boys Basketball
Girls Basketball
Baseball
Slow Pitch
Fastpitch
Boys Soccer
Girls Soccer
2017-2018 Football Schedule
Record: 3-0 | Rank: 9
@ Vinita
11/2
7PM
vs Verdigris
10/26
7PM
@ Cascia Hall
10/18
7PM
vs Jay
10/12
7PM
@ Inola
10/5
1PM
vs Berryhill
9/28
7PM
@ Sequoyah (Claremore)
W
12-34
9/21
vs Sequoyah Tahlequah
W
42-7
9/14
vs Adair
W
59-16
9/6
@ Salina
W
0-34
8/30
|

Ben Johnson
Can't sugarcoat the truth: it was a rough go of it for everyone not named Michael Swisher last week. Old man Swisher managed to pull off a 16-8 slate with Week 1 picks, but we can all assume he cheated somehow. As it stands now, Swisher leads the pack through two weeks at 27-13, and I'm three games off his pace. Randy Turney is currently third at 23-17 and Whitt Carter is hovering just above .500 at 21-19.

It's our vow to you to be better this week (or something like that). Week 2 picks right here:

Broken Arrow at Owasso

Michael Swisher: Broken Arrow 24, Owasso 14

Ben Johnson: Broken Arrow 37, Owasso 20

Whitt Carter: Broken Arrow 31, Owasso 17

Randy Turney: Broken Arrow 21, Owasso 17

Carl Albert at Del City

Michael Swisher: Carl Albert 31, Del City 20

Ben Johnson: Carl Albert 34, Del City 16

Whitt Carter: Del City 28, Carl Albert 27

Randy Turney: Carl Albert 24, Del City 20


Union at Jenks

Michael Swisher: Union 33, Jenks 24

Ben Johnson: Union 20, Jenks 17

Whitt Carter: Jenks 34, Union 24

Randy Turney: Union 24, Jenks 23


Lincoln Christian at Vian

Michael Swisher: Lincoln Christian 22, Vian 19

Ben Johnson: Vian 32, Lincoln Christian 27

Whitt Carter: Lincoln Christian 28, Vian 21

Randy Turney: Lincoln Christian 34, Vian 24


Tuttle at Plainview

Michael Swisher: Tuttle 21, Plainview 20

Ben Johnson: Tuttle 29, Plainview 22

Whitt Carter: Tuttle 34, Plainview 31

Randy Turney: Tuttle 35, Plainview 21



Booker T. Washington vs. Horn Lake (Miss.)

Michael Swisher: Booker T. Washington 35, Horn Lake 14

Ben Johnson: Horn Lake 24, Booker T. Washington 22

Whitt Carter: Booker T. Washington 35, Horn Lake 27

Randy Turney: Horn Lake 28, Booker T. Washington 17



Bishop McGuinness at Bishop Kelley

Michael Swisher: Bishop Kelley 31, Bishop McGuinness 24

Ben Johnson: Bishop Kelley 16, Bishop McGuinness 13

Whitt Carter: Bishop McGuinness 20, Bishop Kelley 16

Randy Turney: Bishop Kelley 21, Bishop McGuinness 20



Heritage Hall at Clinton

Michael Swisher: Heritage Hall 30, Clinton 20

Ben Johnson: Heritage Hall 35, Clinton 18

Whitt Carter: Heritage Hall 35, Clinton 21

Randy Turney: Heritage Hall 31, Clinton 20



Anadarko at Blanchard

Michael Swisher: Blanchard 29, Anadarko 18

Ben Johnson: Blanchard 29, Anadarko 16

Whitt Carter: Blanchard 42, Anadarko 21

Randy Turney: Blanchard 24, Anadarko 7



Davis at Sulphur

Michael Swisher: Sulphur 18, Davis 16

Ben Johnson: Sulphur 30, Davis 14

Whitt Carter: Sulphur 34, Davis 12

Randy Turney: Sulphur 21, Davis 20



Coweta at Tahlequah

Michael Swisher: Coweta 23, Tahlequah 17

Ben Johnson: Coweta 27, Tahlequah 19

Whitt Carter: Coweta 34, Tahlequah 27

Randy Turney: Tahlequah 17, Coweta 10



Southwest Covenant at Empire

Michael Swisher: SW Covenant 48, Empire 28

Ben Johnson: SW Covenant 44, Empire 29

Whitt Carter: SW Covenant 38, Empire 22

Randy Turney: SW Covenant 34, Empire 17



Stillwater at Norman North

Michael Swisher: Stillwater 29, Norman North 19

Ben Johnson: Stillwater 42, Norman North 19

Whitt Carter: Stillwater 34, Norman North 24

Randy Turney: Stillwater 24, Norman North 17



Mustang at Edmond Santa Fe

Michael Swisher: Edmond Santa Fe 24, Mustang 21

Ben Johnson: Edmond Santa Fe 28, Mustang 24

Whitt Carter: Edmond Santa Fe 35, Mustang 28

Randy Turney: Edmond Santa Fe 18, Mustang 16



Lawton MacArthur at Lawton

Michael Swisher: Lawton 28, Lawton MacArthur 20

Ben Johnson: Lawton 33, Lawton MacArthur 31

Whitt Carter: Lawton MacArthur 41, Lawton 28

Randy Turney: Lawton 21, Lawton MacArthur 14



Ada at Noble

Michael Swisher: Noble 24, Ada 18

Ben Johnson: Noble 33, Ada 23

Whitt Carter: Noble 21, Ada 13

Randy Turney: Ada 21, Noble 7

Edison at Memorial

Michael Swisher: Memorial 23, Edison 16

Ben Johnson: Edison 26, Memorial 24

Whitt Carter: Edison 27, Memorial 21

Randy Turney: Memorial 14, Edison 13
Adair at Locust Grove

Michael Swisher: Adair 38, Locust Grove 22

Ben Johnson: Adair 38, Locust Grove 22

Whitt Carter: Adair 34, Locust Grove 18

Randy Turney: Adair 28, Locust Grove 13
Oklahoma Christian Academy at Crescent

Michael Swisher: Crescent 30, OCA 15

Ben Johnson: OCA 35, Crescent 30

Whitt Carter: Crescent 21, OCA 20

Randy Turney: OCA 28, Crescent 21


Let us know what you think. Tweet your predictions to us at @Skordle.

|

Ben Johnson

Look back at 2017
2017 district champs
3A-1: Oklahoma Christian School - Kingfisher gave OCS a run for its money in district play, but the Saints marched to a 28-22 victory against the Yellowjackets to close out the regular season. In the playoffs, Mason Arnold, who rushed for 1,368 yards his senior season, and the Saints almost knocked off Beggs, but the Demons moved on an eventually made the 3A championship game.
3A-2: Jones - The Longhorns were machine-like in 2017. It was a near cakewalk to 13-0, and it was the same story in the first three rounds of the playoffs. But then John Marshall got in the way. That's when Jones' season came to a half at 13-1.

3A-3: John Marshall - The Bears had weapons for days on their way to the 3A-3 title and the Class 3A crown. Both Devonte Lee and Trey Eason rushed for more than 1,000 yards, but it was Lee who amassed 2,175 yards and 35 touchdowns before heading off to Nevada to start his collegiate career.

3A-4: Sulphur - The only blemish the Bulldogs endured in the season's first 13 weeks was a loss to John Marshall out of district play. Beyond that, the Bulldogs rolled right up until the 3A semifinals. There, Beggs derailed Sulphur and its plans to advance to the title game.

3A-5: Berryhill - Had all the makings of a team poised to make a run at the title in 2017. The Chiefs pulled out a seven-point win over Sperry in district play for the crown, and Berryhill's defense was stout all season long. But then Tahlequah Sequoyah pulled off a 32-30 upset in the second of the 3A playoffs to stun Berryhill.
3A-6: Beggs - The Demons had no problem scoring points last season. Quarterback Dalton Spring and all his weapons put up 592 points in 14 weeks, including eight performance of 40-plus points. Beggs stormed its way to the 3A finals, but there points were hard to come by in a 14-7 loss to John Marshall.

3A-7: Jay - No one pegged as the 3A champion before the 2017 season started. That's when Gabe Simpson and company steamrolled their way to a 9-1 regular season, including an unbeaten run through district play. But in the second round of the playoffs, Sperry ousted the Bulldogs from the playoffs.

3A-8: Idabel -Offering up stout defense all year long, the Warriors only slip-up in district play was against Eufaula. Idabel did, however, knock off Muldrow, who tied with the Warriors atop the district standings. In the playoffs, Idabel beat Bristow in the second round of the postseason, but John Marshall ended the Warriors' season in the quarterfinals.

Talking title game: John Marshall 14, Beggs 7

Both John Marshall and Beggs could put up points at will in 2017, but neither succeeded in doing so in the championship game. The two teams combined for six turnovers in the title game, but it was Devonte Lee's 51-yard touchdown run midway through the fourth quarter to put the Bears ahead for good. Lee rushed for 223 yards on 25 carries in John Marshall's first championship since 1995.



On to 2018...


Players to watch
- Jett Sternberger (Kingfisher): The Yellowjacket quarterback was instrumental on offense all year long in 2017. Sternberger completed 183 of his 282 passes for 2,398 yards and 35 touchdowns.