History in the Making Part 1: The Regular Season

by Michael Swisher (@michaelswisher)
4/27/2020 11:14:03 AM
posted in: Articles | 2,972 views
---
History.
The 2019-20 basketball season will certainly go down in the books for making it.
It will forever be remembered as the year that never ended. Better put, it was never finished for most of Oklahoma's high school basketball classifications.
Save for A and B, there was a beginning and a middle, but no end.
That's 80 teams that got no resolution.
Oh, they got to feel the glory of reaching the state tournament, but never were afforded that closure.
Whether it was a blowout in the quarterfinals, a buzzer-beater in the semifinals, having to settle for silver or raising that gold ball, they will never know what might have been.
In this multi-part series, Skordle will give you a closer look at the roller coaster that was the 2019-20 basketball season from two men who were part of every step.
We talked with two coaches who experienced the grueling regular season, the highs of qualifying for state and the lows of not getting to actually experience state itself.
This series will delve deep into the emotions of Perry's Brandon Hight and Cashion's John Hardaway.
The latter got Cashion to the state tournament for the first time since 1996.
Hight, meanwhile, more than one-upped his friend. He coached Perry to state for the first time...ever.
What was it like to battle through a marathon season? Take some tough losses? Play in that area championship? Win that area championship? LOSE that area championship and play the next night? Prepare for the state tournament? Have OKC become the epicenter of the coronavirus the night before the biggest game in your coaching career? Have that state tournament postponed? Live with the unknown for multiple weeks? And, ultimately be told you'll never play the state tournament you and your team worked so hard to attain?
Find out what was going through the minds of Hight and Hardaway, how they dealt with it and what it meant to them and their teams.
Part I - The Regular Season
Coming into the season, there was reason for optimism in both Cashion and Perry.
Both programs have been overshadowed by other sports at their own school.
Perry, of course, has the behemoth wrestling juggernaut with which to share the winter spotlight while Cashion's football team has returned to prominence under Lynn Shackelford.
However, the 2019-20 season gave fans at both schools reason to believe they should be cheering on the boys' roundball teams.
Perry was coming off a 22-6 campaign in 2019 in which it reached the area finals in Class 3A before losing two straight.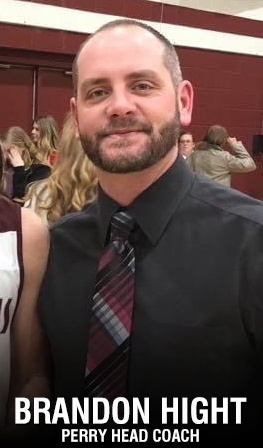 Cashion, meanwhile, was 16-10 in 2019 and - for the 23rd consecutive year! - failed to get beyond the regional tournament. However, there was reason for optimism in 2020. Coming back from last year's squad were seniors like Jacob Woody, Alex Nabavi and TJ Roberts. Also back was a deep crop of sophomores who cut their teeth as freshmen last season. Coaches ranked Cashion No. 13 in 2A to start the year.
Hardaway: Expectations were very high. We had so much coming back and our freshmen were now sophomores. We had won some big games the year before and played up as much as we could in the summer and did well.
The Maroons lived up to their hype early. After starting the season ranked No. 11, they won their first nine games and moved all the way up to No. 4. They won their first two games of the Wheat Capital Tournament to earn a shot at 4A defending champ and top-ranked Kingfisher in the finals. Perry pushed Kingfisher for three-plus quarters before ultimately losing 68-49.
Hight: You never like to lose, but I think it did give our guys some confidence that they could compete with good teams. I'm not sure a 19-point loss can always prove that, but I felt like our guys competed, played hard and didn't look scared of the moment; which, the previous year in the playoffs, I felt like the moment was almost too big for us at times.
Cashion had to wait...and wait...and wait to start its season. That's because the Wildcat football team advanced the way to the Class A state championship. Despite two starters and two of its top bench players being on the football team, the Wildcats opened their season Dec. 13 in a tournament at Garber.
Cashion advanced to Saturday's title game against the host Wolverines...the same day as the football team's state title game at Edmond.
Hardaway: That was an incredibly long day! We had about 13 kids without our football players. We started that day in the morning in my classroom with film and then had a shootaround. Our team and the girls team drove to the football game together at UCO. We watched the football game and were not in a huge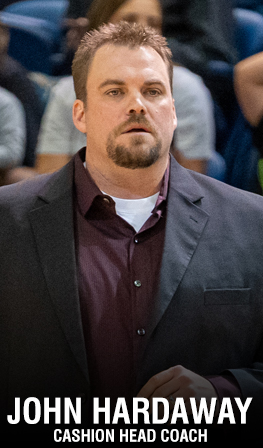 to leave because we knew there was going to be some time needed, win or lose.
Ringling defeated Cashion 20-14 in the football title tilt. The basketball teams, both of which were in the championship games at Garber, loaded up for the trip north.
Hardaway: On the way up, I was a little weary how the full day would take its toll on us. But the pressure that night was definitely on Garber because of the football game and not having our full set of guys. We started the game kind of slow, were getting blasted early, but hung around. We had an unbelievable third quarter.
Cashion outscored Garber 26-15 in the third quarter. Vance Raney made four of the team's seven 3-pointers in the decisive frame. Cashion went on to win the game 61-55 against a Garber team that was ranked No. 3 in Class A at the time. Garber ultimately won the Class A state championship.
Hardaway: Once we got the lead we were able to manage the rest of the game very well. It was an awesome win and I felt like it really jump-started our season for us in the right way. It definitely got everyone else's attention as well.
The Maroons bounced back from their first loss to win two straight games, but the biggest lull in their season followed. Perry dropped a 70-66 decision to Woodward on Jan. 21. That was the start of four losses in six games. Two of those came consecutively in the Cashion County Line Tournament (Crossings Christian and Clinton). After the tournament, Hooker edged the Maroons at the Downtown Enid Basketball Festival.
Hight: We lost those four games in a two-week stretch where my best player had a pretty significant injury, but continued to play. I also had four guys test positive for the flu B right before the Hooker game and they played through it. I've always told my guys, "Sports are like life: You're going to go through ups and downs and how you respond is important." Plus we played in the Cashion tournament where five teams ultimately made the state tournament and Clinton was an area qualifier in 4A. I don't think doubt ever crept in for us, but we talked as a team about how it was up to us to get things turned around one game at a time. No point in feeling sorry for ourselves.
Cashion won its first 11 games. Included was the Three Rivers Conference Tournament championship for the second straight year - after having never won it before 2019. The Wildcats beat 3A No. 10 Hennessey - the conference standard bearer for the last several years - 47-46 in the championship.
Hardaway: That was so big for us. Winning the conference tournament is really tough and Hennessey is such a tough team. They have really controlled things on the boys side since Brady (Page) has been there as head coach and they had one of the best kids around in Angel Rodriguez. Hennessey beat us most of that game. They ran a triangle-and-2 and we hadn't seen that all year. They played us like a program of their caliber should. Somehow we found a way. To win the conference tournament two years in a row, beating Hennessey two years in a row after having never won it before really speaks to the type of kids we have.
The win helped push Cashion to No. 7 in the next week's rankings. A week and a half later, the Wildcats hosted their County Line Tournament, dubbed by most coaches on the boys' side as the "Tournament of Champions." Cashion, undefeated and ranked seventh in 2A, was the FIFTH seed. The Wildcats played 3A No. 9 Crossings Christian IN THE FIRST ROUND. Crossings emerged 62-60 on a last-second shot and ultimately won the tournament. Cashion "settled" for fifth place. However, the Wildcats sent more notice by defeating 2A No. 1 Dale 53-42 in that consolation championship.
Hardaway: That was a tough, tough loss, but we responded well the next day against Alva and I think having the opportunity to play No. 1 at the time on our home floor was a great opportunity.
Cashion's tournament saw five of its boys teams (Cashion, Perry, Crossings, Dale, OCS) reach the state tournament in their respective class. Dale and Perry each went 1-2 in the tournament. Hardaway knew there was no "settling" for fifth place.
Hardaway: It was the hardest tournament in Oklahoma for schools 4A and below, there's no question about it. Going into that week, obviously we wanted to win it, but anyone that found a way to win two games had an incredible tournament.
Cashion made another big leap in the rankings, this time all the way to No. 3, but still behind Dale. That changed the next week when the Wildcats cranked it up to No. 2 behind Oklahoma Union.
Perry's turnaround started after the Hooker (another state tournament team) loss. The Maroons were hosting undefeated Pawnee and were without Drake. Still, they managed to earn a 55-51 overtime win. They followed that up with a win at 3A No. 12 Hennessey.
Hight: Going into the game against an undefeated Pawnee team, I knew it could be a turning point in the season. It provided an opportunity for my other two leading scores - Jace Goldsberry and Braxton Dale - to step up and also some of those secondary guys to take on a different role. They did, which provided some much-needed confidence. I think it gave those guys the mindset of how good they can be when we get Mason back. Beating a well-coached and good Hennessey team just kept that momentum going as we won nine straight after the Hooker loss.
However, Perry's losses were ill-timed. The Maroons ultimately fell out of the coveted top-eight and were ranked 10th when the playoff assignments were released by the OSSAA. That meant Perry had to potentially deal with two top-eight teams in its quest to get to the state tournament. The Maroons won their final five regular season games to enter the playoffs with an 18-5 record.
Hight: We finished the season outside the top-eight even though I always felt like we were a top-five team, therefore we had a tough regional and area draw. So we talked about, "you might as well beat the best to get to state."
The end of Cashion's regular season was nightmarish. One brilliant local sports writer - ahem - dubbed it "Hell Week" and Cashion's broadcast crew ran with it on Twitter. The Wildcats' final five games were played during an eight-day stretch. They played at county rival Crescent, hosted conference rival Okarche (never a fun team to play) and then at conference rival Hennessey ON CONSECUTIVE DAYS. The last of those three games was a make-up after potential inclement weather forced its postponement earlier in the season. That game also decided the conference's regular season champion, another title Hennessey has owned the last handful of years. Cashion blew out Crescent, hung on against Okarche, then got an OT win at Hennessey.
Hardaway: The game at Hennessey was pretty awesome. Once again, they outplayed us most of that game. We go to OT and then find a way to win and clinch the first regular-season championship. Brady's program, his kids and the success they have had are beyond impressive.
Two days later, Cashion traveled to Crossings Christian for a chance to avenge its only loss of the year. It didn't happen, but it was another nail-biter as Crossings won in overtime. And then, just three days after that, Dale visited for the regular-season finale. Cashion dropped the third-ranked Pirates for the second time this year, this time by a single point. Cashion's final four games – in which it went 3-1 – were decided by a grand total of 12 points. The Wildcats were primed for the playoffs with a shinty 21-2 record and the No. 2 ranking in Class 2A.
Hardaway: Murderers' row proved to our team and to others that we were ready for the playoffs. All of those games bring not only quality opponents, but very high emotions and we knew for five games in a row we would get everyone's best shot. Crescent, Okarche, Hennessey, Crossings, Dale. With the exception of the Crescent game, they all came down to the last few possessions, but even Crescent always gives us a tough test.
In Part II, we'll take a deep dive into the playoff runs for the Maroons and Wildcats as they took slightly different paths to the state tournament.
Add a Comment