History in the Making Part 2: The Playoffs

by Michael Swisher (@michaelswisher)
7/2/2020 3:50:59 PM
posted in: Articles | 2,297 views
---

The Cashion and Perry boys' basketball teams entered the 2020 playoffs in slightly different positions.
Cashion had just endured "hell week" almost unscathed. The Wildcats were tested mightily during the stretch and entered the playoffs with a sterling record and ranked second in Class 2A.
They were a definite favorite to reach the state tournament.
As for Perry? The Maroons survived their own mid- to late-season swoon to hit the playoffs on a roll.
However, they finished the regular season out of the top-eight in Class 3A, making their road to state - on paper, anyway - more challenging.
The Maroons had no trouble with Chandler in a 30-point district win, then held off a stubborn Prague squad in the regional opener.
The first big roadblock was No. 6 Community Christian in the regional championship on the Royals' home court. The Royals were one of two top-eight teams that figured to stand between Perry and a spot in the state tournament.
Down big at halftime, Perry came back to win 54-47.
For those who didn't know, now they did. Perry was a team with which to be reckoned.
Hight: We beat them at their place after being down 11 at halftime. I think that win gave us a lot of confidence.
Cashion wasn't overly-inspired in its 14-point district win against Rush Springs, a team that pulled off the upset the night before.
That kept the Wildcats in the winner's bracket for the regional opener.
For most teams sitting at No. 2 in the rankings, winning that Thursday game of a regional is an expectation more than an accomplishment.
That wasn't necessarily the case in Cashion. Not since the 1996-97 season had the Wildcats advanced past the regional and into the area tournament.
That's right. Twenty-three years.
A win in the Thursday winner's bracket game would guarantee a spot in the area tournament and break that long streak. So, for Cashion, there was added pressure against Hobart.
And perhaps that pressure is why Cashion struggled early as Hobart led throughout the first quarter. However, the final three quarters belonged to Cashion in a 58-29 victory.
Hardaway: I think relief is a perfect word. I think for the coaches, more than the players, it was a big relief. I don't think the kids ever really thought about it more as just another team in front of them, but we as coaches knew how important that game was for us and our program to finally end the 20-plus year hex of the boys not making it to area. We had lost the previous three years on Thursday night, each time to really good teams: Carnegie, Regent Prep and Wewoka. We battled them tooth and nail, but just weren't good enough, and then had a really tough opponent waiting for us the next day, so to win that game was really big and really shouldn't be forgotten or taken for granted.
The Wildcats were headed to area. However, the regional championship game against No. 19 Mangum would decide if they were going into the area title game or into the consolation bracket. Mangum proved more than a formidable foe as it never backed down from Cashion and even led in the waning moments of the game. Somehow - like those brutal battles against Hennessey and Dale - Cashion emerged with a 63-61 victory.
Hardaway: They're such a tough matchup for us, but, somehow, we just found a way to win.
The "upset" victory over Community Christian put Perry into the area championship game - and one win from state - for the second straight year. Adding to the deja vu was the fact the Maroons would be playing Millwood, the very team that blew them out in last year's area championship. 
This year, Millwood entered the game ranked No. 1.
Hight: Losing to Millwood the year before, I think, benefited us more than them. They remember beating us by 20; my guys also remembered that, but I think we felt like we could have played better and this time we didn't look intimidated or scared of the moment. I felt really confident going into the game, probably more than I ever have in a big game. It wasn't because I knew we would win, but just the fact I felt like we were playing to our capabilities and had a good week of preparation.
Cashion, meanwhile, was literally in uncharted territory considering the area tournament drought. The Wildcats were set to face No. 6 Minco for the area title at the Pioneer Cellular Event Center at SWOSU. Minco had reached the state semifinals the year before.
Much like the "hell week" and Mangum games, this was a battle. This one, however, didn't see Cashion make the plays or catch the breaks near the end. Minco emerged 56-51 to win the area championship and advance to state.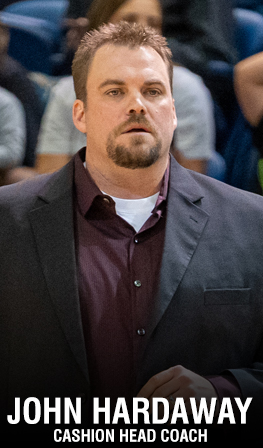 Hardaway: We lost to a team almost our equals, one with similar personnel makeup, approach, etc, and they had just played a little better than us and they deserved to win. Our free throw struggles finally may have cost us and I was issued a technical foul with 2:11 left in the quarter and our team down four points while we were playing defense. Rightly or wrongly, a coach can't get a technical foul at that point of the ballgame and I did. As I walked across the floor towards our locker room, I was afraid that maybe my 'T' might have cost us a chance to win the game, but as I made the turn down the hallway, my mind quickly turned to how to handle this locker room and our guys. 
Hardaway had never been in this position as a coach: Lose the area championship but still have a shot to win Saturday and advance to state.
Hardaway: I have always thought about how I would and always sought advice from other coaches on how they handled the same situation. Before I entered the locker room, I had a quick meeting with my two assistant coaches to discuss the next 20-30 minutes and make sure the three of us were on the same page before talking to the team. It was going to go like this: Go in the locker room, and deal with Minco game, losing, why, how, etc. Try to get through whatever anger, sadness, frustration there was with that and then try to put it to bed as fast as possible. Once we were done, I told the team, 'OK, we are done talking about Minco. You can be upset about it the rest of the evening and it should upset you, but by tomorrow morning, when you wake up, that's out of your system. From that point, it has to be for us to win tomorrow and make the state tournament.
There were two surprises for Cashion: One was the fact the Wildcats were going to be playing Saturday. They expected to win Friday. The other was the opponent in the area consolation championship. Unranked Calera had just pulled off big upsets of Caddo and Mangum.
Hardaway: They were the typical tournament underdog that plays well when it matters most and was going to be bringing all the momentum in the world with them Saturday night.
While playing Calera was a surprise, what Calera did on the court wasn't going to be one. Hardaway made sure one of his assistants scouted all the area teams and even had a former assistant taking some notes throughout the three previous area boys' games. After the Minco discussion in the locker room, coaches provided a quick briefing on Calera. Still, Hardaway hadn't yet seen Saturday's opponent. After the grueling late-night game and the 90-minute bus ride home, he got to work.
Hardaway: At about 4 a.m., after watching a couple of games, I was confident we were the better team, but weird things can happen on Saturday night of area and that's always a little scary. But I did come across the idea of running an old zone defense that we had not run at Cashion in years. Once I felt like we could defend them, I was able to go to bed.
There was another reassuring feeling for Hardaway.
Hardaway: I had a sense with our guys, that no matter what, they were not going to lose twice in the area tournament. It didn't matter who we played. 
On Saturday afternoon, the team made some final preparations before leaving once again for Weatherford.
Hardaway: We were also closely following Garber's Class A state championship game that was being played that afternoon. They are a program that their coaches and players are good friends of ours. We beat them in their tournament earlier in the season, but we were openly rooting for them as they won their state championship game (against Arapaho-Butler) in double-OT. As we watched them, we were probably all subconsciously thinking that could be us next week. If they could do it, so could we!
But first, Calera.
Hardaway: I could tell our guys were calm and confident and I knew on the way to SWOSU we were going to win, but you still have to play the game.  
The Wildcats did just that - and it was never really a game. The celebration was on early as Cashion won 61-26.
Hardaway: We played great defense throughout. We weren't great offensively for two quarters. We couldn't catch or make a layup for stretches for whatever reason. We won by a big margin, which was both great and odd because you just always think an area finals game would be a tight one. We celebrated on the floor and in the locker room. It was a lot of fun watching our players enjoy that experience. 
One of Hardaway's grandfathers - Fabian Cambron - frequently makes the trek to Oklahoma from Kentucky to catch his favorite coach's big games. He was one of several family members on hand for Hardaway's big moment.
Hardaway: I really enjoyed having my family there! Hugs and congrats from my wife and kids, my parents and my grandfather were very special. I loved watching our players celebrate with their teammates, parents, family and friends. 
Nobody wanted the celebration to end. SWOSU essentially made it.
Hardaway: We were there so long, they basically shut the lights out on us, but oh well. We were going to state. It was the first time that Cashion boys had gone to state since 1996. 
Perry's area experience was every bit as meaningful, but not nearly as drawn out. Standing immediately in the Maroons' way was top-ranked Millwood, the team that essentially embarrassed them in exactly the same spot the year before. Perry didn't recover and lost the Saturday game as well and missed out on a trip to state.
This year, however, the Maroons were more than read. They never trailed and maintained a slim lead the entire first half.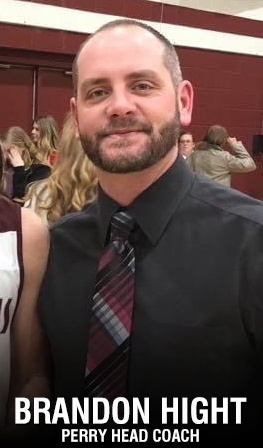 Hight: I felt like the longer the game went along, the more the more our guys realized: "Hey, we can win this."
The lead grew to double digits in the second half. The Maroons kept their lead despite Drake having to sit for about a five-minute stretch. Ultimately, Millwood had to start fouling. Goldberry went 11 of 13 from the line and finished with 22 points. Drake went for 23 points and 18 boards. 
Hight: I don't think I really felt like "oh man, we have this" until about 15 seconds were left and we went up six points.
Perry emerged victorious, 69-61, and was headed to the state tournament for the first time since 19-FOREVER!
Hight: It was almost hard to believe. When I came to Perry, that was one of my biggest goals. It took 11 years, so I know how hard it is to get to that point...to even give yourself a chance. 
A Perry alumnus, Hight was well-versed on the difficulty of even being in a position to go to the state tournament.
Hight:  My second year of coaching in 2007-08, I was one win away at Mulhall-Orlando and then I didn't get that opportunity again until last year. So over the years, I have appreciated how hard it is to even get to area, much less the state tournament.
The coach knew it wasn't just about him.
Hight: This group of kids and seniors deserved it. We are not the most athletic or physically dominant team. We have to do all the little things right and these guys did that for me and each other.
Perry fans are accustomed to visiting State Fair Arena during the latter part of winter. However, it's always been to cheer on the wrestling team. Now there was another reason to go.
Hight: Being a Perry graduate, our town, community and alumni really have supported Perry basketball. We had great support at games and people were excited. It made me proud to do something for those people.
And then there's the support system at home.
Hight: My family. My wife was proud of us and it was just great to see her smile after the game because she knows how bad I wanted to get to the state tournament. And my kids, they have grown up on a school bus, sitting on the bench since they could walk, and spending hours and hours just watching practices. So having my son on the team and being able to see him on the floor and being able to contribute in the biggest moment of my career was awesome.
All of that culminated in the moments after the final buzzer at Western Heights High School.
Hight: The best part of the whole thing was getting announced as area champions, taking what would be our last team picture and the celebration in the locker room. Then, in the lobby of Western Heights gym, there were hundreds of family members and fans there to congratulate the team and take pictures, etc. It was an awesome feeling, I bet I received over 200 texts that night. I didn't go to bed until 4 a.m. because I didn't want the night to end.
Add a Comment