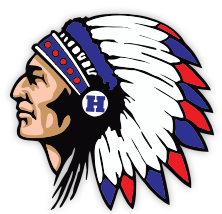 Hammon Warriors
Hammon, OK 73650
Boys Basketball
Girls Basketball
Baseball
Fall Baseball
Slow Pitch
Fastpitch
Click a sport in the menu above to view schedules & results.
Girls Basketball | | Jacob Unruh | NewsOK
The dogpile was small, but a long time coming for a program and its veteran coach.
Eight Hammon girls basketball players piled near midcourt of State Fair Arena on Saturday night. Head coach Leah Beer just pointed to the sky and then hugged her assistant coaches.

She hugged guard Morgan Miller and then pointed her to the dogpile. She was the ninth and last to join the party.

Girls Basketball | | Jacob Unruh | NewsOK
Hammon junior Morgan Miller just couldn't get her shots to fall. So, she went for the easy way.
Miller opened the fourth quarter Friday evening with a steal and layup, and things just opened up for Hammon the rest of the way.
A one-point lead became double digits.
|

Ben Johnson
Four teams have punched their tickets to state championship games. Bixby and Stillwater rallied to claim their spots in the Class 6AII title game, and Jenks and Broken Arrow pulled off some heroics of their own to set up a 6AI title clash. But now they have the week, so the focus shifts to Class 5A and on down.

Here's what to look for this week…


Class 5A
*Both games scheduled to start at 7 p.m. Friday


Semifinal matchups
No. 3 Collinsville (12-0) vs. No. 1 Carl Albert (12-0)
Where: Owasso High School
Last week: Carl Albert 42, Claremore 6; Collinsville 35, Guthrie 10
Players to watch
- Jake Tuttle (Collinsville): The Cardinals' leading in a three-headed rushing attack. Tuttle has gained 910 yards and 14 touchdowns on 107 carries this season.
- Brayden Burd (Collinsville): Not far off Tuttle's pace with 872 yards and 12 touchdowns on 75 carries.
- Ben Harris (Carl Albert): The Titans' offensive engineer with 2,076 yards and 19 touchdowns while completing 123 of 219 passes this season.
- Reise Collier (Carl Albert): Junior linebacker has been a menace for the Titans all season long, totaling 142 tackles, five sacks and two interceptions.
Numbers to know
- These two clubs are meeting for the first time.
- Cardinals are 1-4 all-time in the semifinals -- at any level. Collinsville's lone semifinal win was in 2015, a 23-3 victory over Skiatook to advance to the 5A title game.
- Thanks to Millwood's loss last week, the Titans now own the state's longest winning streak (34).
- Carl Albert has won 10 straight playoff games. The Titans beat Skiatook in last year's semifinals, 42-12, to reach the championship game.


No. 5 Bishop Kelley (10-2) vs. No .2 Ardmore (12-0)
Where: Western Heights High School
Last week: Bishop Kelley 34, Bishop McGuinness 33; Ardmore 48, Coweta 13
Players to watch
- Zach Middleton (Bishop Kelley): The leading rusher in the run-heavy Comets offense. Middleton has totaled 759 yards and 11 touchdowns on 89 carries this season.
- Montrell Cozart (Bishop Kelley): Comets' leading tackler with 96 takedowns this season, including six sacks.
- Tero Roberts (Ardmore): Three different Tiger ball carries have more than 600 yards this season, and Roberts leads the pack with 1,089 yards and seven touchdowns on 100 carries.
- Cameron Petties (Ardmore): The drive-finisher for the Tigers has a team-high 13 touchdowns, and he's amassed 690 yards on only 72 carries this season.
Numbers to know
- These two have met once -- a 37-29 victory for Ardmore in the 5A quarterfinals in 2016.
- The Comets, 2-2 all-time in the semifinals, are making their first semifinal appearance since 1999.
- Ardmore is making its fourth semifinal appearance since 2011. The Tigers haven't been in a championship game since 1992.




Class 4A
*Both games scheduled to start at 7 p.m. Friday