Allen Mustangs
Allen, OK 74825
Football
Boys Basketball
Girls Basketball
Baseball
Slow Pitch
Fastpitch
2022-2023 Football Schedule
Record: 4-2 | Unranked
@ Elmore City-Pernell
W
30-47
9/2
vs Elmore City-Pernell
W
47-30
9/2
@ Stratford
L
49-7
9/9
vs Coalgate
W
39-33
9/16
vs Konawa
W
31-22
9/23
@ Stroud
L
55-0
9/30
vs Wewoka
10/7
7PM
vs Liberty
10/13
7PM
@ Savanna
10/21
7PM
@ Hartshorne
10/28
7PM
vs Mounds
11/4
7PM
|

Ben Johnson
Jacob Bruce arrived at preseason camp in 2015, mostly eager to learn and admittedly oblivious.
"As a freshman, I was young and didn't know what to do," the Hulbert running back said. "The coaches then just said I was a fast kid and to use my speed. They motivated me, and then I stuck with that I needed to do."
Bruce expanded on those lessons four years ago and it all culminated in a record-setting night on Friday. Bruce scored on a 64-yard touchdown run in the third quarter against Allen, and at the same time passed Luther's Larry Dupree on the state's all-time rushing yardage list.
"There are so many people to give credit to, including my family for always supporting me and always telling me I can do anything I put my mind to," Bruce said. "Then my former coach (Rusty Harris) for teaching me what I need to know to become a running back, and now Coach (Joe) Brown for never giving up on me and pushing me to become better."
Bruce finished with 347 yards and six touchdowns in Hulbert's 50-19 victory over Allen, and he currently sits with 8,496 yards to his credit.
"This season has been amazing," Bruce said. "We have had our ups and downs, but we came out on top and now that we have advanced to the second round, we are looking to keep succeeding this season and take the gold ball."
"The people in the community have been waiting," Bruce said, "for a good team to come through Hulbert and make a statement."
But of course Bruce couldn't have reached his lofty achievement without the help of the guys up front. Bruce said he couldn't help but thank his offensive line -- Wyatt Keener, Justin Carey, Larrett Daniels, Braxton Ellis, Wyatt Keener and Preston Welch -- over and over.
"I'm close with everyone on the team, and it was a very special moment in my life," Bruce said. "And I got to spend it with them, and I am thankful to have such great teammates like them."
1. Jacob Bruce (Hulbert) - 8,496
2. Larry Dupree (Luther) - 8,443
3. Reggie Skinner (White Oak) - 8,119
4. Sheldon Wilson (Anadarko) - 7.662
5. Steve Tate (Luther) - 7,656
*Photo courtesy of April Howard photography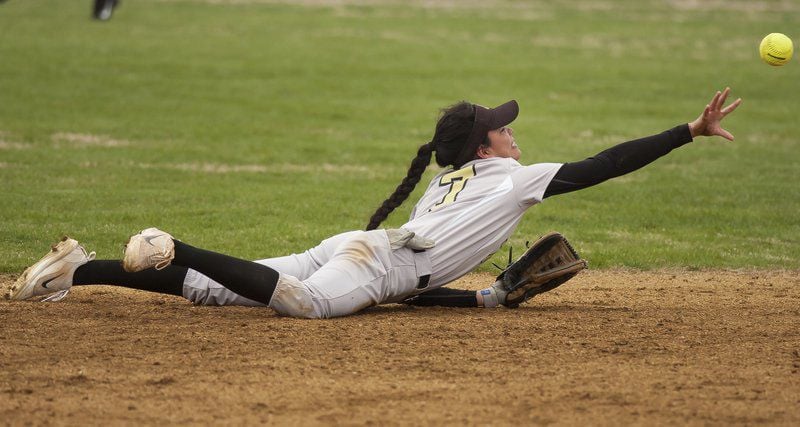 Fastpitch | | Brian Johnson | The Ada News
STUART — The Allen Lady Mustangs, in gearing up for regional play, dropped a 10-2 decision to Stuart and a 12-2 contest to Varnum Tuesday in softball action at the Stuart Festival. Allen (No. 15 in Class 3A), with the two setbacks, fell to 17-19 on the season. Stuart (No. 7 in Class 2A) improved to 28-10, while Varnum (No. 9 in Class A) is now 19-9.
|

Michael Swisher
On the way home from Labor Day weekend at Grand Lake, I decided to stop at 1907 Barbecue in Tulsa and see what all the recent recognition and hype was all about.
1907 has had a growing positive following among BBQ lovers in past months and this was especially highlighted in a recent article and review in Texas Monthly.
We all know, or should at least, that the quality of sliced brisket is what really separates the pretty good BBQ places from the truly great ones…and the brisket that 1907 has been cooking has been highly acclaimed for quite some while.
I had also been intrigued by their pictures of their barbacoa tacos, which they only serve on Sundays, so I decided it was time to check things out for myself.
1907 Barbecue started as food truck in Tulsa and has now moved to the very popular Mother Road Market, which is a collection of several restaurants and shops all under one roof, offering seating both inside and outside.
This made for a very neat atmosphere for what was sure to be an excellent lunch!
The sliced brisket was everything it was made out to be and more.