Allen Mustangs
Allen, OK 74825
Football
Boys Basketball
Girls Basketball
Baseball
Slow Pitch
Fastpitch
2022-2023 Football Schedule
Record: 7-5 | Unranked
@ Elmore City-Pernell
W
30-47
9/2
vs Elmore City-Pernell
W
47-30
9/2
@ Stratford
L
49-7
9/9
vs Coalgate
W
39-33
9/16
vs Konawa
W
31-22
9/23
@ Stroud
L
55-0
9/30
vs Wewoka
W
41-12
10/7
| | | | |
| --- | --- | --- | --- |
| | vs Liberty | | Missing Score |
vs Liberty
W
28-12
10/14
@ Savanna
W
6-34
10/21
@ Hartshorne
L
37-13
10/28
vs Mounds
L
0-45
11/4
vs Hominy


OSSAA State First Round at Hominy

L
52-8
11/11
|

Ben Johnson
Jacob Bruce arrived at preseason camp in 2015, mostly eager to learn and admittedly oblivious.
"As a freshman, I was young and didn't know what to do," the Hulbert running back said. "The coaches then just said I was a fast kid and to use my speed. They motivated me, and then I stuck with that I needed to do."
Bruce expanded on those lessons four years ago and it all culminated in a record-setting night on Friday. Bruce scored on a 64-yard touchdown run in the third quarter against Allen, and at the same time passed Luther's Larry Dupree on the state's all-time rushing yardage list.
"There are so many people to give credit to, including my family for always supporting me and always telling me I can do anything I put my mind to," Bruce said. "Then my former coach (Rusty Harris) for teaching me what I need to know to become a running back, and now Coach (Joe) Brown for never giving up on me and pushing me to become better."
Bruce finished with 347 yards and six touchdowns in Hulbert's 50-19 victory over Allen, and he currently sits with 8,496 yards to his credit.
"This season has been amazing," Bruce said. "We have had our ups and downs, but we came out on top and now that we have advanced to the second round, we are looking to keep succeeding this season and take the gold ball."
"The people in the community have been waiting," Bruce said, "for a good team to come through Hulbert and make a statement."
But of course Bruce couldn't have reached his lofty achievement without the help of the guys up front. Bruce said he couldn't help but thank his offensive line -- Wyatt Keener, Justin Carey, Larrett Daniels, Braxton Ellis, Wyatt Keener and Preston Welch -- over and over.
"I'm close with everyone on the team, and it was a very special moment in my life," Bruce said. "And I got to spend it with them, and I am thankful to have such great teammates like them."
1. Jacob Bruce (Hulbert) - 8,496
2. Larry Dupree (Luther) - 8,443
3. Reggie Skinner (White Oak) - 8,119
4. Sheldon Wilson (Anadarko) - 7.662
5. Steve Tate (Luther) - 7,656
*Photo courtesy of April Howard photography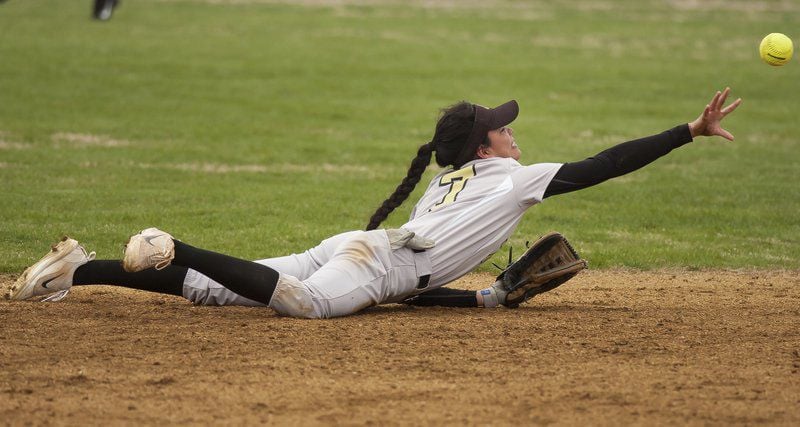 Fastpitch | | Brian Johnson | The Ada News
STUART — The Allen Lady Mustangs, in gearing up for regional play, dropped a 10-2 decision to Stuart and a 12-2 contest to Varnum Tuesday in softball action at the Stuart Festival. Allen (No. 15 in Class 3A), with the two setbacks, fell to 17-19 on the season. Stuart (No. 7 in Class 2A) improved to 28-10, while Varnum (No. 9 in Class A) is now 19-9.
|

Michael Swisher
While out trick-or-treating with my kids Monday night, I was having a discussion with some of the other parents in our group about my Halloween experiences as a kid.
I vividly remember always loving the houses that gave away homemade cookies, brownies, caramel apples and - especially - popcorn balls.
I was reminiscing and remembering the good ol' days when people used to hand out these homemade treats and it really made Halloween special.
As my kids were about midway through the evening and collecting a ton of Halloween candy, all three of them came running back to me telling they were just given popcorn ball.
They all wanted to know what it was exactly and if it was good?
Is it good?!?!?!?!?!