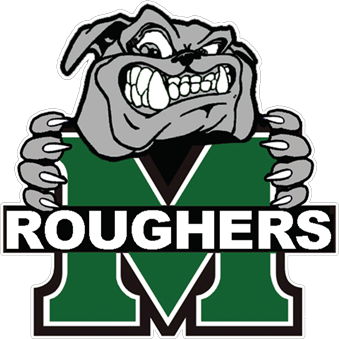 Muskogee Roughers
Muskogee, OK 74403
Football
Boys Basketball
Girls Basketball
Baseball
Slow Pitch
Fastpitch
Boys Soccer
Girls Soccer
2017-2018 Football Schedule
Record: 6-5 | Rank: 8
@ Stillwater
L
48-13
11/9
vs Bixby
L
7-51
11/2
@ Bartlesville
W
22-39
10/26
@ Booker T Washington
L
47-26
10/18
vs Shawnee
W
35-26
10/12
@ Sapulpa
L
49-48
10/5
@ Sand Springs
W
27-45
9/28
vs Ponca City
W
16-7
9/21
@ Putnam City West
W
29-34
9/14
vs Midwest City
L
14-16
9/7
vs McAlester
W
35-14
8/31
|

Ben Johnson


Players to watch
- Miles Davis (Lawton):

Win or lose, there has been a constant for Lawton this season and it's been Davis' playmaking ability on the ground. The senior tailback has piled up 1,911 yards and 20 touchdowns on 280 carries.
- Qwontrel Walker (Stillwater):

Part of the three-headed monster for the Pioneers on offense. The sophomore tailback has churned one monster game after another this season, including last week's 268-yard, four-touchdown effort in a win over Del City.
- Jeff Foreman (Del City):

Senior wideout has hauled in 61 catches for 1,167 yards and 15 touchdowns for the Eagles this season.
- Thomas Grayson (Booke T. Washngton):

With the Hornets' passing game struggling at times, Booker T. Washington could turn to Grayson to shoulder the load on the ground. With his recruitment reopened, some monster games in the playoffs could coincide with some high-level offers.
- Mason Williams (Bixby):

Staton King graduated and the questions were whether the Spartans could find reliable quarterbacking help. They did so and then some. Williams has burst onto the scene, completing 166 of 246 passes for 30 touchdowns.
- Eli Williams (Sapulpa):

Dual-threat quarterback has the Chieftains back in the playoffs for the first time since 2013.

- Preston Colbert (Midwest City):

Bombers' quarterback has passed for 1,900 yards and 24 touchdowns this season. And out of 219 pass attempts, only three have turned into interceptions.



Don't overlook... Stillwater
Sounds silly to say not to overlook the No. 1 team in Class 6AII, but this class if full of premier individual talent. Stillwater has plenty of it, but no one to the level of Booker T. Washington's Dax Hill or Midwest City's Preston Colbert. What the Pioneers do have is Gunnar Gundy at quarterback, Qwontrel Walker at tailback and Anthony Bland at wide receiver. And we should create a subcategory here saying not to overlook Stillwater's defense, which has been stout enough to keep the Pioneers unbeaten through a rigorous 6AII-1 slate.



Favorite (potential) matchup - Bixby vs. Midwest City

A high-powered offense (Midwest City) against a shutdown defense (Bixby). Sign me up. The Spartans' defense going against Preston Colbert and his dynamic offense would be one heckuva show. Of course, a Stillwater-Del City rematch or Stillwater-Booker T. Washington game on the other side of the bracket wouldn't be bad either.



Coaching candor
How do other high school coaches see the 6AII postseason playing out? We asked and they made their predictions (after being granted anonymity, of course).
Coach One: "I think Bixby will be the only team from the east to win (in the quarterfinals). They should win it all. They have a lot of depth and are very well coached. Their outside linebackers are as good as I've seen. The team as a whole is very talented and disciplined."
Coach Two: "My winner is Bixby. Most complete team. Was very young at the beginning of the year, and now they are playing like an experienced team."



Prediction time
Michael Swisher:
Bixby over Stillwater

- While Stillwater has - rightfully - received a lot of attention for its 10-0 season, Bixby has quietly, at least on this side of the state, racked up a 9-1 record. Now that itís playoff time, the Spartans will make all the noise. Stillwater can hurt you in multiple ways and its ground game is a great formula for success in the postseason, but Bixby will find a way. Itís the 6A-II playoffs. Itís just what Bixby does. The Spartans have given up more than seven points once in their last eight games. Theyíll find a way to frustrate Stillwater and score just enough points to win the class they own yet again.

Ben Johnson: Bixby over Stillwater

- Much like Class 6AI, the semifinals in this class will be off the charts. Stillwater, should it reach the semifinals, will have its hands full with either Del City or Booker T. Washington. Meanwhile, Bixby would have to overcome Lawton's Miles Davis in the quarterfinals and then Midwest City's slew of talent in the semifinals. But the Spartans are good enough to overcome all of that with Mason Williams at quarterback, Braylin Presley at running back and a host of wide receivers, including Cade Cavender and Brennan Presley. And that Sparans defense, yowza. Oh, should also mention that Braylin Presley is a freshman for the Spartans, so have fun with him for three more years, other 6AII teams.

Whitt Carter: Bixby over Stillwater

- Some wondered if Bixby would continue their reign on 6A-2, but the Spartans picked right up where they left off and are one of the favorites heading into the playoffs. Bixby is 9-1 and has played for the 6A-2 state title all four years since the inception of the class in 2014. Mason Williams has thrown for 30 touchdowns and 2,621 yards on the year to go with the usual stellar Bixby defense, allowing just over 10 points per game. Stillwater, on the other hand, has been arguably the state's biggest surprise this season. The Pioneers are loaded with offensive talent, led by star running back Qwontrel Walker and rock-solid quarterback Gunnar Gundy. I think this is the matchup everyone wants to see, but this class is loaded. It should be a fun few weeks no matter who plays for the title, but I'll take Bixby to win its' fourth state championship in five years.


|

Ben Johnson
The playoffs are here! Well, not quite but for some teams it will feel that way. Some teams are playing to extend their seasons while some are playing to better position themselves for long postseason runs. Week 10 is always a whirlwind, so buckle up and hold on!

Here's what's on tap:
1. 6AII No. 1 Stillwater (9-0) at 6AII No. 4 Del City (7-2): It has been a day or two since Stillwater last laid claim to a district championship. Since 1995 to be exact. Pioneers can clinch the District 6AII-1 title with a win. A Del City victory (plus a Midwest City win over PC West) creates a three-way tie at the top of the district with district points deciding the champion. Stillwater is 2-0 against Del City, but they haven't played since 2007.

2. 5A No. 1 Carl Albert at 5A No. 4 Bishop McGuinness (8-1): If these two are squaring off, there's always something significant on the line. Last season it was the Class 5A championship. This time, it's for 5A-2 supremacy. The winner claims the district crown. For Carl Albert, it would two years in a row. For the Irish, it would be the third district title in four years.

3. A No. 2 Cashion (9-0) at A No. 3 Minco (8-1): Take the Stillwater-Del City playoff scenario and apply it here. Cashion wins the District A-3 title with a win. A victory for Minco creates a logjam atop the district with Crossings Christian off for the way and cemented at 7-1 in the district. A Cashion win also moves Minco to third.†

4. 2A No. 2 Sperry (9-0) at 2A No. 4 Beggs (8-1): It's been 77 years -- SEVENTY. SEVEN. -- since Sperry was 9-0. The Pirates have won a district title more recently than that (1992), but it's still been a long time for that, too. Beggs, on the other hand, is coming off a runner-up finish in Class 3A, so this is familiar territory for the Demons. The winner here claims the District 2A-3 title, and the loser finishes second. The quarterback matchup -- Sperry's Beau Tell against Beggs' Dalton Spring -- should be a good one, too.

5. 3A No. 3 John Marshall (8-1) at 3A No. 7 Kingfisher (6-3): Winner finishes second in 3A-1 and gets a home playoff game. Loser finishes third and hits the road -- likely to Plainview -- in the first round of the playoffs.

6. 4A No. 8 Hilldale (8-1) at 4A No. 1 Poteau (9-0): Poteau will have to reverse a recent trend if it wants to win District 4A-4. The Pirates can win the district with a win, but a Hilldale victory likely creates a three-team tie atop the standings with Broken Bow also involved. The streak Poteau has to end is its losing ways to Hilldale, who has beaten the Pirates four times in a row, dating bcak to 2010. Poteau's last win over Hilldale was 2009.

7. 6AI No. 7 Owasso (5-4) at 6AI No. 5 Putnam City North (8-1): Neither one can catch Union in 6AI-2, but the Panthers can lock up second place with a win over Owasso, the reigning 6AI champion. An Owasso win likely means the Rams, PC North finish in a tie for second and resort to district points. A win for PC North would be its first ever against Owasso. The Rams are 4-0 all-time against PC North.

8. 5A No. 7 Tahlequah (8-1) at 5A No. 9 Claremore (6-3): This one is simple enough -- winner gets second place in 5A-4, the loser finishes third. The running back battle between Tahlequah's Dae Dae Leathers and Claremore's Jace Hightower should be fun to watch.

9. 6AII No. 2 Bixby (8-1) at 6AII No. 7 Muskogee (6-3): Regardless of records, it seems as though Bixby always struggles with Muskogee. The Spartans have secured the 6AII-2 title and can look toward a home playoff game next week, while Muskogee needs a win to finish third in 6AII-2.

10. 5A No. 5 Altus (8-1) at 5A No. 10 Duncan (8-1): Same at the Tahlequah-Claremore game -- winner gets second place, loser finishes third.

Honorable mention
Edmond Santa Fe at Norman: The Wolves are in the playoffs, but a win would assure a third-place finish. A Norman victory gives the Tigers a chance to make the playoffs with Westmoore headed to Jenks.

Ada at Edison: Winner finishes second in 5A-3, loser gets third since both Edison and Ada are vastly ahead of McAlester in district points.
Clinton at Cache: The Red Tornadoes are no strangers to district titles with 38, according to Iwasatthegame.com. Yet, Clinton hasn't won one since 2011. Cache hasn't won one since 1983. It's a winner-take-all game in 4A-1.

Oologah at Catoosa: A Catoosa win likely means third place and would leave Bristow and Wagoner to settle the district title. An Oologah victory likely means Bristow, Wagoner and Oologah finish tied for the district title, and would likely go to Bristow based on district points.

Checotah at Lincoln Christian: Well, the best way to describe the District 3A-3 standings is jumbled. But don't over-think it. More likely than not, Seminole, Stigler and Idabel should bag victories this week, so this game will decide whether there's a five-way tie for first place or a three-way tie for second place. Either way, it's all about district points at that stage.

Locust Grove at Vinita: After Berryhill at the top of this district, it gets a bit chaotic. Vinita need to win to keep its playoff hopes alive, whereas Locust Grove claims second place with a win.

Lindsay at Kingston: Even if Lindsay wins here, Kingston will have wrapped up its first district championship since 1987. That's how sizeable Kingston's district points lead is.

Panama at Holland Hall: The Dutch win a district title with a win over Panama, whereas a Panama victory likely hands the district title to Vian.

Christian Heritage at Crescent: Someone's season will end here. District A-3 is deep so this game will decide who finishes fourth. Crazy to think Crescent could go from Class A runner-up to out of the playoffs, but that's the scenario headed into this week's slate of games.

Pawhuska at Pawnee: Pawnee has to win to keep its playoff hopes alive. A Pawhuska win would assure the Huskies of third place in District A-5.

Hobart at Frederick: Simple enough on this one. The winner claims the District A-2 title and the loser finishes second.
Ringling at Apache: Did you read the Hobart-Frederick breakdown? Same thing applies here. Would be Ringling's eighth straight district title.

Gore at Central Sallisaw: Gore is looking for its first district championship since 2011. A Central Sallisaw win would give it a chance at a district title for the first time since 2001.

Weleetka at Wetumka: District B-5 will be decide in this one. Winner gets first place, loser gets second place.

Regent Prep at Foyil: These two clubs have played some stout defense this year, giving up only a combined 112 points in 17 games. The better defense here will help its win a district championship. The loser of the game stays home for the playoffs but won't claim a district title.

Paoli at Graham-Dustin: Winner claims the District C-4 championship. Loser finishes second.

*Photo courtesy of Jason Elmquist/Stillwater NewsPress

|

Ben Johnson
Here's the top 10 in each class heading into Week 10

Class 6AI
1. Broken Arrow (1) - 9-0
2. Jenks (2) - 8-1
3. Union (3) - 7-2
4. Edmond Santa Fe (4) - 7-2
5. Putnam City North (6) - 8-1

6. Moore (8) - 5-4

7. Owasso (5) - 5-4

8. Yukon (9) - 5-4

9. Norman (10) - 5-4

10. Westmoore (7) - 5-4

Class 6AII
1. Stillwater (1) - 9-0
2. Bixby (2) - 8-1
3. Midwest City (4) - 7-2

4. Del City (5) - 7-2

5. Booker T. Washington (6) - 6-3

6. Lawton (4) - 5-4

7. Muskogee (8) - 6-3

8. Sapulpa (7) - 6-3

9. Choctaw (9) - 4-5

10. Sand Springs (NR) - 3-6

Class 5A
1. Carl Albert (1) - 9-0
2. Ardmore (2) - 9-0
3. Collinsville (3) - 9-0
4. Bishop McGuinness (4) - 8-1
5. Altus (5) - 8-1

6. Bishop Kelley (8) - 7-2

7. Tahlequah (8) - 8-1

8. Guthrie (6) - 7-2

9. Claremore (9) - 6-3

10. Duncan (10) - 8-1
Class 4A
1. Poteau (1) - 9-0

2. Tuttle (2) - 9-0

3. Wagoner (5) - 8-1

4. Blanchard (3) - 7-2

5. Bristow (4) - 8-1

6. Bethany (6) - 8-1

7. Broken Bow (8) - 7-2

8. Hilldale (9) - 8-1

9. Catoosa (8) - 7-2
10. Clinton (10) - 8-1

Class 3A
1. Heritage Hall (1) - 8-1
2. Berryhill (2) - 9-0
3. John Marshall (3) - 8-1
4. Sulphur (4) - 8-1

5. Lincoln Christian (5) - 8-1

6. Plainview (6) - 7-2

7. Kingfisher (7) - 6-3

8. Seminole (8) - 7-2

9. Stigler (10) - 7-2

10. Locust Grove (NR) - 7-2

Class 2A
1. Millwood (1) - 9-0
2. Sperry (2) - 9-0
3. Jones (3) - 8-1

4. Beggs (4) - 8-1

5. Holland Hall (5) - 7-2

6. Vian (6) - 7-2

7. Washington (7) - 7-2

8. Kingston (8) - 8-1

9. Meeker (9) - 8-1

10. Coalgate (10) - 8-1

Class A
1. Hooker (1) - 9-0
2. Cashion (2) - 9-0
3. Minco (3) - 8-1

4. Rejoice Christian (4) - 9-0

5. Ringling (6) - 9-0

6. Stroud (7) - 8-1

7. Tonkawa (8) - 8-1

8. Crossings Christian (5) - 8-2

9. Morrison (9) - 8-1

10. Frederick (10) - 8-1

Class B
1. Shattuck (1) - 8-0
2. Davenport (2) - 9-0
3. Regent Prep (3) - 8-0
4. Snyder (4) - 8-0

5. Laverne (5) - 7-2

6. Dewar (6) - 8-1

7. Waurika (8) - 8-0

8. Yale (7) - 7-2

9. Weleetka (NR) - 7-2

10. Keota (10) - 6-1

Class C
1. SW Covenant (1) - 8-0

2. Tipton (2) - 7-2

3. Buffalo (3) - 9-0

4. Coyle (4) - 6-2

5. Pond Creek-Hunter (5) - 8-1

6. Tyrone (6) - 6-2

7. Paoli (7) - 9-1

8. Graham-Dustin (9) - 9-0

9. Medford (10) - 5-3

10. Covington-Douglas (9) - 6-4

() - Last week's ranking
*Photo courtesy of Jason Elmquist/Stillwater