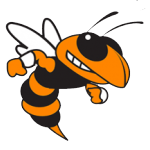 Strother Yellowjackets
Seminole, OK 74868
Football
Boys Basketball
Girls Basketball
Baseball
Slow Pitch
Fastpitch
2017-2018 Football Schedule
Record: 5-6 | Unranked
@ Keota
L
28-0
11/9
vs Caddo
W
72-26
11/2
@ Maud
W
6-51
10/26
vs Canadian
W
60-30
10/18
@ Wetumka
L
54-20
10/12
@ Weleetka
L
38-8
10/5
@ Bray - Doyle
L
2-0
9/28
vs Davenport
L
8-54
9/20
@ Sasakwa
W
0-54
9/14
vs Bowlegs
W
50-0
9/7
vs Dewar
L
36-38
8/31
|

Ben Johnson
It's hardware galore as spring sports wind down. Michael and Ben dissect baseball, slowpitch softball, golf, track & soccer as teams and individuals enter the final weekend of competition for this athletic season.
Find out which performances this spring have impressed the guys the most, and listen in as they give props to the outstanding offensive performances at the slowpitch state tournaments that happened to close out the school year.
All that, plus some coaching moves to mention, including Justin Brown filling the shoes left by Larry Callison at Tahlequah Sequoyah. And also some football recruiting tidbits.
Thanks as always for listening.
WE WANT YOUR FEEDBACK! Have a topic you'd like discussed, or have any questions for us, feel free to contact the show at:
EMAIL: ben@skordle.com
@michaelswisher & @benjohnsontul
|

Ben Johnson
The winter sports season is winding down, so we dissect playoffs happenings in Class 4A through Class B basketball. Swisher breaks down what happened on the hardwood, and what to look forward to this week.
Then we shift gears and Ben breaks down the state wrestling fields with Brian  Heindselman. We make some predictions and let fans know what to watch for at Jim Norick Arena over the weekend. (PS, we think Tuttle is pretty good. SURPRISE!)
Email the show at ben@skordle.com - Have a question you want answered on the podcast? Email us & we'll talk about it on the next show. 
Enjoy!