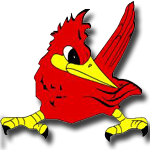 Grove Ridgerunners
Grove, OK 74344
Volleyball
Wrestling
Football
Boys Basketball
Girls Basketball
Baseball
Fastpitch
Boys Soccer
Girls Soccer
2019-2020 Football Schedule
Record: 5-6 | Unranked
vs Vinita
W
28-3
9/6
@ Jay
L
30-21
9/13
@ Pryor
L
38-7
9/20
vs Miami
W
28-21
9/27
@ Wagoner
L
49-10
10/4
vs Catoosa
L
17-18
10/11
vs Bristow
L
16-46
10/17
@ Cleveland
W
14-20
10/25
vs Oologah
W
42-35
11/1
@ McLain
W
6-34
11/8
vs Sallisaw


OSSAA 1st Round at Sallisaw HS

L
9-7
11/15
|

Ben Johnson
EMAIL ME - ben@skordle.com | RELATED - State tournament wrestling predictions
Drake Barbee will take the mat at Jim Norick Arena on Friday. Impressive for someone who was near death 14 months ago.
"It was as severe as it could have gotten," Barbee said, "other than death, of course."
Barbee, attending Stilwell during his junior year at the time, was en route to his dad's fiance's house in Broken Arrow.
Then things went horribly wrong.
"I have no recollection of anything other then trying to avoid something that night," Barbee said. "The people at the hospital told me there was a guy that crossed over the center line that was high on meth, and I should have died."
Needless to say, Dec. 19, 2017, was a horrifying day for Chris Barbee, Drake's dad.
"Hardest phone call I ever had to take," the elder Barbee said. "A lot of stuff goes through your mind, and I didn't know the extent of his injuries until I got to the hospital."
Chris Barbee was about to be horrified all over again. The list of Drake's ailments was painfully extensive.
- Broken hip
- Broken jaw
- Traumatic brain injury
- Brain bleeds
The injuries caused Drake Barbee to spend nine days in a coma. Then came "multiple months in multiple hospitals," Drake recalled. "Then a rehab center for an additional month."
Drake's near-death experience came immediately after competing at the Tournament of Champions in Reno, Nevada. And it would be the last time he'd take the wrestling mat for a while -- and understandably so.
"It was hard; I looking anywhere I could to get on the mat," Drake said. "I was decently moving after the rehab center, and my mentality was 'just keep going.' I was just trying to grind it out."
But he pushed himself too hard. He ended up blowing out a knee while recovering.
His junior season was a lost cause. That prompted several months of rest for Drake, and it wasn't long before he relocated to Blackwell.
But Drake also faced a harsh reality.
"It hit me," he said, "I realized I might not be able to wrestle for a while."
A crushing realization for someone who lives for the wrestling room.
"It's my lifestyle," Drake said. "I literally love wrestling. Call me crazy, but it's what I do."
For Chris Barbee, it was agonizing watching his son endure hardships that no high school athlete should have to entertain.
"It was very tough to see him go through that kind of ordeal," Chris Barbee said. "I just knew it was gonna be a long road back."
But Drake navigated the path back to full strength -- or as close to full strength as he can get.
Now he sports a 34-4 record and a regional championship as he enters the 195-pound field in the Class 3A state tournament in Oklahoma City.
"It's been awesome," Drake Barbee said of being at Blackwell for his senior season. "The wrestling tradition is what I like. It doesn't get much better."
Regardless of how Drake, an Arkansas-Little Rock signee, does at State Fair Arena, it'll be impressive for a wrestler who was told he may never display the correct walking tendencies.
"The doctor said he'd never had someone recover and walk correctly," Drake Barbee said. "So to recover and do what I'm doing now, I'm truly blessed."
And Chris Barbee couldn't be happier to coach his son for his senior season.
"It's been very satisfying to see him get back to his old self and what he's capable of," Chris Barbee said. "He's very driven and is a tireless worker. He's wrestling really good right now, and he is gonna be tough to beat."
|

Ben Johnson
State tournament wrestling is back. It's the weekend that every high school wrestler circles on the calendar. Now time to make predictions for every single weight class inside Jim Norick Arena.
Class 6A
Brackets posted here
106: Cruz Aguilar (Edmond Memorial): Spent his freshman season at Heritage Hall, where he finished second at 106 in 2017. Almost went with Owasso's Jared Campbell or Sand Springs' Brendon Wiseley, but opted for a Bulldog to win a title for the first time since Johny Hendricks in 2002.

113: Tucker Owens (Mustang): Finished second as a freshman last season at 113. A title for Owens would be the first for the Broncos since 2005 -- and only the second since 1999.

120: Zach Blankenship (Bixby): Has burst onto the scene as a freshman for the Spartans this season. Blankenship's only loss of the season was to Sand Springs' Seth Jones, when Bixby bumped Blankenship up a weight class for a regular-season dual. Blankenship is 27-0 at 120 pounds this season, including a dominant run through last week's regional in Jenks. Nic Roller (220 pounds in 2016) won Bixby's last state championship, but before him was Shane Roller in 1998.

126: Carter Young (Stillwater): Upended Yukon's Studd Morris for the 106 crown in 6A last season. But he did it at Sand Springs. Now at 126, Young has potential obstacles in his way, like Broken Arrow's Blazik Perez (27-9) and Bartlesville's Laif Jones (last year's 6A champion at 120). Should mention, Stillwater also has gone two years without a state champion. Young could bring that to a halt.

132: Reece Witcraft (Broken Arrow): Went from second at 126 with Coweta in 2017 to state champion last year with Broken Arrow at 126. Witcraft, ranked fifth in the nation on InterMat, pinned Choctaw's Colt Newton in the finals last year, and this year it could be a semifinals matchup. The two didn't clash at dual state, so a semifinal showdown would be the first in a year. The 132 field is loaded, for sure. Edmond Memorial's Jackson Oplotnik (20-5), Mustang's Keegan Luton (33-10) and Owasso's Zeke Washington (34-4 and 6A's runner-up at 120 last season) all share space on the top half of the bracket. Witcraft has been hobbled by a bum ankle, but he beat Washington 7-2 in the regional finals so there's little doubt he'll be ready to go in Oklahoma City.

138: Peter Rolle (Edmond Memorial): There was some personal anguish in making a selection here. So many qualified wrestlers in this field that it was hard to pick who might finish above the fray. Ultimately, sided with Rolle, because why not? The Edmond Memorial senior is 30-5, and he's got Deer Creek's Parker Wright (32-8) and Broken Arrow's Blake Gonzalez (21-7) on his side of the bracket. Then there's Mustang's Cameron Picklo (41-3) and Ponca City's Spencer Schrickram (39-2) on the bottom half of the bracket. This weight will be a gauntlet to get through.

145: Gabe Johnson (Choctaw): Went from not placing as a freshman at 106 in 2017 to a runner-up spot at 132 last season for the Yellowjackets. Lost in last year's finals to Ponca City's Dylan Schickram, 7-3. And another tough field awaits Johnson, including Edmond North's Jaxon Randall (24-11) on Johnson's half of the bracket. Then there's Deer Creek's Micah Lugafet (21-3), Enid's Chance Davis (21-5) and Ja'len Hernandez (35-5) in the bottom half of the bracket. Would be Choctaw's first championship at 145 since Jaryn Curry in 2016.

152: Drake Vannoy (Jenks): This one was tough to pick. Sand Springs' Scott Patton beat Vannoy for last week's regional crown, but Vannoy was last year's champion at 152. A championship for Vannoy would be Jenks' first back-to-back champion since Justin DeAngelis won in 2008 through 2010.

160: Tate Picklo (Mustang): Went 35-4 as a freshman en route to a second-place showing at 145 last year in 6A. Now Picklo is 40-0 and ranked 11th in the country at 160. Putnam City's Rene Martinez might be Picklo's biggest challenge in the field, and Picklo beat Martinez in an 18-6 major decision to win last week's regional crown.

170: Zane Coleman (Choctaw): Ranked sixth in the nation and looking to join the four-timers club. After two suspenseful championships during his freshman and sophomore years, Coleman cruised to last year's title at 170 by pinning Broken Arrow's Bryce Mattioda in the first period. Coleman, an Arizona State signee, enters his final state tournament with a record of 145-8 -- and only two losses in the last two seasons. Coleman's only loss this year was in the 170 finals of the Geary Tournament, when he lost to Blair Academy's Peyton Craft.

182: JT Stambeck (Norman North): Narrowly missed out on the 170 finals last season after enduring a 3-2 loss to Mattioda. Enters this year's state tournament at 29-1. Would be the Timberwolves' first state champion since Levi Berry (160) in 2013.

195: Carson Savage (Deer Creek): Entered last year's state tournament as the No. 4 seed out of the West at 182. This season, Savage is 35-2 and the top seed from out west. He'll have to contend with a deep field, though. Broken Arrow's Gavin Potter (last year's champion at 195), Sand Springs' Kaden Glass (31-9), Union's Elijah Tomlin (36-7) and Mustang's Judson Rowland are all contenders. Took Savage over Potter after Savage picked up a 9-2 win over Potter at dual state a couple of weeks ago.

220: Zach Marcheselli (Broken Arrow): Another wrestler in 6A aiming to be a member of the four-timers club. Marcheselli, ranked ninth in the country, has been on cruise control for most of the season. After guiding the Tigers to their first football championship, Marcheselli, a Texas Christian University signee for football, could add to his collection of hardware in a 220 field that could end up seeing a rematch of the east regional last weekend. Marcheselli knocked off Edmond North's Jake McCoy 8-2 for the regional crown, and both appear to be on a collision course for the finals in Oklahoma City.


285: Noah Cortes (Broken Arrow): Jenks' Caleb Orr beat Cortes for the regional crown last week, but it was a 3-2 decision in an ultimate tiebreaker. This could go any direction, including Choctaw's Marquan Journey (33-6) and Yukon's Ashton Aldridge (32-7) vying for the title. Last year, Cortes didn't even make it out of the pigtail round of the state tournament.



Class 5A
Brackets posted here
106: Cameron Steed (Collinsville): Should come as no surprise that Collinsville has yet more freshmen contending for championships at the lower weights. This year it's Steed and Jordan Williams (below) as favorites in their respective fields. Steed tech-falled Coweta's Brody Gee, 16-1, in the regional finals and don't see any reason to think he won't do the same to anyone he comes across in Oklahoma City.

113: Jordan Williams (Collinsville): Previously ranked sixth in the nation at 106 pounds, Williams has been unbeatable at both 106 and 113 this season. And this is a weight Collinsville has controlled for several years in recent memory with four championships since 2013 -- Davion Jeffries (2013), Christian Moody (2014), Caleb Tanner (2017) and Rocky Stephens (2018).

120: Rocky Stephens (Collinsville): Turned a third-place finish as a freshman into a state championship last year at 113 pounds. Could be stream-rolling straight ahead to a solid showdown in the finals between Stephens and Carl Albert's Jayston Cato (33-2).

126: Josh Taylor (Skiatook): Surprising turn of events at the east regional last week with Collinsville freshman Jordan Cullors knocking off Taylor, 2-1. But that loss for Taylor puts him on the top half of the bracket, and he avoids Tahlequah's Jakob Lyons, who has routinely wrestled Taylor tough these past two seasons. Don't be surprised if it's a Taylor-Cullors rematch -- but this time for a state championship.

132: Caleb Tanner (Collinsville): Last year's champ at 126, Tanner could put himself in position for a special senior year if he wins this year's state championship at 132. It would be Tanner's third state championship, and he would be a season away from joining Gary Wayne Harding and Will Steltzlen -- who both became four-time state champions at the 2014 5A state tournament.

138: Kobi Gomez (Altus): Someone other than a Collinsville wrestler will win a state championship in Oklahoma City this weekend. It just won't feel much like it through the first handful of weights. Collinsville's Connor Henson certainly has a shot at claiming the 138 crown, but I'm going with the reigning state champion here to win his second title. Could pave the way for two more special years for Gomez.

145: Gage Hight (Glenpool): It's now or never for Hight. He's knocked on the doorstep twice, but in back-to-back state tournaments he's had to settle for second place. Last year, Coweta's Ricky Turner who upended Hight, 3-2, in the finals after Hight had won the reginal matchup between the two. Durant's Cody Hicks (32-3) and El Reno's Jacob Catagas (22-3) are lurking, but surely it's going to be Hight's year.

152: Cougar Anderson (Skiatook): If the Bulldogs are going to challenge Collinsville for the team title, Anderson winning at 152 could be key. Anderson, a sophomore, is 35-0, and he's on the same side of the bracket as El Reno's Cole Thomas (28-3). Anderson was dominant last year en route to his first title, and expect him to be ready to roll in Oklahoma City.

160: Hunter Jump (Duncan): After second-place finishes as a freshman and sophomore at Lawton MacArthur, Jump picked up a title for the Highlanders last season at 160, and he did so in convincing fashion. Now at Duncan, Jump will enter a stout field that includes Skiatook's Richie Lee (37-1) and El Reno's Kord LaFoe (24-5). A title for Jump would be Duncan's first since 2011 (Markwae Sanders and Justin Hughes).

170: Christian Maldonado (Lawton Mac): This is a wide open field. Maldonado was second to Coweta's Talon Borror last season, and Maldonado is a week removed from knocking off Piedmont's Braden Culp, 7-4. But Culp is more than capable to make a run at a championship. Same goes for Skiatook's Hunter Hall. This is about as wide open as it gets.

182: Talon Borror (Coweta): In 2016, Lawton MacArthur's Nick Mahan beat Borror in the 160 quarterfinals. Since then, Borror hasn't lost inside Norick Arena. Borror stormed to titles in 2017 and 2018. He's 35-2 and looking for a third title to cap his high school career. Standing in his way could be Lawton Ike's Muhammad A Al Zeragi (23-1) and Piedmont's Austin Cooley (28-2).

195: Cabe Dickerson (Altus): It was Piedmont's Will Heindselman that knocked off Dickerson, 8-7, in an ultimate tiebreaker in last year's state finals. It was a crushing end to Dickerson's sophomore season, and then he followed it up with an elbow injury that's limited him to 12 matches this season. But if Dickerson is a full strength, the 195 crown should be his to lose.

220: Korbin McLaughlin (Skiatook): This is could make things interesting late into the state tournament. If Skiatook is coming down to the wire against Collinsville or Piedmont for the team crown, the Bulldogs will need McLaughlin to pick up as many points as possible. McLaughlin has posted two fourth-place finishes, but if he captures a championship it could propel Skiatook to a title.

285: Josh Heindselman (Piedmont): It was a Heindselman party at last year's state tournament with Josh (220) and Will (195) both capturing gold. Now Josh will aim for Piedmont's second-ever title at heavyweight, despite being possibly the smallest guy in the field. Lawton Mac's Montana Phillips is a two-time state champion, and he'll be out for some revenge after getting pinned at 2:15 by Heindselman at last week's regional tournament.



Class 4A
Brackets posted here
106: Eli Griffin (Cascia Hall): Ranked 15th in the country, Griffin is aiming for his second championship in as many years. In order for the sophomore to do so, he'll have to navigate a field that looks a lot like it did in 2018. Returning as qualifiers at 106 are Tuttle's Ashton Grounds (35-8) and Cushing's Luke Ahrberg (31-3) -- and they share space in the top half of the bracket. One way or another, the finals in 106 will be extremely entertaining.

113: Garrett Steidley (Tuttle): After grabbing his first title as a sophomore last season, Steidley is a heavy favorite at 113. Steidley rolled through regionals last week, but he enters a field with some solid contenders from the east -- Sallisaw's Kaleb Harris (25-6) and Mannford's Wade Landrum (28-8).


120: Reese Davis (Tuttle): With some big wins under his belt as a freshman, perhaps none were bigger than his rally at dual state against Wagoner in the finals to keep the Tigers' unbeaten streak intact throughout the entire weekend. That win was against Wagoner's Braden Drake, and Davis breezed past Harrah's Breaden Williams in the regional semifinals. Then he did the same against Heritage Hall's Cole Allen in the regional finals. Davis could be hitting his stride at the right time as a freshman.

126: Thaddeus Long (McLain): This time there's no Ryder Ramsey in Long's way. Long was second to Ramsey at 126 last season, and before that he finished third at 106 for Union in 2017. If Long captures a title for the Titans, it would be the school's first since Greg Hawkins won at 178 in 1977.

132: Ryder Ramsey (Tuttle): Picking up his first title as a sophomore last season, Ramsey entered the state tournament 36-9. Now he heads to Oklahoma City at 43-3 and another key cog in Tuttle's deep lineup.

138: Val Park (Heritage Hall): Since 2012, the Chargers have produced 17 state champions, including Kaden Gfeller's four-year run from 2014 to 2017. And while he might not join the four-timers club, Val Park has been a staple of consistency for Heritage Hall at the lower weights since teaming with Gfeller during his senior season in 2017. Park will be after his third title in as many years, winning previously at 113 (2017) and 132 (last season).

145: Brady DeArmond (Tuttle): Despite Tuttle being so utterly dominant across the board in 4A for quite some time now, last season's state tournament felt a little off with Tuttle only claiming three state titles. And DeArmond was one that settled for third place after losing to Heritage Hall's Carson West in the 145 semifinals. DeArmond enters a field that could pose some challenges, including Fort Gibson's Cade Waltman, but DeArmond appears poised to snare his first title during his junior season.

152: Luke Surber (Tuttle): Elgin's Jacob Butler dashed any hopes that Surber had of becoming a four-time state champion with a sudden victory win against Surber in last year's 138 finals. Since then, Surber has been nearly unbeatable on the mat for the Tigers, including tournament titles at the MidCals in Gilroy, California, and an individual championship at the Geary Tournament in January. There are some quality wrestlers at 152 -- Cache's Duncan Shafer (30-2), Bristow's Anthony Bigpond (20-5), Catoosa's Abel Perez (41-6) -- but good luck trying to knock off Surber this year.

160: Jacob Ahrberg (Cushing): It was a fourth-place finish for Ahrberg last year at 145, a year after not placing at 126. Now Ahrberg arrives in Oklahoma City at 23-0, fresh off a dominant run at the east regional in Catoosa. Madill's Colt Crowson (26-5) could pose a significant threat to Ahrberg in the bottom half of the bracket, and then there's Tuttle freshman Harley Andrews lurking in the top half. Also, a little surprising but a Cushing wrestler hasn't won a title since 2014 (Gage Stallworth).

170: Dustin Plott (Tuttle): There might not be a better wrestler in the state right now than Plott, ranked third nationally and who has gone 88-1 over the course of his sophomore season and his current junior campaign. The lone loss was a 6-5 decision to Blair Academy's Julian Ramirez in the Geary Tournament finals this January. Plott went fall-fall-major decision to win last year's title at 160, so don't be surprised this year with tech fall-fall-fall (or something impressive like that).

182: Gage Hockett (Cushing): There's been a natural progression each year Hockett has been in the state tournament. As a freshman, he was third at 160 in 2017, and last season he finished second with a loss to Plott in the 160 finals in 4A. This season he returns to Norick Arena at 29-0 after taking down Cleveland's Tyler Johnson (18-8) with an 8-5 decision in the regional finals. The winner between Anadarko's John Mark Holton (29-6) and Oologah's Landon Brown (30-6) could pose a threat to Hockett in the semifinals on Friday, though.

195: Carson Berryhill (Tuttle): A state champion as a sophomore in 2017, Berryhill lost to Heritage Hall's Colton Denney in the 170 finals last season. But Berryhill bounced back in the fall by quarterbacking the Tigers to the 4A title, and now he sports a 37-1 mark (only loss to Mustang's Judson Rowland at the Geary Tournament), heading into the state tournament. Berryhill has even worked his way up to 11th in the nation at 195. In Berryhill's crosshairs in Oklahoma City could possibly be Poteau's Nate Ulmer (32-1) and Cushing Eriq Simpson (34-2).

220: Luke Fortney (Bristow): Now a junior, the best Fortney has done at the state tournament was fourth at 195 last season. Now he's 25-0 and coming off a solid weekend at regionals. He's steamrolled his way to titles at the Chuck West Invitational and the Cushing tournament, and if Fortney can with a title he'd be Bristow's first since 2007 (Kale Biggs at 160).

285: Griffon Williams (Madill): Guaranteed to not have a Tuttle winner here. It's the one weight the Tigers didn't qualify at. It's a pretty balanced field that includes Wagoner's Jaydn Marshall (31-12), Bristow's Steven Marlow (23-7) and Blanchard's Ryder Wiese (31-6). But this could be the year Madill wins its first individual title since 2003, when Brent Parkey picked up his third title in as many years.



Class 3A
Brackets posted here
106: Gabe Valencia (Perry): Finished fourth last year in his first crack at the state tournament. Now a junior, Valencia drops down a weight class and enters the final weekend at 44-6. At dual state, Valencia beat Marlow's Case Rich, but the Outlaws will send Tyler Lawson (38-6) into the mix for a possible showdown against Valencia in the finals.

113: Ryan Smith (Perry): There's a lot of quality depth at this weight, but none more superlative than Smith (43-2), last year's champion at 106. Bridge Creek's Kaden Smith (37-8) and Locust Grove's Hunter Fitzpatrick (24-5) could make for tough semifinals draws, but Smith could be on a collusion course with Walters' Remington White, the program's only wrestler and a 2017 state champion. White to Plainview's Jaxson Roney in the 113 finals, and it could be Smith standing in the way of only the second wrestling championship at Walters.

120: Alex Prince (Vinita): It was Perry's Logan Smith -- the weight's top seed from the east -- who pinned Prince in the final two seconds of their semifinal class at Perry last week. That leaves Prince (40-7) with a tough draw of Hinton's Brian Pastrana (27-3) in the quarterfinals and possibly Smith (24-11) in the semifinals. If he advances beyond that, Checotah's Luke Collett (28-6) or Newkirk's Dayton Cary could be waiting in the finals. That's quite a load for Prince in his junior season.

126: Kolton Smith (Bridge Creek): Two years in a row, Smith has watched while a Perry wrestler stood atop the podium. In 2017, Smith lost 7-4 to Perry's Cale Betchan at 120, and last season Smith was on the wrong end of a 4-2 decision against Perry's Cade Nicholas. And now, Smith enters as the top seed from the west after beating Marlow's Anthony Orum (31-4) in the west finals. If a Bridge Creek wrestler wins a title this season, it would be the school's first.

132: Dylan Avery (Perry): Now a junior, Perry will be after his second title in as many years. The field is deep at 132, though, with the likes of Sulphur's Kolbe Madron (36-8), Marlow's Jordan Taylor (42-5), Pawnee's Wesley Scott (35-2) and Morris' Kolby Adams (31-6).

138: Price Perrier (Pawhuska): Mike Perrier won a state championship at 136 in 1990. That's Price's father. Dax Perrior won a state championship at 160 in 2010. That's Price's brother. Price could be carrying on a family legacy with a title. But the field is a deep one. Plenty of candidates could snag the 138 crown -- Perkins-Tryon's Ayron Lawson (30-7), Marlow's Kobey Kizarr (43-4), Kingfisher's Stone Snodgrass (29-8) and Salina's Austin Wilkins (20-8).

145: Kolby DePron (Bridge Creek): Like his teammate, Kolton Smtih, DePron watched as a Perry wrestler celebrated a championship last year. As a freshman, DePron logged a second-place showing at 132. Now he's the favorite at 145, despite plenty of qualified candidates -- Morris' Ryan Allred (30-7), Geary's Landon Holt (31-5) and Salina's Brier Smith (46-3).

152: Hadyn Redus (Perry): A title would be Redus' second in as many years. Redus pinned Little Axe's Alec McDoulett in the third period of last year's 138 finals, and sure enough, McDoulett is back in the same state tournament field as Redus again. Mangum's Daelin Stacy (24-7), Pawnee's Blake Skidgel and Comanche's Gage Miller (33-5) all pose serious threats, too.

160: Cade Shrosphire (Checotah): The only state champion in the history of Checotah Public Schools will go for his second straight title as a senior now. This time the field is a tad deeper. Barnsdall's Joe Smith (31-3) is on the top half of the bracket with Shrosphire, and Marlow's Tyler Lavey (38-3) occupies the bottom half. And Shrosphire narrowly edged past Lavey in the regional finals, 3-2.

170: Bryce Carter (Sperry): The returning champion at this spot is Comanche's Cade Cook (35-4), and he's back as the top seed out of the west for his junior year. He could pair up with Jay's Zach Coy (46-1) in the semifinals, and that could end up being a coin toss -- which is basically was when Cook beat Coy, 2-1, in last year's quarterfinals. Meanwhile, Carter is up from 160 at this time last year, and he enters the state field at 33-2. And much like Tuttle's Carson Berryhill, he's going for the one-two punch of football-and-wrestling championships. And never count out Perry's Jace Burdick (34-13), who finished second to Cook in last year's 170 finals.

182: River Simon (Vian): Only two wrestlers have ever won state championships at Vian, and one just so happens to be Simon (2017 at 170; the other is Landon Decker in 2012). Simon, an Army signee, missed last year's state tournament due to various injuries, and he hasn't wrestled a full schedule to this point (only 22-1). But when he's on the mat, he's tough to beat. Sulphur's Trey Kiser (36-7) is on the bottom half of the bracket, and he gets Vinita's Zach Wattenbarger (43-3) in the quarterfinals. Then there's Perry's Kohl Owen (37-10), last year's champion at 182.

195: Drake Barbee (Blackwell): What a story Barbee is. Endured a horrifying car accident two years ago, and now he's back in the state tournament field as the top seed from the east. Barbee is 34-4 and he finished second at 182 at his last state tournament in 2017 -- when he wrestled for Stilwell. Already signed to wrestle at Arkansas-Little Rock in college, Barbee motored through the regional field, including a win by fall over Tonkawa's Simeon Shepherd in the third period. The 195 field also features Little Axe's Caeden Guthary (30-5), Hinton's Denver Dahlenburg (29-3) and Perry's Brandon Speikers (44-8).

220: Konner Doucet (Comanche): Already halfway to the four-timers club, Doucet, for the first time, enters the state tournament unbeaten in a season. He is 37-0 cruised through the regional tournament last weekend. Last year, he knocked off Sperry's A.J. McEntire in the finals, 4-2, and as a freshman he was pegged as the 195 champion when Sulphur's Dan Baker was disqualified in a controversial ending in extra time. Now Doucet is ranked sixth nationally at 220. Some of the others at 220 include Vinita's Brodie Miller (39-6), Vian's Cruz Partain (34-2) and Berryhill's Nico Lopez.

285: Cooper Webb (Davis): Looking for his second straight title, Webb is 29-1 this season. He'll have his work cut out for him against the likes of Geary's Chase Merkey (33-3), Perry's Teaguan Wilson (30-6) and Locust Grove's Dalton Shatto (26-1). In fact, it was Webb who beat Shatto, 9-5, in last year's heavyweight finals. Fun fact: Cooper's brother, Conner Webb, won three titles for Davis from 2015 to 2017, and Cooper could still tie him with a championship this year and next.
**Photos courtesy of Austin Bernard/Owrestle.com

Have your own predictions or have feedback? Email me at ben@skordle.com

|

Ben Johnson
SHAWNEE -- Every wrestling team that entered FireLake Arena on Friday and Saturday scored teams points somewhere along the way. Except for the three that faced Tuttle.

The Tigers put a chokehold on the Class 4A field and breezed to their 10th straight dual state championship and 16th overall. And Tuttle did it by finishing off Wagoner 63-0 in the finals.
"Pretty good team performance," Tuttle's Luke Surber said. "Other than that, our team was pretty dominant."
That's an understatement.
The Tigers won their three duals in the tournament by a combined score of 209-0. It started with a 75-0 win over Grove in the quaterfianls, and Cache was Tuttle's semifinal victim with a 71-0 score.
Then came Wagoner, making its first dual state championship appearance.
Tuttle's Ryder Ramsey set the tone against Wagoner with a win by fall in only 58 seconds against the Bulldogs' Alex O'Quinn at 132 pounds. Brady DeArmond (145), Dustin Plott (170), Carson Berryhill (195), Ashton Grounds (106) and Logan Farrell (126) also won by fall for the Tigers. Surber added a 15-0 technical fall victory at 152.
But it was Tuttle's Reese Davis who came up with the Tigers' biggest victory against Wagoner. Down 8-2 to Wagoner's Braden Drake, Davis kicked it into high gear and rallied for a 14-11 win.
"I was pretty nervous about it," Davis admitted afterward. "I wasn't ready for the first period, but I kept my head straight and came back."
For Davis, a freshman, it was his first time to experience Tuttle's winning ways.
"It's great," Davis said. "The crowd is big and it's awesome."
**See results from Tuttle-Wagoner finals dual below.
3A: Perry picks up another dual state title
When you win as often as Perry does, minor bumps along the way become more noticeable. Such was the case with Perry coach Ronnie Delk, despite his team beating Marlow 38-27 for the Maroons' 11th straight dual state championship -- and 20th overall.
"Definitely not pleased with that effort at all," Delk told the Stillwater NewsPress.
Marlow, ranked second in 3A, managed to stay within striking distance early on in the finals. Jordan Taylor (138) and Kobey Kizarr (145) both won by fall, Marlow led 12-6 early on. But Perry did what Perry does and overpowered its opponent before the dual finished up.
Jace Burdick (170) picked up a 5-2 victory over Marlow's Kyle Wilson, and Perry was within 15-12 at that point. The Maroons then fired off wins in five of the next six weights to take control. During that span, Kohl Owen (182) came up with a win by fall to put Perry in front 18-15, and Teaguen Wilson (heavyweight) and Gave Valencia (106) followed with pins to put Perry firmly in front 38-18.
And before the night was through, Wilson had a message for everyone in 3A.
"I think regionals and state won't be as close," he said.