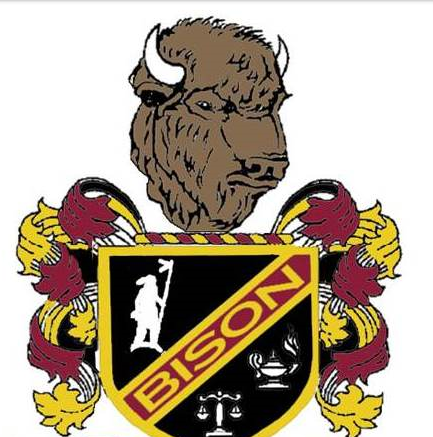 Oklahoma Centennial Bison
Oklahoma City, OK 73122
Click a sport in the menu above to view schedules & results.
|

Ben Johnson
Drake Vannoy was pressed for time with wrestling season around the corner. Jenks' football season didn't end until Nov. 30, and the Trojans were slated to open their wrestling campaign less than a week later.
Good thing Vannoy had a championship pedigree to rely on.
The junior wasted little time reacquainting himself with the mat, starting the 2018-2019 wrestling season with a first place finish at the Chuck West Invitational in Bristow.
"My performances are starting to improve as I'm getting back into wrestling shape after football," Vannoy said. "I'm starting to like the pace and intensity that I'm going at."
And it would be hard to find any detractors right now, especially after coasting through the 152-pound field at the Jay Hancock Invitational in Yukon last weekend. Vannoy advanced to the finals with four wins by fall, and he capped the tournament off with a 19-2 technical fall triumph over Edmond North's Jayden Villalobos.
"Drake has been dominating this year," Jenks coach Ray Weis said. "He has had some learning matches, but he really imposes his will in most matches."
And he's been doing it since bursting onto the scene as a sophomore last season. Vannoy settled for a third place showing at last season's Class 6A regional tournament, but he avenged his regional loss to Broken Arrow's Brady Mattioda with a convincing victory between the two in the state tournament. Vannoy would eventually claim a state championship at 152 pounds, and this year he's out to defend it.
"Drake is learning what it is like to be a defending state champion," Weis said. "He has learned that everyone is going to wrestle him differently and he has to be intense every match. That has made him a better competitor and wrestler."
With a fourth place finish at the Las Vegas Classic and a second-place showing at the Larry Wilkey Invitational, Vannoy said his main focus is to constantly put his opponents on the defensive.
"The biggest key to my success is my conditioning and ability to push the pace," he said.
Jenks has two regular season duals left against Union and Owasso, and the Trojans will wrestle in the Glenpool tournament before venturing into postseason play, which includes dual state, regionals and the state tournament at the end of February.



Hoop notes…

**The last major tournament week of the basketball season means more than championship trophies and bragging rights.
It's also the last chance for teams to make a major push before Monday's rankings are submitted.
Those rankings are the last ones before the OSSAA releases playoff assignments for Classes 2A, 3A and 4A.
So, for a team like Bethany, which currently sits at No. 11 in 4A, could a win against No. 1 Kingfisher in the finals of the Buckle of the Wheatbelt (IF both make it there) be enough to vault the Bronchos into the highly-valued top-eight?
That's what teams on the edge of the top-eight, whether in or out this week, will be looking to achieve in the biggest tournament week of the year.


**When Oklahoma City Public School Superintendent Sean McDaniel revealed three possible plans as part of its "Pathway to Greatness" initiative to the district school board Tuesday night, there was one glaring fact that would affect the state's basketball landscape.
Each plan listed a number of potential school closings within the district. A few schools were listed in all three of them. One of them was Oklahoma Centennial Mid-High.
Barely a decade old, Centennial is already considered a basketball power.
It won back-to-back 3A championships in 2011 and 2012 and has contended for a title nearly every year since.
The Bison aren't necessarily a power player this year. They're currently 4-9 with two of those wins against home-school program OKC Storm North.
However, much of the rest of their schedule has been a brutally-tough one and the Bison will be a team nobody wants to see come playoff time.
But with the future of the school basically decided, what will become of the program?
Where will the current and future roster be going to school in the future?
What about head coach Kendal Cudjoe, part of one of the most respected basketball families in OKC?
All of that has yet to be decided, but when it happens, there will be a void in 3A and a boost to other programs who benefit from the school's closing.


**A team to watch? How about the Clinton boys.
Not necessarily known for their basketball prowess, the Red Tornadoes are 12-3.
They staked their claim to be ranked Tuesday by knocking off No. 4 Anadarko, 61-48.
They're the No. 1 seed in this week's Tishomingo Invitational. A win there - or at least a strong showing - and the Reds just might be ranked come Monday afternoon.
It likely won't affect their playoff draw much, but it will be a big boost to a program no doubt overshadowed by football.


**If you tuned into our Publics & Privates OKPreps Podcast this week, you heard me say Class B is as far down as I can remember.
That goes for boys and girls.
Doesn't mean there aren't quality teams on either side, but the depth and level of quality just isn't there like it was three, four, five and more years ago.
On the podcast, I was specifically talking about Class B girls.
And - literally - as we were recording that last Friday night, Seiling was hammering home that point.
Class A's top-ranked Ladycats took Hammon out to the ol' proverbial woodshed with a 70-32 beating.
Now, there's no shame in losing to Seiling. It is a team, after all, with two Division I signees in Macy and Karly Gore,
They embarrass lots of foes.
And I don't think the margin of victory would be quite so much should the teams play again.
But, still, there's a large gap between the best teams in A and the best teams in B.
That hasn't always been the case.
*****Michael Swisher contributed to this report



|

Ben Johnson




Look back at 2017
2017 district champs
2A-1: Chisholm - The Longhorns were golden when they weren't facing Washington in 2017. Luckily for them, Washington was in a different district, so Chisholm made an unbeaten 6-0 run through A-1 last season, including a 33-21 victory over Alva in October. But unfortuntaely for Chisholm, its only two losses were to Washington in non-district play in September and then in the second round of the playoffs in November.
2A-2: Millwood - A machine -- that's what Millwood was in 2017. The Falcons scored no fewer than 37 points in all 14 of their games, and they never gave up more than 18. That's pure dominance. And to cap it all off, Millwood outscored its opponents 228 to 7 in the postseason.
2A-3: Lindsay - The Leopards were hard to get a read on in 2017, but they finished atop 2A-3 by the end of the regular season. A 27-21 loss to Hobart landed Lindsay in a tie atop the district with Washington, but the Leopards followed that loss with a 38-21 victory over Washington to claim the tiebreaker. But while Washington was making a run to the state championship game, Lindsay ended up with a second-round loss to Alva to cap a 7-5 season.
2A-4: Davis - Head coach Jody Weber capped his 17-year run as the Wolves' head coach with the program's 34th district title. Davis knocked off every 2A opponent it faced in 2017 until it clashed with Washington in the semifinals.
2A-5: Vian - The Wolverines coasted in 2A-5 play, winning all five contests comfortable. The closest was a 26-12 win over Okemah in late October. The district title segued into playoff wins over Panama and Victory Christian and the first two rounds, but then Millwood was waiting in the quarterfinals to pull the plug on Vian's postseason run.
2A-6: Valliant - Really only one word sums up 2A-6 in 2017: craziness. Five -- yes, five! -- teams finished atop the district standings at 4-2. It was Valliant that ended up with its fifth district crown, and then there was Hartshorne that missed the playoffs altogether. Valliant, Spiro and Antlers all won their first round playoff matchups, but none of the three advanced past the second round.
2A-7: Holland Hall - It was the first district championship for the Dutch, a team that had joined the OSSAA ranks in 2016 after transitioning over from the Southwest Preparatory Conference with mostly Texas teams. Holland Hall looked like a potential opponent for Millwood in the finals, but a furious comeback by Davis in the quarterfinals ended the Dutch's postseason run.

2A-8: Adair - The Warriors picked up their seventh straight district title, thanks in large part to a 36-14 win over Commerce in the final week of the regular season. Adair marched into the quarterfinals, where Alva dispatched the Warriors with a 40-8 rout.

Talking title game: Millwood 42, Washington 7
An underdog heading into the game, Washington struck first and looked like it might elevate Millwood's stress level for the first time during the 2017 season. But all the Falcons did was respond with 42 straight points to coast to their seventh state championship. Running back Marcus Major ran for 152 yards and three touchdowns on 12 carries for the Falcons, and Dezmond Howard scored on both sides of the ball (a 40-yard TD reception and an 82-yard fumble return). Millwood ended up forcing four Washington turnovers in the game.




On to 2018...
Players to watch
- Marcus Major (Millwood): Not great news for the rest of Class 2A that Major returns in the Falcons' backfield in 2018. The Oklahoma commit had 1,155 yards and 23 touchdowns on 102 carries last season. Also mixed in 23 catches for 490 yards and five touchdowns.