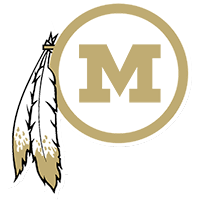 Marietta Indians
Marietta, OK 73448
Football
Boys Basketball
Girls Basketball
Baseball
Slow Pitch
Fastpitch
2022-2023 Football Schedule
Record: 2-7 | Unranked
| | | | |
| --- | --- | --- | --- |
| | vs Valliant | | Missing Score |
vs Valliant
W
21-20
8/26
| | | | |
| --- | --- | --- | --- |
| | @ Plainview JV | | Missing Score |
@ Ringling
L
58-0
9/9
vs Coalgate
W
32-28
9/23
| | | | |
| --- | --- | --- | --- |
| | @ Coalgate | | Missing Score |
@ Atoka
L
31-6
9/30
vs Tishomingo
L
21-28
10/7
@ Davis
L
49-30
10/13
vs Lexington
L
16-26
10/21
@ Holdenville
L
49-12
10/28
@ Kingston
L
55-0
11/3
| | | | |
| --- | --- | --- | --- |
| | @ Kingston | | Missing Score |
|

Ben Johnson
It's hardware galore as spring sports wind down. Michael and Ben dissect baseball, slowpitch softball, golf, track & soccer as teams and individuals enter the final weekend of competition for this athletic season.
Find out which performances this spring have impressed the guys the most, and listen in as they give props to the outstanding offensive performances at the slowpitch state tournaments that happened to close out the school year.
All that, plus some coaching moves to mention, including Justin Brown filling the shoes left by Larry Callison at Tahlequah Sequoyah. And also some football recruiting tidbits.
Thanks as always for listening.
WE WANT YOUR FEEDBACK! Have a topic you'd like discussed, or have any questions for us, feel free to contact the show at:
EMAIL: ben@skordle.com
@michaelswisher†&†@benjohnsontul
|

Michael Swisher
While out trick-or-treating with my kids Monday night, I was having a discussion with some of the other parents in our group about my Halloween experiences as a kid.
I vividly remember always loving the houses that gave away homemade cookies, brownies, caramel apples and - especially - popcorn balls.
I was reminiscing and remembering the good olí days when people used to hand out these homemade treats and it really made Halloween special.
As my kids were about midway through the evening and collecting a ton of Halloween candy, all three of them came running back to me telling they were just given popcorn ball.
They all wanted to know what it was exactly and if it was good?
Is it good?!?!?!?!?!