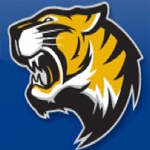 Liberty Tigers
Mounds, OK 74047
Volleyball
Wrestling
Football
Boys Basketball
Girls Basketball
Baseball
Slow Pitch
Fastpitch
2021-2022 Football Schedule
Record: 1-5 | Unranked
@ Fairland
L
40-0
9/10
@ Caney Valley
L
28-12
9/17
vs Okemah
L
6-60
9/24
@ Stroud
L
50-28
10/1
@ Allen
W
18-23
10/8
vs Wewoka
L
27-28
10/14
vs Savanna
W
54-14
10/22
@ Konawa
10/29
7PM
vs Mounds
11/5
7PM
|

Ben Johnson
Jenks has hired Justin Timmerman as its new baseball coach, according to a release from the school on Friday.
"I am extremely excited to be the next head baseball coach at Jenks High School," Timmerman said in statement. "This has been a dream come true for me and my family. Jenks baseball has a rich tradition of building upon that legacy."
Timmerman takes over after coaching Sperry the past sixseasons. During the 2019 season, he eclipsed the career 300-win mark.
Sperry wrapped up a 15-14 season in 2019, and fell just short of the state tournament. Timmerman posted a 117-70 record while leading the Pirates.
Prior to his stint in Sperry, Timmerman spent time as the coach at Liberty High School in Mounds before going to Chouteau. From there, he went to Ponca City before serving as an assistant coach at Oral Roberts for two seasons. He's also spent time as a junior college head coach at Globe Institute of Technology in New York City before serving as the head coach at Boca Raton Community High School in Florida.
At Jenks, Timmerman will take over for Jeff Owens, who guided the Trojans to a 21-15 season and a spot in the 6A state tournament.
|

Michael Swisher
Halloween candy is fantastic and why exactly are these "fun sized" portions so awesome?
I believe the answer lies somewhere in the combination between quantity and variety, where someone can sample and indulge in all their favorites.
Maybe because it only happens once a year in late October?
As a child, Halloween meant trick or treating for hours and loading up a paper grocery sack full of Halloween candy, most of which was eaten before bedtime.
Some of the candy ended up in the freezer for school lunches and daily snacking until all that would be left were Tootsie Rolls, Almond Joys and Mounds because those three are terrible
I'm sorry if you like those but I do not!
If you saw Mississippi State Head Football Coach Mike Leach's post-game interview last Saturday, he really hates candy corn!
I agree and think most people also hate candy corn except Adam Diesselhorst, whose birthday just so happens to be on Halloween.