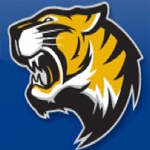 Liberty Tigers
Mounds, OK 74047
Volleyball
Wrestling
Football
Boys Basketball
Girls Basketball
Baseball
Slow Pitch
Fastpitch
2022-2023 Football Schedule
Record: 2-3 | Unranked
@ Chouteau
W
25-26
9/2
vs Ketchum
L
0-34
9/9
| | | | |
| --- | --- | --- | --- |
| | @ Fairland | | Missing Score |
@ Fairland
L
30-29
9/16
vs Stroud
L
13-52
9/23
@ Konawa
W
24-43
9/30
vs Savanna
10/7
7PM
@ Allen
10/13
7PM
vs Wewoka
10/21
7PM
@ Mounds
10/28
7PM
vs Hartshorne
11/4
7PM
|

Ben Johnson
Jenks has hired Justin Timmerman as its new baseball coach, according to a release from the school on Friday.
"I am extremely excited to be the next head baseball coach at Jenks High School," Timmerman said in statement. "This has been a dream come true for me and my family. Jenks baseball has a rich tradition of building upon that legacy."
Timmerman takes over after coaching Sperry the past sixseasons. During the 2019 season, he eclipsed the career 300-win mark.
Sperry wrapped up a 15-14 season in 2019, and fell just short of the state tournament. Timmerman posted a 117-70 record while leading the Pirates.
Prior to his stint in Sperry, Timmerman spent time as the coach at Liberty High School in Mounds before going to Chouteau. From there, he went to Ponca City before serving as an assistant coach at Oral Roberts for two seasons. He's also spent time as a junior college head coach at Globe Institute of Technology in New York City before serving as the head coach at Boca Raton Community High School in Florida.
At Jenks, Timmerman will take over for Jeff Owens, who guided the Trojans to a 21-15 season and a spot in the 6A state tournament.
|

Michael Swisher
On the way home from Labor Day weekend at Grand Lake, I decided to stop at 1907 Barbecue in Tulsa and see what all the recent recognition and hype was all about.
1907 has had a growing positive following among BBQ lovers in past months and this was especially highlighted in a recent article and review in Texas Monthly.
We all know, or should at least, that the quality of sliced brisket is what really separates the pretty good BBQ places from the truly great ones…and the brisket that 1907 has been cooking has been highly acclaimed for quite some while.
I had also been intrigued by their pictures of their barbacoa tacos, which they only serve on Sundays, so I decided it was time to check things out for myself.
1907 Barbecue started as food truck in Tulsa and has now moved to the very popular Mother Road Market, which is a collection of several restaurants and shops all under one roof, offering seating both inside and outside.
This made for a very neat atmosphere for what was sure to be an excellent lunch!
The sliced brisket was everything it was made out to be and more.
It was perfectly moist, high in buttery fat content and had a dark, rich bark crust.
1907 produced the melt-in-your-mouth quality sliced brisket I wanted and honestly it was one the best pieces of sliced brisket I have ever had in Oklahoma.
I can confidently say that it is in the discussion for the best brisket in Oklahoma - without question.
The barbacoa tacos at 1907 are made with slow roasted beef cheek and packed full of tremendous flavor!