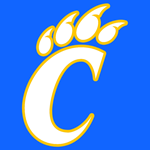 Chouteau-Mazie Wildcats
Chouteau, OK 74337
Volleyball
Football
Boys Basketball
Girls Basketball
Baseball
Fastpitch
2023-2024 Football Schedule
Record: 3-7 | Unranked
@ Liberty
L
21-16
8/31
vs Salina
L
22-50
9/8
@ Warner
W
22-30
9/15
@ Tonkawa
L
27-0
9/22
vs Woodland
L
8-36
9/29
vs Chelsea
W
20-0
10/6
@ Pawnee
L
46-8
10/12
vs Oklahoma Union
W
46-14
10/20
@ Morrison
L
36-20
10/27
vs Hominy
L
12-28
11/3
|

Ben Johnson
Jenks has hired Justin Timmerman as its new baseball coach, according to a release from the school on Friday.
"I am extremely excited to be the next head baseball coach at Jenks High School," Timmerman said in statement. "This has been a dream come true for me and my family. Jenks baseball has a rich tradition of building upon that legacy."
Timmerman takes over after coaching Sperry the past sixseasons. During the 2019 season, he eclipsed the career 300-win mark.
Sperry wrapped up a 15-14 season in 2019, and fell just short of the state tournament. Timmerman posted a 117-70 record while leading the Pirates.
Prior to his stint in Sperry, Timmerman spent time as the coach at Liberty High School in Mounds before going to Chouteau. From there, he went to Ponca City before serving as an assistant coach at Oral Roberts for two seasons. He's also spent time as a junior college head coach at Globe Institute of Technology in New York City before serving as the head coach at Boca Raton Community High School in Florida.
At Jenks, Timmerman will take over for Jeff Owens, who guided the Trojans to a 21-15 season and a spot in the 6A state tournament.
|

Korry Rogers
Skordle will be hosting a player of the week poll each week for the 2018 football season. The poll will be open until midnight each Tuesday night. You can vote once per hour, so vote for your favorite candidate and tell your friends!
Week 0 Player of the week is sponsored by

To nominate a player for player of the week tweet their name, school, and game stats to @Skordle or email information to benjohnsondp@gmail.com
Here are the Week 0 Player of the Week candidates in no particular order:
---
Gavin Potter (Broken Arrow) - 16 total tackles, 6 tackles for loss (31 yards), tackle for safety
J.D. Coonfield (Guthrie) - 16 total tackles, 1 sack, 1 tackle for loss, 2 pass break-ups, 1 interception return for touchdown
Carson Berryhill (Tuttle) - 16 of 18 passing for 309 yards and 3 touchdowns. Also had a rushing touchdown
Grant Elerick (Stroud) - 23 of 27 passing, 274 yards, 3 TDs
Jacob Graham (Chouteau) - 3 of 3 passing for 116 yards, 1 TD | 1 rushing TD | On defense, 7 total tackles & 1 INT for a 35-yard touchdown
Jacob Bruce (Hulbert) - 24 carries, 321 yards, 4 TDs
Bryson Gore (Seiling) - Rushed for 212 yards, 3 TDs | Passed for 107 yards, 1 TD (all in the first half)
Tayden Lucero (Haskell) - 12 of 20 passing, 148 yards | 19 carries, 212 yards | 3 total touchdowns
Blake Hipp (Hominy) - 7 of 14 passing, 290 yards, 5 TDS | 11 carries, 84 yards, 3 TDs
---
---
Honorable Mention
These guys also had great weeks and it would be right to at least give them a little love.
Noah Cortes (Broken Arrow) - 25 carries, 157 yards, 2 touchdowns in the Tigers' 33-10 win over Union

Will Kuehne (Owasso) - Passed for 343 yards and scored five touchdowns

Deyseaon Moore (Chcotaw) - Started at safety, shifted to RB - had the game-winning TD in overtime - rushed for 107 yards and two touhdowns

Ben Ward (Cleveland) - 15 of 25 passing for 265 yards and four touchdowns
Asher Link (Metro Christian) - 21 of 36 passing for 265 yards and two touchdowns. Had 60 yards and 2 touchdowns on 16 carries.

Ethan Downs (Weatherford) - 18 carries, 199 yards, 2 touchdowns | 1 reception for 25 yards, 1 TD
Jaxon Henderson (Cascia Hall) - 15 of 23 passing for 210 yards, 3 touchdowns | 2 carries for 11 yards
Chase Ricke (Lincoln Christian) - 16 of 24 passing for 288 yards, 3 TDs
Jack Grimmett (Pauls Valley) - 28 carries, 205 yards, 1 TD
Coby Davis (Stroud) - 14 receptions, 121 yards, 2 Tds

Barrett Bradbury (Adair) - 2 receptions, 106 yards, 2 TDs
Jarron Sebert (Jones) - 10 total tackles, 1 sack, 1 forced fumble

Griffin Lamb (Cashion) - 11 of 11 passing, 219 yards, 4 TDs | 7 carries, 67 yards
Hunter Bowers (Crescent) - Passed for 200 yards, 3 TDs | Rushed for 100 yards, 1 TD
James Overton (Minco) - 10 total tackles, 2 INTs
|

Ben Johnson




Look back at 2017
2017 district champs
2A-1: Chisholm - The Longhorns were golden when they weren't facing Washington in 2017. Luckily for them, Washington was in a different district, so Chisholm made an unbeaten 6-0 run through A-1 last season, including a 33-21 victory over Alva in October. But unfortuntaely for Chisholm, its only two losses were to Washington in non-district play in September and then in the second round of the playoffs in November.
2A-2: Millwood - A machine -- that's what Millwood was in 2017. The Falcons scored no fewer than 37 points in all 14 of their games, and they never gave up more than 18. That's pure dominance. And to cap it all off, Millwood outscored its opponents 228 to 7 in the postseason.
2A-3: Lindsay - The Leopards were hard to get a read on in 2017, but they finished atop 2A-3 by the end of the regular season. A 27-21 loss to Hobart landed Lindsay in a tie atop the district with Washington, but the Leopards followed that loss with a 38-21 victory over Washington to claim the tiebreaker. But while Washington was making a run to the state championship game, Lindsay ended up with a second-round loss to Alva to cap a 7-5 season.
2A-4: Davis - Head coach Jody Weber capped his 17-year run as the Wolves' head coach with the program's 34th district title. Davis knocked off every 2A opponent it faced in 2017 until it clashed with Washington in the semifinals.
2A-5: Vian - The Wolverines coasted in 2A-5 play, winning all five contests comfortable. The closest was a 26-12 win over Okemah in late October. The district title segued into playoff wins over Panama and Victory Christian and the first two rounds, but then Millwood was waiting in the quarterfinals to pull the plug on Vian's postseason run.
2A-6: Valliant - Really only one word sums up 2A-6 in 2017: craziness. Five -- yes, five! -- teams finished atop the district standings at 4-2. It was Valliant that ended up with its fifth district crown, and then there was Hartshorne that missed the playoffs altogether. Valliant, Spiro and Antlers all won their first round playoff matchups, but none of the three advanced past the second round.
2A-7: Holland Hall - It was the first district championship for the Dutch, a team that had joined the OSSAA ranks in 2016 after transitioning over from the Southwest Preparatory Conference with mostly Texas teams. Holland Hall looked like a potential opponent for Millwood in the finals, but a furious comeback by Davis in the quarterfinals ended the Dutch's postseason run.

2A-8: Adair - The Warriors picked up their seventh straight district title, thanks in large part to a 36-14 win over Commerce in the final week of the regular season. Adair marched into the quarterfinals, where Alva dispatched the Warriors with a 40-8 rout.

Talking title game: Millwood 42, Washington 7
An underdog heading into the game, Washington struck first and looked like it might elevate Millwood's stress level for the first time during the 2017 season. But all the Falcons did was respond with 42 straight points to coast to their seventh state championship. Running back Marcus Major ran for 152 yards and three touchdowns on 12 carries for the Falcons, and Dezmond Howard scored on both sides of the ball (a 40-yard TD reception and an 82-yard fumble return). Millwood ended up forcing four Washington turnovers in the game.




On to 2018...
Players to watch
- Marcus Major (Millwood): Not great news for the rest of Class 2A that Major returns in the Falcons' backfield in 2018. The Oklahoma commit had 1,155 yards and 23 touchdowns on 102 carries last season. Also mixed in 23 catches for 490 yards and five touchdowns.