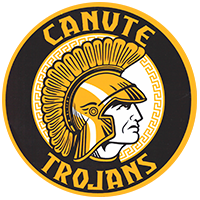 Canute Trojans
Canute, OK 73626
Wrestling
Boys Basketball
Girls Basketball
Baseball
Fall Baseball
Slow Pitch
Fastpitch
Click a sport in the menu above to view schedules & results.
|

Ben Johnson
State tournament wrestling is this weekend, and small school basketball teams will be punching their tickets to the state tournament in area tournament play.
Listen in as we break it all down for you.

|

Ben Johnson
Medals and trophies have been handed out to wrestlers across the state. Now it's time for basketball teams to start claiming hardware.
Ben and Michael dive into Class A & B state basketball tournaments on tap this week, and they guys also make their predictions in each class.
Ben breaks down what happened at the state wrestling tournament and some of the various highlights along the way. 
Also added a new segment where the guys named their MVPs of the week. Listen in and find out who they dubbed as last week's MVPs.
All that leading up to Michael's interview with Okarche coach Ray West. You don't want to miss what West had to say.
Thanks for listening & enjoy!
Have any feedback? Email the show at ben@skordle.com
|

Michael Swisher
Halloween candy is fantastic and why exactly are these "fun sized" portions so awesome?
I believe the answer lies somewhere in the combination between quantity and variety, where someone can sample and indulge in all their favorites.
Maybe because it only happens once a year in late October?
As a child, Halloween meant trick or treating for hours and loading up a paper grocery sack full of Halloween candy, most of which was eaten before bedtime.
Some of the candy ended up in the freezer for school lunches and daily snacking until all that would be left were Tootsie Rolls, Almond Joys and Mounds because those three are terrible
I'm sorry if you like those but I do not!
If you saw Mississippi State Head Football Coach Mike Leach's post-game interview last Saturday, he really hates candy corn!
I agree and think most people also hate candy corn except Adam Diesselhorst, whose birthday just so happens to be on Halloween.