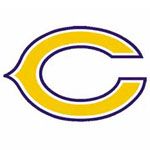 Central Sallisaw Tigers
Sallisaw, OK 74955
Football
Boys Basketball
Girls Basketball
Baseball
Slow Pitch
Fastpitch
2022-2023 Football Schedule
Record: 4-1 | Unranked
vs Heavener
W
35-33
9/2
| | | | |
| --- | --- | --- | --- |
| | vs Heavener | | Missing Score |
@ Warner
L
28-7
9/9
vs Roland
W
30-21
9/15
vs Roland
W
30-21
9/16
vs Haskell
W
22-19
9/23
@ Pocola
L
30-8
9/30
@ Gore
10/13
7PM
@ Panama
10/28
7PM
vs Canadian
11/14
7PM
|

Ben Johnson
Fort Coffee is headed for the big stage.
Wait, Fort Coffee? Where is that? Is it in Oklahoma?
It's a town that might go unrecognized, outside of severe weather coverage in Oklahoma, but Fort Coffee sits in the Arkansas River bend near Skullyville and northeast of Spiro. Just find LeFlore County in far eastern Oklahoma, and it sits at the very northern tip of the county.
It's where McKinley Whitfield has called home all his life.
Now Whitfield will fly the Fort Coffee flag proudly when he attends New York Giants mini camp.
"It means everything in the world to me to represent Spiro and Fort Coffee," said Whitfield, a former standout at Spiro High School before playing college football at the University of Tulsa.
"I grew up there my whole life, and I just try my best to be a inspiration to all the younger kids there."
Whitfield, measuring at 6 feet, 3 inches and 217 pounds, knows professional athletic endeavors don't come along often for those growing up in Fort Coffee.
"Not many people from the area get changes like these," he said, "so it's a blessing."
Whitfield, a safety by trade, recently watched the NFL Draft intently, hoping for his name to appear in the later rounds. But all seven rounds breezed by, despite a few draft boards mentioning Whitfield as a possible late-round candidate.
"It was very frustrating," said Whitfield, who logged 264 tackles and 19 pass breakups during his collegiate career. "Everybody was thinking that I was going to get drafted, so I didn't want to let anybody down. I just tried to keep myself busy during the whole process and be around my family."
It didn't take long for Whitefield to draw an invitation to New York's minicamp, which begins this weekend.
"It feels good getting a chance to go play at the next level," said Whitfield, who nabbed four interceptions while at Tulsa. "Of course I would rather have gotten drafted or a free agent deal, but it's just more motivation for me.
Whitfield joins four other TU players as mini camp invitees. Justin Hobbs and Willie Wright will work out for the Kansas City Chiefs and Cleveland Browns, respectively, and two other in-state talents, Tyler Bowling (Yukon) and Chandler Miller (Bixby), will try to earn a spot with the Atlanta Falcons.
Leading up to the draft, Whitfield never had much interaction with the Giants, chatting with the organization once while at a senior event in Texas. But now he gets a chance to prove Fort Coffee belongs in the NFL.
"I've always been a hard worker since I was a kid," Whitfield said. "That definitely isn't going to stop now."
*Photo credit: University of Tulsa
|

Michael Swisher
On the way home from Labor Day weekend at Grand Lake, I decided to stop at 1907 Barbecue in Tulsa and see what all the recent recognition and hype was all about.
1907 has had a growing positive following among BBQ lovers in past months and this was especially highlighted in a recent article and review in Texas Monthly.
We all know, or should at least, that the quality of sliced brisket is what really separates the pretty good BBQ places from the truly great ones…and the brisket that 1907 has been cooking has been highly acclaimed for quite some while.
I had also been intrigued by their pictures of their barbacoa tacos, which they only serve on Sundays, so I decided it was time to check things out for myself.
1907 Barbecue started as food truck in Tulsa and has now moved to the very popular Mother Road Market, which is a collection of several restaurants and shops all under one roof, offering seating both inside and outside.
This made for a very neat atmosphere for what was sure to be an excellent lunch!
The sliced brisket was everything it was made out to be and more.