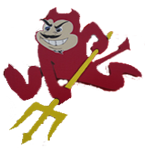 Crowder Demons
Crowder, OK 74430
Wrestling
Boys Basketball
Girls Basketball
Baseball
Fall Baseball
Slow Pitch
Fastpitch
Click a sport in the menu above to view schedules & results.
|

Michael Swisher
I hope everyone had a great Fall Break in Oklahoma.
My family spent our break at Disney World, the "Happiest Place on Earth" and we had a great time.
All the parks have certain rides, experiences and themes about them that makes each one enjoyable.
During my visit last week, I asked the following question to experienced Disney World visitors Michael Swisher and Lynn Shackelford: Which is the better treat at Disney World – Mickey's Ice Cream Bar or the Dole Whip?
The Mickey's Ice Cream Bar is a vanilla ice cream bar dipped in chocolate fudge. It is so simple and yet so good!
The Dole Whip is a pineapple flavored dessert that is basically like soft served ice cream except it has no milk in it, but man is it also good and very popular.
Both the ice cream bar and the Dole Whip seem to start melting as soon as you get your hands on them, so you must eat them as fast as possible.
The Mickey's Ice Cream Bars are literally for sale everywhere while the Dole Whip can be a little more challenging to find.
Swisher went with Mickey's Ice Cream Bars while Shack went with Dole Whip.
I had both on my recent visit, but the Mickey's Ice Cream Bar wins this contest for me.
I'm pretty sure I had at least 10 of them during the trip and maybe even more but who was really counting?
I sure wasn't and no one at Disney was either apparently when they were giving them away for free one night at Magic Kingdom.
|

Michael Swisher
6AI looks like it's getting back to normal now that Jenks and Union claim the top two spots in the rankings.
Jenks traveled to a tough Edmond Santa Fe atmosphere over the fall break last week. The Trojans struggled a little bit in the first half, but the second half is when they looked like the #1 team in the class.
They managed to shut out the Wolves offense in the second half, outscoring them 18-0. This ultimately lead the Trojans to the 35-14 road win.
Union cruised by Moore 56-14. The Redskins' only tough game left is when they travel to Norman North this Friday and the Jenks Trojans have an easy road to the playoffs as well.
If both teams stay consistent on both sides of the ball, there could very well be a rematch for the state championship.
The Redskins will be looking for revenge after getting shut out by the Trojans 22-0 earlier this season.
There are some really fun battles this Friday. Let's see what we have to look forward to.
1. #7 Blanchard 6-1 (4-0 in 4A-2) @ #4 Cushing 6-1 (3-1 in 4A-2)
Blanchard has been rolling through the district, but the Lions have a tough stretch. They are traveling to Cushing this week, host Harrah next week and will then be traveling to Tuttle the week after to close out the regular season. This may be a young squad, but they have a variety of talent in the rushing game and sophomore quarterback Carson Cooksey is only getting started with his career. He has 15 touchdowns through the air and four on the ground. Not to mention, he only has three interceptions this year. This is just the beginning for this kid. We'll be hearing his name for a while.
On the other side, you have the Cushing Tigers having an unbelievable season. How about the Berlowitz/Crooks combo? This duo is something special. They may have lost a heartbreaker at home to top-ranked Tuttle, but they're still the fourth-ranked team in 4A. If the Tigers win out, they'll still have a major spot in the playoffs. Can they do the unthinkable and shock 4A this year? We'll find out in a few weeks.
2. #4 Del City 6-1 (4-0 in 6AII-1) @ Deer Creek 6-1 (3-1 in 6AII-1)
Who would've ever thought these two squads would have this kind of start? Deer Creek is more well-known for its track and cross country prowess. The Eagles of Del City found their way in the top 5 after going 4-6 last year. There was some Eagle magic last week as the Del City faithful stole one at PC North, 20-14, in overtime. If the Eagles can pull off another road victory this Friday, they will easily be on their way to home field advantage. They have U.S. Grant and Lawton after Friday, which should be two easy wins.
Deer Creek has some magic of its own. It already looks like the Antlers will have their first winning season since 2015. An upset win against the favorite Del City would put the Antlers in a three-way tie for first in the district with Del City and Stillwater. Stillwater is the Antlers' only loss which was 35-28 in overtime. Even having that loss on its resumé, Deer Creek has only allowed 10 points a game and has scored an average of 39 points a game. And don't sleep on senior quarterback Brett Pense. He's 6'4 and can score throwing the ball as well as on the ground. He's completed 62% of his passes and only has one interception. Watch out 6AII…Deer Creek could be the dark horse.
3. #5 Edmond Santa Fe 4-3 (3-1 in 6AI-1) @ #4 Broken Arrow 4-3 (3-1 in 6AI-1)
The Wolves of Santa Fe has had one of the toughest schedules in the state. All three of their losses have been by ranked opponents. That is a big reason why they are still in the top-five in 6AI. However, they will definitely have to earn it this Friday at Broken Arrow, which has always been a tough environment. A loss would really hurt the Wolves in the standings and they could lose privilege of home field advantage.
Broken Arrow is pretty much in the same situation as Edmond Santa Fe. All three of their losses have been by ranked opponents as well. This is a rebound game for both teams. Whoever wins this battle will have its confidence back and will be more ready for the playoffs. The Tigers might just have a little more momentum after winning their two previous games. Both teams have great offensive power. But which defense will come out on top?
4. Perry 5-2 (4-0 in 2A-1) @ #4 OCS 7-0 (4-0 in 2A-1)
This is a super exciting game for both teams. The Maroons are 5-2 but have won five straight and they are 4-0 in district play. Caden Hall is the second-leading rusher in the entire state with 1,174 yards and 16 touchdowns. Could he lead this offense to a major upset and claim first place in the district?
OCS could make a run to the 2A state championship after falling to eventual champ Metro Christian in the semis last season. OCS quarterback Garret Wilson may just be a sophomore, but he has a veteran core around him such as Kaleb Barnes, Colin Matteson and Will Watson. Besides last week's win over Luther, 58-29, the Saints have managed to only allow less than 20 points every game. This is a dangerous team and could be the dark horse to win it all.
5. #10 Fairview 7-0 (4-0 in A-1) @ #7 Mooreland 6-0 (4-0 in A-1)
A top-10 matchup in the small town of Mooreland? This will be a fun one. Few expected these two teams to be in the top 10. The previous two seasons, Fairview went 3-8 and 2-9. This year, not only could the Yellowjackets win the district, but they could have home field advantage. Nonetheless, what a huge improvement for this program.
Mooreland is also undefeated after going 8-6 last season and making a run to the state quarterfinals. The Bearcats have been living a bit of a charmed life. Four of their wins are by eight points or less.
Both teams are tied with Hooker atop the district standings…and the Bulldogs loom for both squads. A win here keeps one team on the right track…a loss doesn't mean the district title isn't attainable, but it becomes a more difficult task.
|

Michael Swisher
The Okeene Whippets downed the Cherokee Chiefs Thursday night to jump back District B-2 mix.
A close game throughout the first three quarters saw Okeene surge forward to take the 28-12 victory.
The Whippets got a big game from their workhorse running back WIlliam Karbs. He finished with 205 yards on 26 carries.
Quarterback Brody Jinkens also piled on 118 yards on the ground after carrying the ball 14 times.
Cherokee's quarterback Kai McHenry carried the ball 19 times for 84 yards and a touchdown.
The game was highlighted by Karbs and Jinkens.
Karbs touched the ball on over 50 percent of the Whippet offensive snaps. He also was a crucial part of the defense, where he made big fourth down stops from his middle linebacker position.
Karbs ran in two scores with his last being the final points of the game to seal the win.
In the first half, Cherokee gave up an opening drive touchdown.
Karbs ran it in from 8 yards away, but Cherokee dominated the rest of the half.
McHenry drove the Chiefs down the field, capping the drive with a 14-yard scamper to the end zone.
Chiefs running back Kolby Roberts got in on the action and delivered an 18-yard run to the end zone during the second period.
Cherokee led 12-6 at the half after failed two-point conversions on both sides.
Late in the third quarter is when Okeene began to take over.
Jinkens gave a great pump fake and delivered a strike over the safety to Bryer Roberts. Roberts walked into the end zone and after a successful conversion, the Whippets led 14-12.
The fourth quarter was dominated by the Whippets on both sides of the ball.
Continuously running through Karbs and Jinkens, they were able to salt the clock away.
Jinkens broke free on a fantastic 78-yard touchdown run to open the quarter. Karbs also added his own long touchdown, this one being 67 yards away.
Okeene shut out the visiting Chiefs in the second half.
The Chiefs had to try and execute through the air in the fourth quarter and McHenry was under pressure quickly on mostly every drop back.
The Whippet defense also came up with two crucial fumble recoveries.
Okeene forced the last one late in the fourth quarter deep in its own red zone.
Okeene moved on to be 2-5 overall and 1-1 in district play, with a game at Pond Creek-Hunter in Week 8.
The Panthers will also enter the game with a 1-1 district mark.
Cherokee falls to 2-5 and 1-1 and will take on Kremlin-Hillsdale in Friday. Kremlin-Hillsdale also is 1-1 in the district making that game pivotal as well.
|

Michael Swisher
We are just about halfway through the season. This is the point of the season where teams are really starting to figure out their identity.
Coaches are figuring out if they need to make any other adjustments and how they should approach the final stretch before the playoffs.
This is the most critical part of the season as teams fight out for home-field advantage…or even just a spot in the playoffs.
Keep an eye out for these games on the Skordle app:
1. #2 McAlester 6-0 (3-0 in 5A-3) @ #3 Coweta 6-0 (3-0 in 5A-3)
From what we've seen the past two weeks, defending 5A champion Carl Albert has slowly crept its way back in the top-five in the class. Regardless, Class 5A is still wide open this year and this game will largely affect the home field advantage and seeding race. Can senior quarterback Trent Boatright end his high school career in style with a state championship and end Carl Albert's streak of five straight 5A titles? He and the rest of the Buffalo firepower are hungry for a road win this week. On the other side, it's a pretty identical story. The Coweta Tigers are led by senior quarterback Gage Hamm who hasn't thrown an interception all season. Hamm has 15 touchdowns in the air and four on the ground for the Tigers. This might be the biggest games for both seniors. It will be a blast to see which senior comes out on top.
2. #2 Lincoln Christian 7-0 (3-0 in 3A-3) @ #4 Seminole 6-0 (2-0 in 3A-3)
Did you know that Lincoln Christian has been so dominant this season that its second-string quarterback has appeared in six of their seven games? Even the third string quarterback was awarded the opportunity to appear just a few weeks ago in a district game at Sequoyah where he went 10-15 for 80 yards and a touchdown. The only tough game the Bulldogs have had was a non-district road trip at Jones when they hung on 31-29. Other than that, it has been blowout after blowout for the Bulldogs. But the Chieftains are going to be fired up as well, especially after their past two clutch wins each by one possession. They've had their struggles on defense, but a home win for the Seminole faithful this week would be a huge boost for the Chieftains.
3. #1 Jenks 5-1 (3-0 in 6AI-1) @ #4 Edmond Santa Fe 4-2 (3-0 in 6AI-1)
The only Edmond school that has a chance at a state championship hosts its biggest game all season when Jenks comes to town. Santa Fe is on a four-game winning streak since losing its first two at home. Jenks is almost in the same scenario, but the Trojans' stellar defense is one of the main reasons they have gotten the job done. The two specific games were the 22-0 shutout against Union and the 31-14 win at Broken Arrow. Another reason that this Trojan team is dangerous is only losing to Bixby 23-15 especially since Bixby is pretty much blowing out everyone else on their schedule. Two teams on a winning streak in a tough Edmond atmosphere will be very dramatic.
4. #4 Lawton MacArthur 6-0 (3-0 in 5A-1) @ #8 Noble 5-1 (3-0 in 5A-1)
The Highlanders of Lawton Mac have a long road trip ahead of them this week when they travel to the Noble Bears. And I mean it…… these could be the Bad News Bears of Oklahoma. Noble went 4-7 last season and the Bears are just three spots shy of reaching the top-five in 5A. Despite losing to Midwest City earlier in the season, 14-12, the Bears have scored at least 40 points or more in all five of their wins this season. There is a lot of promise for this program and this offense will be a huge challenge for the Highlanders defense.
5. #5 Sand Springs 5-1 (2-1 in 6AII-2) @ #1 Bixby 6-0 (3-0 in 6AII-2)
I will have to say that 70-7 win at Choctaw last week might have been the most impressive win I have ever seen out of the Bixby Spartan powerhouse. This program has literally been a dynasty. I still can't get over the fact that the Spartans have won six out of the seven 6A-II state championships since the new class formation in 2014. But you have to admit that the Sand Springs Sandites have been the most surprising team in the class for 2021 considering last season was the first season they earned a winning record since 2016. They may have lost a heartbreaker last week to Booker T. Washington, but they could still finish out the year strong and be the 6A-II most improved team. It'll be interesting to see what they have to show to Bixby this week.
|

Michael Swisher
Remember us? We are back after a couple of weeks off, ready to give you the crystal ball into week 7 of high school football in Oklahoma.
Lots of good games on tap this week, so let's dive into it.
#4 Sand Springs @ #1 Bixby
#1 Holland Hall @ #7 Berryhill
#2 Lincoln Christian @ #4 Seminole
#5 Metro Christian @ #10 Victory Christian
|

Michael Swisher
The Beggs Demons stunned two-time defending state champ Metro Christian 24-22 last Friday to take a big step toward a potential District 2A-7 championship.

The Demons never completed a pass, but instead rode the legs of C.J. Brown and Red Martel.
The duo combined for 257 rushing yards as Beggs took the lead late in the first quarter and never surrendered it.
The win bumped the fourth-ranked Demons to 5-1 overall and 3-0 in the district and in a tie with Victory Christian.
Second-ranked Metro Christian dropped to 4-2 and 2-1.
The Patriots turned it over on their first two possessions of the game as Beggs forced a fumble on the second play from scrimmage and then safety Braylon Davis picked off Metro's Kirk Francis after the Patriots had driven inside the Beggs 10.
That set up a 51-yard touchdown run by Brown. Ayden Hamilton's keeper on the conversion made it 8-0 late in the first.
The following Patriot drive saw Francis pass for 70 yards all the way down the field and Tagg Campbell punched in the touchdown with a 3-yard run. After the extra point by Brayden Haveman, the Demons' lead was down to 8-7 with just seconds left in the first quarter.
Later in the second quarter, Beggs punter Chance Jordan pinned the Metro Christian offense inside its own 10.
On second down, Francis dropped back to pass and delivered a short crossing route that got tipped and bounced around.
Demon defensive lineman Chance Jordan came away with an interception and walked easily into the end zone.
Another Hamilton two-point conversion gave Beggs the 16-7 halftime lead.
Metro Christian thwarted a Beggs drive to open the second half by forcing a fumble.
The Patriots capitalized and turned that into points when Francis found Seth McCoy for a 17-yard touchdown.
McCoy bounced off multiple Demon defenders and dove in to the end zone before Dax Dancer's two-point conversion shortened the deficit to 16-15.
After the fourth quarter featured both defenses stepping up, the game was ultimately decided on back-to-back plays.
Metro Christian drove inside the Beggs 10 with under 5:00 to play.
Campbell got three straight carries, but was short of the goal line.
On 4th and goal from the 2, Metro called his number again.
Campbell took the carry to the left, but lost the ball while crossing the goal line.
After a discussion between referees, it was determined he fumbled before crossing the line, giving the ball to the Demons on the touchback.
On the very next play, Martel took off for an 80-yard touchdown run.
The two-point conversion was good, again by Brown, and the Demons led 24-15 with under four minutes remaining.
Metro didn't fade away.
The Patriots quickly drove the field, bolstered by Francis' passing and a 28-yard run by Campbell.
Francis eventually scored on a 1-yard run, pulling the Patriots within two points with under 2:00 left.
An onside kick was recovered by Beggs and the Patriots had all three timeouts at their disposal.
Four straight plays by the Demon offense were turned away and Metro Christian had hope as the Patriots had 46 yards to go and no timeouts.
Francis threw three straight incompletions and faced a 4th and 10.
A Hail Mary attempt came up short as the ball traveled just out of reach of receiver Walker Holder, who was alone in the back of the end zone, allowing Beggs to hold onto the win.
Martel finished the game with 129 yards on just 11 touches for Beggs while Brown finished with 23 carries for 122 yards.
For Metro Christian, Francis was 26 of 43 for 310 yards. Speedster J.J. Shelby was his favorite target, but Reid Roth finished with over 100 yards receiving.
The Patriots were hurt by four turnovers - two interceptions by Francis and two fumbles.
Metro Christian can keep itself in the district title race this week when it travels to Victory Christian.
Beggs hosts Morris this week and its showdown with Victory Christian looms in Week 10.
|

Michael Swisher
This week is full of rivalries, rivalries and more rivalries. Let's talk about the fact that there's another #1 vs #2 matchup, a 5A rivalry featuring the top two teams in their district already having two losses and the classic Mid-Del showdown. There is a lot to look forward this week and you definitely won't want to miss any of the action.
1. #1 Bixby 5-0 (2-0 in 6AII-2) @ #2 Choctaw 4-1 (2-0 in 6AII-2)
Revenge? A rematch of the 2020 6AII state championship? A fight to claim first in the district? Yeah, this is no doubt the best game of the week and possibly the game of the whole regular season. This is also one of the biggest home games for Choctaw in its school history. I'm also pretty sure almost the entire state of Oklahoma - outside of Bixby - will be rooting for the Yellowjackets to take down the two-time defending state champion Bixby Spartans. This game will determine a lot of seeding implications, but this could once again be the title game. The top-ranked Spartans just came off of yet another blowout win against a Putnam City West team that didn't score until the fourth quarter in a game that was 67-0 at halftime. But we can't forget about two weeks ago when Choctaw claimed a statement win against Booker T. Washington, 29-20. Out of all of the Yellowjackets' four wins, this was the one they needed the most considering BTW is just behind them in the rankings at #3. Will this be the year Choctaw dethrones Bixby?
2. #6 Carl Albert 3-2 (2-0 in 5A-2) @ #7 Bishop McGuiness 3-2 (2-0 in 5A-2)
Are the Titans back already? After all, it sure seems like they woke up after dropping their first two to Midwest City and Del City. The embarrassing one though was when Eagles of Del City came to Carl Albert and hung 52 points on the Titans. Not to mention that Carl Albert only had a single touchdown in the second half. But since then, the Titans have gotten at least halfway back to themselves. A rivalry win on the road at Guthrie last week? That was the first test. Now they have to go to one of the hardest places in all of 5A. If they steal another one on the road Friday night against the Irish, this will turn from a "rebuilding year" to another championship year really fast. And to surprise everyone on a "rebuilding year"? That's the definition of a top-tier football program. The Irish also lost to Del City earlier this year and they don't have any quality wins on their résumé. But they are the Irish and they are at home and they desperately want revenge against the Titans. This game not only has a big say in who wins the district championship, but it's also been a state championship preview. Carl Albert has defeated the Irish in the last two 5A title games and four of the last five. Anything can happen. I've heard from a Carl Albert graduate that this is probably the most heated rivalry in all of 5A.
3. #3 Booker T. Washington 4-1 (1-1 in 6AII-2) @ #4 Sand Springs 5-0 (2-0 in 6AII-2)
As mentioned, the Hornets lost a close one in Choctaw a couple weeks back. But if you're a Hornet fan, you shouldn't be too upset about that loss since it's a very talented Yellowjacket team. The Hornets had a big bounce back win at home over Bartlesville 63-0. The blowout was largely behind phenomenal rushing performances by DJ McKinney and Ethan Washington, who each had a pair of rushing touchdowns and over 100 rushing yards. You can't complain about that one bit if you're a Hornet fan. Something that will be interesting though is how the Hornets will respond from a road atmosphere because you know Sand Springs will be fired up to garner a statement win.
4. Midwest City 4-1 (2-0 in 6AII-1) @ #5 Del City 4-1 (2-0 in 6AII-1)
This is the classic Mid-Del rivalry, but few expected either one of these squads to have the kind of season they're having right now. I didn't think we would be talking about even one of these teams beating Carl Albert. But the beauty of high school and college sports is upset after upset. The Eagles have statement wins over Carl Albert, Bishop McGuiness and Stillwater, which is why they have journeyed their way into the top-five in 6AII. A win at home against their top rival could put them up even higher depending on how the teams ahead of them perform.
5. #8 Bristow 4-1 (2-0 in 4A-3) @ #5 Grove 5-0 (2-0 in 4A-3)
Talk about a battle between a high-power offense and a high-power defense. Last week, Bristow scored its only three points in the fourth quarter and managed to win 3-0. You don't hear that kind of score very often. Also a reminder that Wagoner is the defending 4A state champion. Not allowing a single point against Wagoner says a lot. Ever since losing their opener to Cushing, the Pirates of Bristow have allowed an average of 10 points a game. That could be a challenge to Grove. The Ridgerunners may have a high scoring offense, but they are lacking on defense. Having homefield advantage will help the Ridgerunners tremendously, but Bristow has had momentum as well.
|

Michael Swisher
The Del City Eagles manhandled Stillwater 30-7 on the road last Thursday night in a matchup of top-10 6A-II teams.

Del City dominated the line of scrimmage, punishing the Pioneer defense with its run heavy offense.
Del City senior quarterback Virgil Yates shined as the key contributor in the running game along with fellow senior running mate Ethan Lawrence.
The two combined for 44 rushing attempts and more than 350 yards on the ground.
The Del City defense put together an all around great performance by allowing under 300 total offensive yards from the Pioneer offense.
Stillwater only put together one full drive in the third quarter as the Pioneers struggled to execute and finish drives throughout the game.
Stillwater got solid performances from quarterback Gage Gundy and Holden Thompson from the backfield.
Thompson shined late in the game after getting increased touches following the first couple of drives.
The first quarter went on with neither team being able to capitalize on their drives. Del City attempted two field goals and Stanley Johnson made one from 21 yards and missed one from 44 and led the game early 3-0 near the end of the first quarter.
Del City drove down the field to start the second period.
Yates ran in from seven yards out to post the first touchdown of the game.
After a Johnson point after attempt, the Eagles led the game 10-0 with 10 minutes left in the first half.
On the ensuing drive, Gundy found Thompson down the field for a 33-yard gain to kickstart their best drive of the half. After entering Eagle territory, a holding penalty derailed the drive and set up a 4th and 12 at the Eagle 39.
The Pioneers attempted a fake punt where Heston Thompson got the ball on a sweep play.
The Eagle special teams unit was prepared for the play and tackled him for a loss of nine yards.
Two plays later, the Pioneer defense came up with a fumble from running back Jayson Smith.
The Del City defense answered the bell yet again as Jaylin Sweet picked off a Gundy deep pass.
Yates and Lawrence ran all over the defense on the next drive.
Lawrence had a touchdown called back by a holding penalty late in the second quarter.
Johnson had his field goal attempt of 34 yards blocked to end the half and the score stayed at 10-0.
In the second half, Stillwater got the ball first and after a quick first down, its drive sizzled to a stop and punted to Del City.
Yates ran for41 yards on the Eagles' first play to set them up at the Stillwater 25.
Lawrence capped off the two-play drive with a touchdown from there, increasing their lead to 17-0 with just under eight minutes left in the third quarter.
Stillwater answered when Holden Thompson had a 76-yard carry on second down to reach the 1 yard line. This set up a Gundy's touchdown run to shed the Eagle lead to 17-7.
The Eagles answered back even more quickly on the next drive after a long kickoff return by Braelon Adamah.
On first down, = Lawrence executed a 49-yard carry to set up a first and goal. Yates ran in for a touchdown from a yard out to take a commanding 24-7 lead late in the third quarter.
Going into the fourth, the lead looked insurmountable for the Pioneers.
With just under 10 minutes left in the game, Yates found Sweet for a 14-yard touchdown pass for the last score of the game.
In a final ditch effort for the Stillwater offense, they had a drive reach inside the 10 deep in Eagle territory.
The Del City defense was perfect as the Eagles shut the door on a late game score. Three straight plays were stuffed from inside the 3.
Del City would then retain possession from their own 1 and run the clock out.
Del City's defense came up with four sacks and one turnover while the offense dominated the ground.
Yates and Lawrence shined brightest as they combined for over 95 percent of the yards on the ground.
Del City (4-1, 2-0) looked dominant in Week 5 and is now tied with Midwest City atop 6AII-1.
The win sets up a big matchup this Friday between the two.
Stillwater (3-2, 1-1) will look to bounce back in Week 6 in their matchup against U.S. Grant and make a push for the playoffs going into the last five weeks of the regular season.
|

Michael Swisher
The Great Burger Debate
If you watched the premier of the SKORDLE Pay Dirt Pick'Em Show last week, you may have seen the discussion about burgers in Oklahoma and specifically Onion Burgers and the Meers Burger.
One could argue that these are the two most iconic burgers in Oklahoma.
The short debate exchange centered around one guest making the statement "I would eat dog food before I would eat an onion burger."
This was soon followed up by statements promoting the high quality of the famed Meers burger, only to be rebuked with statements basically saying it was "OK" and nothing special.
I have had many El Reno-style (Sid's and Johnnie's) Onion Burgers in my lifetime. I even love making them on my new Blackstone.
I also made my first trip to Meers Burger this past summer to finally check it out and I was glad I did.
As for the Onion Burger, its roots are in the Great Depression when hamburger cost was high, but onions were cheap.
To stretch the hamburger meat supply as well as keep costs down, onions were cooked directly into the patties.
What resulted, almost by accident, was pure greatness!
El Reno even has an Fried Onion Burger Day Festival which I would love to attend some day in the future.
As for Meers, it is definitely a destination food road trip in Oklahoma that everyone needs to make.