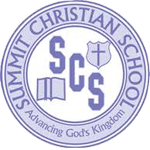 Summit Christian Eagles
Broken Arrow, OK 74012
Volleyball
Football
Boys Basketball
Girls Basketball
Baseball
Fastpitch
Boys Soccer
Girls Soccer
2023-2024 Football Schedule
Record: 1-9 | Unranked
vs Drumright
L
0-46
8/25
@ Garber
64-14
GAME LIVE NOW!
vs Barnsdall
L
6-52
9/8
@ Southwest Covenant
L
52-20
9/15
vs Foyil
W
41-0
9/22
@ Regent Prep
L
55-6
9/28
vs Weleetka
L
0-48
10/6
@ Davenport
L
38-36
10/12
vs Wetumka
L
20-64
10/19
@ Depew
L
64-26
10/27
|

Ben Johnson
We finally took the plunge and did a deep dive into the long-standing public schools vs. private schools debate in Oklahoma. Cashion head football coach (and athletic director) Lynn Shackelford (24:45) joined us to share his thoughts from the public side, and Bishop Kelley athletic director Lance Parks (46:24) offered up some insight from the private school side.
Regardless of which side you're on, both make great points. Both have valid arguments. 
Also, we talk about some recent football commitments, including Broken Arrow's Andrew Raym siding with the Sooners. The chat briefly about OSU's recruiting class after Bixby's Brennan Presley vowed his commitment to the Cowboys.
But perhaps most importantly, we talked food (5:46). Is there a place that we think is overrated? Underrated? FYI: We talked pizza!
Have your own thoughts on food or the public/private debate? Tweet us at @benjohnsontul or @michaelswisher. 
Or send us an email at ben@skordle.com & we'll answer any questions or read comments on the next podcast.
Thanks so much for listening!
Just in case, a few more options to listen to the podcast....
|

Michael Swisher
Zach Edge used to run the pit at Maples BBQ in Oklahoma City.
What started out as just a popular BBQ food truck gained a lot of traction and had locals buzzing about finding Central Texas BBQ right here in Oklahoma, so they built a brick and mortar location.
Maples grew too fast, had a subpar review from regionally-renowned Texas Monthly BBQ critic Daniel Vaughn and - just like that - Maples closed its doors.
Edge learned a lot of lessons from his time at Maple's. After Maple's closed, Edge went back to the drawing board and vowed to persevere.
By going out on his own and controlling all the things he knew were important, he was able to call the shots on everything: The equipment, the building, the employees, the sides, the quality of meat, the wood, the smoker and most importantly - the finished product.

In late summer of 2021, Zach opened the doors to Edge Craft Barbecue.

It's what most believe Maple's could've been. Edge removed all the restraints of being an employee and quickly elevated himself to the top of the BBQ food chain simply by doing it his way.
I was there the day Edge Craft opened and I knew immediately that he nailed it.
Starting out with his custom-made 1,000-gallon offset smoker from Primitive Pits, Edge is already ahead of his competitors.
He's not using propane, pellets, or any other shortcut to perfect his fire. He's using the most basic and most challenging method to cook meat with real fire.
This is where the magic begins and ends. And when you're there, ask to look at the pit; they'll gladly show you!
Edge Craft Barbecue is not possibly or could be, but IS DEFINITIVELY cranking out the best brisket north of the Red River.