Waukomis Chiefs
Waukomis, OK 73773
Football
Boys Basketball
Girls Basketball
Baseball
Slow Pitch
Fastpitch
2022-2023 Football Schedule
Record: 4-6 | Unranked
@ Buffalo
W
14-44
9/2
@ Timberlake
L
46-0
9/9
| | | | |
| --- | --- | --- | --- |
| | @ Timberlake | | Missing Score |
vs Kremlin-Hillsdale
W
62-14
9/16
vs Pond Creek - Hunter
W
36-26
9/23
| | | | |
| --- | --- | --- | --- |
| | vs Pond Creek - Hunter | | Missing Score |
@ Oklahoma Bible
L
58-12
9/30
@ Okeene
L
24-8
10/7
vs Seiling
L
14-62
10/13
@ Covington Douglas
L
48-0
10/21
vs Southwest Covenant
L
14-52
10/28
vs Canton
W
26-22
11/3
| | | | |
| --- | --- | --- | --- |
| | vs Canton | | Missing Score |
|

Michael Swisher
Five generations of Koy Hughes' family have graduated from Garber High School.
He didn't want his son to break that tradition.
With that in mind, Hughes is leaving his post as head football and baseball coach at Waukomis High School to return to his alma mater.
Hughes will be an assistant football coach, serving as the defensive coordinator on Blake Lamle's staff and take over for Lamle as the Wolverines' head baseball coach.
"That's where I'm from and it's just an opportunity I couldn't turn down," Hughes said.
He's served as the Chiefs' baseball coach the last three years, during which time they compiled a 38-39 record. He was the head football coach in each of the past two seasons and guided Waukomis to a 10-12 mark while reaching the playoffs each year.
"To have the opportunity to go learn from Coach Lamle, someone who has won two state titles, was really big for me," Hughes said. "This is something, if I want to be a head coach again, that will really benefit me down the line."
Lamle came to Garber prior to the 2018 season after a five-year stint at Shattuck, the last two as a head coach. His 2017 team won the Class B title and he was the offensive coordinator on the 2015 title team.
"I'm very excited to welcome Coach Hughes back home," Garber superintendent Will Jones said. "This is a huge hire for our athletic program. He brings great experience as a head football and head baseball coach, and more than anything, the bleeds maroon and gray. He takes great pride in being a Wolverine and is going to come in here and grind and work for Garber."
Hughes graduated from Garber in 1999 and played on the 1998 Class B state championship football team.
Hughes was also on some successful Garber baseball teams.
"Garber had a really good run in baseball in the 80s and 90s and I'd really like to help get us back there," Hughes said.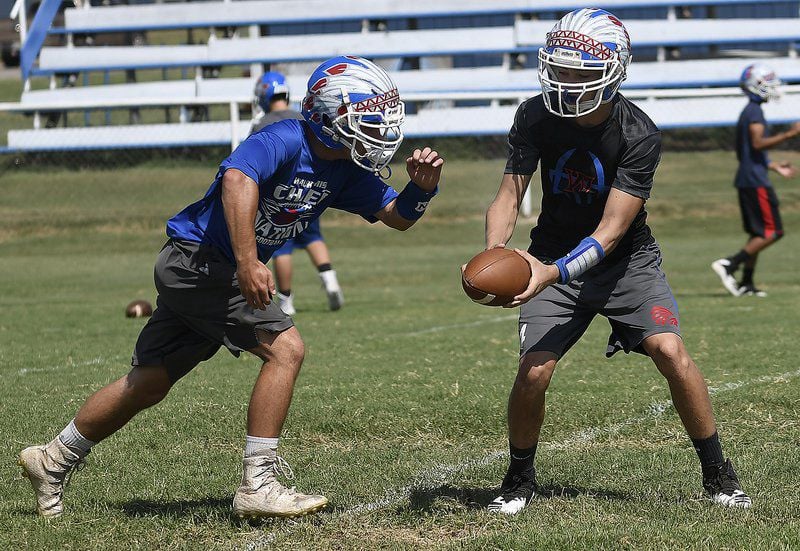 Football | | Tim Godfrey | Enid News & Eagle
Waukomis experienced the "next man up" mentality before the 2018 regular season even began. Just before the Chiefs (0-0) season opener Friday night at Snyder (1-0), sophomore running back Wyatt Felber separated his shoulder. He will be out two-to-four weeks. "That really hurt," Waukomis head football coach Koy Hughes said Wednesday.
|

Michael Swisher
While out trick-or-treating with my kids Monday night, I was having a discussion with some of the other parents in our group about my Halloween experiences as a kid.
I vividly remember always loving the houses that gave away homemade cookies, brownies, caramel apples and - especially - popcorn balls.
I was reminiscing and remembering the good ol' days when people used to hand out these homemade treats and it really made Halloween special.
As my kids were about midway through the evening and collecting a ton of Halloween candy, all three of them came running back to me telling they were just given popcorn ball.
They all wanted to know what it was exactly and if it was good?
Is it good?!?!?!?!?!