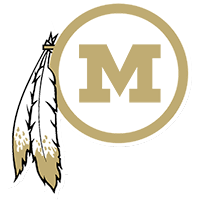 Marietta Indians
Marietta, OK 73448
Football
Boys Basketball
Girls Basketball
Baseball
Slow Pitch
Fastpitch
2022-2023 Football Schedule
Record: 2-1 | Unranked
| | | | |
| --- | --- | --- | --- |
| | vs Valliant | | Missing Score |
vs Valliant
W
21-20
8/26
| | | | |
| --- | --- | --- | --- |
| | @ Plainview JV | | Missing Score |
@ Ringling
L
58-0
9/9
vs Coalgate
W
32-28
9/23
@ Atoka
9/30
7:30PM
@ Davis
10/13
7:30PM
@ Holdenville
10/28
7:30PM
|

Ben Johnson
It's hardware galore as spring sports wind down. Michael and Ben dissect baseball, slowpitch softball, golf, track & soccer as teams and individuals enter the final weekend of competition for this athletic season.
Find out which performances this spring have impressed the guys the most, and listen in as they give props to the outstanding offensive performances at the slowpitch state tournaments that happened to close out the school year.
All that, plus some coaching moves to mention, including Justin Brown filling the shoes left by Larry Callison at Tahlequah Sequoyah. And also some football recruiting tidbits.
Thanks as always for listening.
WE WANT YOUR FEEDBACK! Have a topic you'd like discussed, or have any questions for us, feel free to contact the show at:
EMAIL: ben@skordle.com
@michaelswisher†&†@benjohnsontul
|

Michael Swisher
One of the first blogs I wrote for the Sampler was my annual State Fair of Oklahoma Food Tour.
This has become somewhat of a tradition for me and so many other Oklahomans who go to the fair to eat the unhealthiest, but also most deliciously-satisfying food imaginable.
The State Fair Food Tour is one that you and your digestive system can only handle once year.
You go in excited and leave feeling disgusting and awful, but thatís what the experience, when done properly in my opinion, is supposed to be.
On this trip last weekend, the food order was as follows and I will be breaking them down individually with the positive and the negative of each, but when it comes to the Fair Tour itís almost always positive!