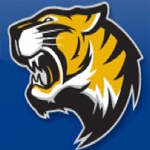 Liberty Tigers
Mounds, OK 74047
Volleyball
Wrestling
Football
Boys Basketball
Girls Basketball
Baseball
Slow Pitch
Fastpitch
2022-2023 Football Schedule
Record: 1-3 | Unranked
@ Chouteau
W
25-26
9/2
vs Ketchum
L
0-34
9/9
| | | | |
| --- | --- | --- | --- |
| | @ Fairland | | Missing Score |
@ Fairland
L
30-29
9/16
vs Stroud
L
13-52
9/23
@ Konawa
9/30
7PM
vs Savanna
10/7
7PM
@ Allen
10/13
7PM
vs Wewoka
10/21
7PM
@ Mounds
10/28
7PM
vs Hartshorne
11/4
7PM
|

Ben Johnson
Jenks has hired Justin Timmerman as its new baseball coach, according to a release from the school on Friday.
"I am extremely excited to be the next head baseball coach at Jenks High School," Timmerman said in statement. "This has been a dream come true for me and my family. Jenks baseball has a rich tradition of building upon that legacy."
Timmerman takes over after coaching Sperry the past sixseasons. During the 2019 season, he eclipsed the career 300-win mark.
Sperry wrapped up a 15-14 season in 2019, and fell just short of the state tournament. Timmerman posted a 117-70 record while leading the Pirates.
Prior to his stint in Sperry, Timmerman spent time as the coach at Liberty High School in Mounds before going to Chouteau. From there, he went to Ponca City before serving as an assistant coach at Oral Roberts for two seasons. He's also spent time as a junior college head coach at Globe Institute of Technology in New York City before serving as the head coach at Boca Raton Community High School in Florida.
At Jenks, Timmerman will take over for Jeff Owens, who guided the Trojans to a 21-15 season and a spot in the 6A state tournament.
|

Michael Swisher
One of the first blogs I wrote for the Sampler was my annual State Fair of Oklahoma Food Tour.
This has become somewhat of a tradition for me and so many other Oklahomans who go to the fair to eat the unhealthiest, but also most deliciously-satisfying food imaginable.
The State Fair Food Tour is one that you and your digestive system can only handle once year.
You go in excited and leave feeling disgusting and awful, but thatís what the experience, when done properly in my opinion, is supposed to be.
On this trip last weekend, the food order was as follows and I will be breaking them down individually with the positive and the negative of each, but when it comes to the Fair Tour itís almost always positive!