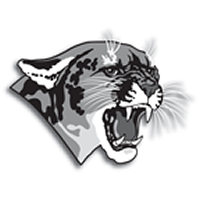 Oklahoma Union Cougars
Coffeyville, OK 74042
Volleyball
Football
Boys Basketball
Girls Basketball
Baseball
Fastpitch
2022-2023 Football Schedule
Record: 0-4 | Unranked
@ Wyandotte
L
22-14
9/2
@ Commerce
L
28-0
9/9
@ Colcord
L
48-0
9/16
vs Morrison
L
0-32
9/23
| | | | |
| --- | --- | --- | --- |
| | vs Morrison | | Missing Score |
@ Hominy
9/30
7PM
vs Morrison
9/30
7PM
vs Tonkawa
10/7
7PM
@ Woodland
10/13
7PM
vs Chouteau
10/21
7PM
@ Pawnee
10/28
7PM
@ Chelsea
11/4
7PM
Girls Basketball | | Mike Tupa | Bartlesville Examiner-Enterprise
A terrific season by the Caney Valley High School girls basketball team came to a painful end Thursday.
The No. 3-ranked team in Class 2A powered past the No. 11 CV Lady Trojans, 43-27, in a consolation area game at Catoosa.
Caney Valley ended its season at 20-7 ó and with multiple top accomplishments.
The Lady Trojans captured the championship in their own tournament by thumping Oklahoma Union, 58-25 and also won both the Copan and Pawhuska tourneys. In the district playoffs, they nearly doubled Nowata, 47-24, to advance to the regionals. At the regionals, they beat Oklahoma Union again, 46-31, but then lost to Kiefer and Dale to end their campaign.
|

Michael Swisher
One of the first blogs I wrote for the Sampler was my annual State Fair of Oklahoma Food Tour.
This has become somewhat of a tradition for me and so many other Oklahomans who go to the fair to eat the unhealthiest, but also most deliciously-satisfying food imaginable.
The State Fair Food Tour is one that you and your digestive system can only handle once year.
You go in excited and leave feeling disgusting and awful, but thatís what the experience, when done properly in my opinion, is supposed to be.
On this trip last weekend, the food order was as follows and I will be breaking them down individually with the positive and the negative of each, but when it comes to the Fair Tour itís almost always positive!