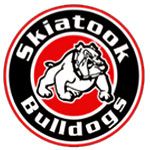 Skiatook Bulldogs
Skiatook, OK 74070
Volleyball
Wrestling
Football
Boys Basketball
Girls Basketball
Baseball
Fastpitch
Boys Soccer
Girls Soccer
2019-2020 Football Schedule
Record: 6-4 | Unranked
@ Glenpool
W
8-17
9/6
vs Oologah
L
29-34
9/13
vs Nathan Hale
W
45-12
9/20
@ Pryor
L
38-30
9/27
@ Tahlequah
L
26-22
10/4
vs Tulsa Memorial
W
43-0
10/11
vs Will Rogers
W
40-0
10/17
@ Claremore
W
27-34
10/25
vs Collinsville
L
25-27
11/1
@ East Central
W
14-54
11/8
|

Ben Johnson
Class 5A preview
Rankings
**1. Carl Albert - Dadrion Taylor ran for 1,365 yards and 24 touchdowns last season, but now he passes the torch to Javion Hunt, who holds offers from Arkansas, Iowa State, Ole Miss, Texas Tech and several more (only in-state offer is Tulsa).
2. Bishop Kelley - Plenty of notable names on this year's Comets roster, but don't surprised when Cori Lewis' name is in high demand on the recruiting trails by midseason (if not before then).
3. Collinsville - Cardinals lose Grayson Boomer and Jake Tuttle from last year's 5A semifinal team. But Collinsville always finds a way to replace departed talent and keep on winning.
4. Bishop McGuinness - Get ready for a lot of Dominic Richardson, a TCU commit, this season.
5. Edison - Running back Sevion Morrison burst onto the scene last season and rewrote several Edison records en route to 2,761 yards and 38 touchdowns.
6. Guthrie - The Bluejays always manage to have a stout defensive unit, and 2019 shouldn't be any different. Should be Hector Goosby and Tervae Williams anchoring this season's defensive efforts.
7. Duncan - A lot of talented players in 5A, and Jai'Vion Dangerfield could be the most unheralded of them all.
8. Tahlequah - He may be small (5 feet, 7 inches and 170 pounds), but running back Dae Dae Leathers has been nothing but productive when he's on the field.
9. Ardmore - Last season's 5A runner-up will have to move on to 2019 without several key contributors from 2018 -- Brayden Bryant, Sitani Lemeki, Tero Roberts, Cameron Petties, Trenzel Johnson and several more.
10. Claremore - Zebras with no lack of skills guys this season, including Dylan Kedzior, Quention Skinner and Jace Hightower.
**2018 state champion



Premier players
District 5A-1
- Racer Felter (Lawton Mac): Senior quarterback leads a senior-heavy squad that could make a run this year in 5A.
- Jai'vion Dangerfield (Duncan): A two-way playmaker who had 1,100 receiving yards and 15 total touchdowns, with one on an interception and two on punt returns. "He's the real deal." -- Duncan head coach JT Cobble.



District 5A-2
- Dominic Richardson (Bishop McGuinness): TCU commit embarks on a senior season as the Irish's central figure in a potential title run.
- Reise Collier and David Peters (Carl Albert): Two tackling machines combined for 328 takedowns for the Titans in 2018.
- JD Coonfield and Tervae Williams (Guthrie): Combined for 197 tackles and five interceptions in 2018.
- Dylan Hampton (Piedmont): Threw for 1,338 yards and ran for 375 yards during his junior campaign.



District 5A-3
- Blake Lair (Coweta): Hauled in an impressive 952 yards and 15 touchdowns on 47 catches as a junior in 2018.
- Chris Hilton (McAlester): Senior-to-be quarterback could thrive in first-year head coach Forrest Mazey's offense after passing for 1,032 yards and nine touchdowns, while adding 625 yards on the ground last year.
- Zach Middleton (Bishop Kelley): Oklahoma State commit is a standout as an offensive ball carrier, but shines on defense and leads a stout Comets' defense.
- Makai Blades (Glenpool): Speedster could cause problems for opposing defenses if his offensive line creates proper running lanes.



District 5A-4
- Jace Hightower (Claremore): Senior tailback has committed to Air Force after running for 1,138 yards and 10 touchdowns last season.
- Jayden Garner (Skiatook): Dynamic offensive weapon for the Bulldogs, who once got the same production out of Jayden's brother, Shae.
- Dae Dae Leathers (Tahlequah):




Our best guess(es)
Michael Swisher: Carl Albert -- The Titans will have to tussle with the Bishops (Kelley and McGuinness) along the way, but until one of them - or someone else - gets the job done, I'm not betting against the westside power. Carl Albert is chasing history this season, which will add to the pressure, but will have enough to lift yet another gold ball and etch its name in the winning streak book.

Whitt Carter: Carl Albert -- Hold on to your butts - Carl Albert is loaded again. This will certainly come to an end sometime and they could finally lose this year, as hilarious as that sounds. But they are winning 5A again, regardless of whether the streak continues or not.

Ben Johnson: Carl Albert -- I like Bishop Kelley a lot, but can't deviate from the norm. Boring, I know.




|

Ben Johnson
It's that time of year again. Summertime has arrived, and high school sports fans are left waiting for more games in August. But fear not! The Publics and Privates OKpreps Podcast will help get you through the slow months.
This week the guys recap some state tournament baseball, including Edmond Santa Fe and Pryor winning titles for the first time for both programs. The guys also look back on the memorable moments from the 2018-2019 athletic season, including some cross country, football, basketball and much more.
The podcast closes out with Swisher breaking down this week's Skordle Shootout in Cushing. A solid field of small school hoopsters will be at Cushing Middle School, and Swisher gives you all the details you need to stop by and watch some basketball.
We'd welcome your feedback! Tweet at us - @michaelswisher & @benjohnsontul
|

Ben Johnson
The state's flagship wrestling program will have a new coach when the 2019-2020 season begins.

Perry's Ronnie Delk was hired as an assistant coach at Bentonville High School, after the school board in Arkansas approved the move Monday.
Delk took over at Perry prior to the 2011-2012 season and guided the Maroons to eight straight dual state wrestling titles. He also helped the Maroons garner five team titles during his eight years, giving Perry now a state-best 43 state championships.
The two-time state champion from Collinsville heads to Arkansas after three of his Perry wrestlers won individual titles in 2019. Ryan Smith (113), Dylan Avery (132) and Hadyn Redus (152) were all state champions for the Maroons at State Fair Arena in February.
After having a season-best six individual champions in 2018, Delk departs Perry having coached 16 individuals to state championships, including Smith, Avery, Redus, Cale Betchan and David Thomas all being two-time state champions during that time.