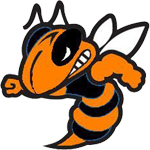 Booker T Washington Hornets
Tulsa, OK 74133
Football
Boys Basketball
Girls Basketball
Baseball
Fastpitch
Boys Soccer
Girls Soccer
2017-2018 Football Schedule
Record: 8-4 | Rank: 5
vs Stillwater


OSSAA Semifinals at Owasso

L
28-38
11/16
vs Del City
W
27-8
11/9
vs Sand Springs
W
48-21
11/2
@ Ponca City
W
7-27
10/26
vs Muskogee
W
47-26
10/18
@ Sapulpa
W
3-20
10/12
vs Shawnee
W
54-0
10/5
@ Bixby
L
21-7
9/28
vs Bartlesville
W
43-6
9/20
vs Mesquite Horn
L
7-36
9/8
vs Bishop Kelley
W
24-14
8/31
@ North Little Rock
L
29-28
8/25
|

Ben Johnson
Bixby has been stingy when it comes to hoarding football championships. The Spartans have won four of the past five Class 6AII championships, and don't expect them to slow down anytime soon.
What Bixby hasn't claimed often since the turn of the century has been wrestling titles. Nic Roller's individual championship at 220 pounds in 2016 has been the Spartans' only crown since 1998.
But freshman Zach Blankenship is out to change all of that.
At 120 pounds, Bixby's wrestling phenom is 24-0, and that includes four tournament championships to his credit so far.
"I didn't really think I'd be having the season I am now," Blankenship said. "I'm just thankful that I've been having this much success."
Bixby came up short in its pursuit of the District 6A-7 crown on Tuesday night with a loss to Jenks, but Blankenship posted two victories and collected another one by forfeit. Those came only days after winning the Jerry Billings Invitational at Sapulpa, where he won by fall at 1:43 in the 120 finals against Collinsville's Rocky Stephens, a 5A state champion at 113 last season.
"Zach has risen to the occasion and made a name for himself in the high school realm," Bixby coach Brock Moore said. "He goes hard every second of every match and makes good things happen. He wants to wrestle the best guys he can. He's fun to watch and coach."
To reach the finals in Sapulpa, Blankenship won by fall against Sand Springs' Riley Weir, who won last year's 113 championship in 6A.
"His most impressive win so far might've been at Sapulpa, where he beat two-time state champion Riley Weir," Moore said. "And that's saying a lot for someone who has 21 wins by fall this season."
Blankenship started the 2019 calendar year by winning the Larry Wilkey Invitational at Jenks. He knocked off Stillwater's Cade Nicholas 4-2 in the finals.
"As a freshman, he has won four tournaments and has also been named the most outstanding wrestler at each of those tournaments, too," Moore said. "I haven't ever seen or known of another freshman to do that."
Announcing his presence at the varsity level, Blankenship won the 120-pound division at the Perry Tournament of Champions in December. He cruised through the entire field with all of his victories by fall, including pinning Edmond Memorial's Garrett Johnson at 3:32 for the 120 crown.

Not bad for someone who was wrestling among the junior high ranks not too long ago.
"The biggest difference between varsity and junior high has been the kids I've had to wrestle," Blankenship said. "In junior high, the kids I had to wrestle were usually my age and size. In varsity, I've had to wrestle a lot older and bigger kids, which has made it a lot tougher.
"I'm just fortunate to have great coaches and parents who help me get better every tournament."
'Wrestleback' Wildcats win Carl Albert tourney
It was Skiatook, Duncan, Piedmont and Altus vying for the Malcolm Wade Invitational crown at Carl Albert on Saturday, and with a quick glance it doesn't appear as though Piedmont fared well. But on the contrary, Piedmont managed to claim the team title with only one individual champion.
The Wildcats, led by Josh Heindselman's triumph at 285, finished with 242.5 points and won the tournament title. Skiatook (226) and Duncan (219) rounded out the top three.
"We were excited to win it," Piedmont coach Erik Ford said. "We knew we had a chance going into the tournament. On Saturday, it was really exciting to see our guys score a lot of bonus points and really wrestle well on the backside of the bracket to give us the push that we needed."
In the final match of the tournament, Heindselman recorded a pin at 2:37 against Lawton MacArthur's Montana Phillips, who won last year's 5A championship at heavyweight.
"Josh has been really impressive," Ford said of the University of Oklahoma signee. "He weighs about 225 right now, so he is really wrestling up a weight. He has found another level as far as his movement and attacks go. His pressure and constant attacking has been the most impressive part about his wrestling this year. It has really allowed him to negate some of the size that he is giving up against heavyweights."
Piedmont finished the tournament with 10 wrestlers recording top-six finishes. Tabor McLure (138) and Landis Scoon (152) both came in second place, and Mitchell Lance (132), Braden Culp (170) and Austin Cooley all posted third-place finishes atop the consolation bracket.
"Our guys learned that they can wrestle with some of the top 5A teams in the state," Ford said. "…Our guys understand that winning the Carl Albert tournament is huge for our program, but they also know that our end-of-season goals as individuals and as a team are what we have been working for all year. And we'll continue to work on those going forward."
Other wrestling notes
- Edmond North picked up 194.5 points and won the Central Oklahoma Athletic Conference (COAC) Tournament title on Saturday. Mustang was second at 191.
- Tuttle cruised to the Greg Henning Invitational crown on Saturday with 362 points.


Prep hoops notes
- There's a new No. 1 in Class 6A boys after Edmond Memorial beat Edmond Santa Fe 56-42 in the championship game of the Bishop McGuinness Classic. Edmond Memorial was ranked fifth Saturday and moved up to 6A's top spot, while Edmond Santa Fe dropped from No. 1 to third. Booker T. Washington is second in between the two.
- Crushing the field in the Putnam City West Invitational wasn't enough to move Heritage Hall (14-0) to the top of the 4A coaches' poll. The Chargers are still second behind top-ranked Kingfisher (11-1). Heritage Hall's Trey Alexander scored 31 points and grabbed 12 rebounds in the Chargers' win over PC West in the finals.
- It's a big week for the state's two smallest classes as playoff assignments will be released Friday by the OSSAA (as if 95 percent of the coaches don't already know, through the grapevine, where they're headed). We're told David Glover, who makes the assignments for 4A and below, was about 99 percent finished with the assignments early this week. A committee meeting was held Wednesday, which generally leads to a few tweaks. Most of those are host sites, although sometimes teams are moved to different regionals or areas as a result of those meetings. No doubt a lot of people will be up in arms once the assignments are released, but that happens every year. What it does signify is that the playoffs are near and we all love that part of the season.
- One of those small school teams got a big boost during the holiday break. The Duke boys, already undefeated and ranked second in Class B, added Jameson Richardson to the roster at the beginning of this semester. Richardson, a 6-foot-8 junior forward with a load of versatility, transferred from his hometown of Mangum. He averaged right around 20 points and was a solid rebounder and rim protector for Mangum in his eight games prior to the move. Duke was already manhandling most opponents before his arrival, but hasn't been played closer than 18 points (61-43 over Granite last week) since his arrival.
- Next week is the biggest tournament week of the basketball season and it will be loaded with top matchups. However, a couple of No. 1 vs. No. 2 showdowns already took place during girls championship games during last week's slate. In Class 2A, top-ranked Dale held off No. 2 Howe 65-55 at the Kingston New Year's Classic. Howe's Jalei Oglesby was "held" to 31 points. "She missed a few shots and eventually fouled out or she would have had more," said first-year Dale coach Eric Smith, who led Alva to a pair of titles and got Frontier to last year's Class A title game. "She is unbelievable." Dale, led by Lacey Savage's 18 points, improved to 14-1 with the victory, which very well could have been a state championship preview. Down in Class B, No. 1 Hammon defended its Warrior Classic championship by earning a 50-44 come-from-behind win over No. 2 Lomega. Last year, Hammon was No. 2 when it beat No. 1 Lomega in the finals and it carried that momentum to a state championship. This time around, Hammon had to outscore its guests by seven in the second half to win. Five different Lady Warriors scored at least six points, led by 13 from Halee Morris. Kenedie Walker scored seven of her 10 in the fourth quarter. Lomega got 14 points each from Mady Meier and Courtney Fox.
*Photo credit: Steve Doak
** The unflappable Michael Swisher contributed to this report.


|

Ben Johnson
The high school football season can't come to a close until awards are handed out. Over the next week, Skordle will issue its first All-State football teams for large and small schools.

The large schools consist of teams in Classes 6AI through 4A. Small schools included every team from Class 3A through Class C. There are also Player of the Year, Offensive MVP and Defensive MVP named for each individual class.

The teams were chosen by those who covered high school football for Skordle all year long: Michael Swisher, Whitt Carter and Ben Johnson.

So let's get to it. Here is your large school All-State team and class superlatives…


CLASS SUPERLATIVES



Class 6AI
Player of the Year: NOAH CORTES (Broken Arrow) - Running behind the Tigers' massive offensive line, Cortes rushed straight into the Broken Arrow record books during his senior season. The 6-foot, 205-pound tailback compiled 1,958 yards on 261 carries, and he also set a new school record with 35 touchdowns. He finished his career with 4,453 yards and is now Broken Arrow's all-time leading rusher. Also led the Tigers to their first state championship, thanks to a 120-yard effort on 30 carries in the Class 6AI championship game against Jenks.
Broken Arrow coach David Alexander: "Noah was the heartbeat of our team. He led us in the weight room, locker room and at practice. And his hard work showed up big time on game nights."

Offensive MVP: IAN CORWIN (Jenks) - The Trojans' 6-foot, 185-pound quarterback engineered a high-powered offense to 464 points in only 13 games this season. The senior signal caller completed 176 of 290 passes for 2,905 yards and 25 touchdowns. Finishes his Trojans' career as the program's top passer with 8,988 yards and 548 completions. He's also second with 80 passing touchdowns. In a championship game loss to Broken Arrow, Corwin passed for 319 yards and three touchdowns while completing 17 of 28 passes.
Jenks coach Keith Riggs: "Jenks has had a number of great quarterbacks over the years, and yet Ian was able to re-write the Jenks record book for passing statistics. He was a great leader and role model in the offensive huddle, on the practice field and in the film room. As good as he was on the field, he is an even better person; he's humble, involved in a number of school groups and activities and always willing to help others."

Defensive MVP: GAVIN POTTER (Broken Arrow) - It was 1A and 1B in middle of Broken Arrow's defense this season with Potter and Zach Marcheselli. The nod goes to Potter ever so slightly after the Tigers' defense mauled seemingly every opponent it faced this season. Potter, a 6-1, 200-pound senior linebacker, finished with 102 tackles and 23 tackles for loss this season. He also added 11 quarterback pressures, five pass break-ups and two blocked kicks. Anchored Broken Arrow's defense in the state championship game with 10 tackles against Jenks.
Broken Arrow coach David Alexander: "Gavin's explosiveness and his unmatched effort on every play made him a tackling machine in every game we played."


Class 6AII
Player of the Year: QWONTREL WALKER (Stillwater) - In a dynamic offense that also featured quarterback Gunnar Gundy and wide receiver Anthony Bland, Walker stole the spotlight with his running ability this season. The 5-foot-8, 185-pound running back finished with 2,310 yards and 35 touchdowns on 284 carries. Accounted for Stillwater's only two scores in the 6AII title game, finishing with 150 yards on 31 carries against Bixby. He collected 234 yards and two touchdowns in Stillwater's semifinal win over Booker T. Washington.
Stillwater coach Tucker Barnard: "Q is an incredible back. His combination of speed, quickness, power, balance and vision is unlike any running back I've coached."

Offensive MVP: PRESTON COLBERT (Midwest City) - Senior quarterback guided the Bombers to the 6AII semifinals, thanks to 2,427 yards through the air on 147 completions. He completed 53.5 percent of his passes and also threw for 31 touchdowns. He also added 432 yards and eight touchdowns on 61 carries.

Defensive MVP: ETHAN HALL (Bixby) - The Spartans' defense featured plenty of playmakers, but none more so than Hall in the middle of it all at linebacker. The 6-foot-3, 225-pound linebacker racked up 82 tackles with 26 1/2 of those for loss. During a six-game span from Sept. 14 to Oct. 18, Hall notched 17 tackles for loss, including four against Sand Springs. Hall also mixed in 12 sacks, four forced fumbles and one fumble recovery.



Class 5A
Player of the Year: SEVION MORRISON (Edison) - A solid sophomore season in 2017 segued to a monster 2018 for Morrison, who turned in one spectacular performance after another. Against McAlester, Morrison logged 429 total yards and scored seven touchdowns, and he polished off the regular season with a 382-yard, 5-touchdown performance against Ada. That's when the Division I offers started rolling in for the 6-foot, 190-pound junior running back. Morrison finished off his junior campaign with 2,728 yards and 36 touchdowns on 232 carries. He currently holds offers from Arkansas, Iowa State, Mississippi State, Missouri, Nebraska and Nevada heading into this senior season.
Edison coach Tony Daniels: "Sevion is a special player. His vision and how hard he runs the ball down hill, or in open space, is what makes him that way. Track has helped him out a lot this past year, and we cannon wait to see what he can do next season."

Offensive MVP: DADRION TAYLOR (Carl Albert) - Missing a quarter of Carl Albert's season didn't keep "Rabbit" from turning in another monster season. While guiding the Titans to their third straight 5A championship, Taylor rushed for 1,365 yards and 24 touchdowns on 175 carries. The 5-foot-11, 180-pound Utah State commit wrapped up his career with 4,611 yards and 65 touchdowns for the Titans.

Defensive MVP: REISE COLLIER (Carl Albert) - Offenses found little success against Carl Albert this season, and in the middle of it all was Collier, a 6-3, 205-pound junior linebacker. Collier collected 175 tackles, five sacks and two interceptions while leading the charge in Carl Albert's march to a third straight championship.


Class 4A
Player of the Year: SAM BRANDT (Bethany) - Mr. Do It All -- aka Sam Brandt -- is listed first most places as a defender -- a 5-10, 180-pound defensive back. He performed there admirably during his junior season, amassing 76 tackles and seven interceptions while leading Bethany to a runner-up finish in Class 4A. But he also seems to have a handle on his offensive abilities, becoming dual-threat quarterback who put up monster numbers. Brandt completed 175 of 269 passes for 2,615 yards and 27 touchdowns, while also adding 1,262 yards and 25 touchdowns on 191 carries. But please, continue to tout the USA Today's All-State team, one that couldn't even bother to include Brandt anywhere on its roster.

Offensive MVP: CARSON BERRYHILL (Tuttle) - His numbers might not have been as electric as Brandt's, but Berryhill guided the Tigers all the way to the 4A title. The 6-foot-2, 210-pound senior quarterback completed 132 of 233 passes for 2,271 yards and 30 touchdowns. He also rushed for 440 yards and nine touchdowns on 93 carries.
Tuttle coach Brad Ballard: "Carson did everything that a quarterback could do to lead his team to a championship. He was a threat running and throwing the ball. His attitude and leadership was instrumental in our success."

Defensive MVP: DYLAN COFFMAN (Tuttle) - Anchoring Tuttle's stout defense was a 6-foot, 215-pound linebacker this season. Coffman logged 123 tackles, two sacks and one interception while the Tigers' defense yielded only 150 points over the course of 14 games.
Tuttle coach Brad Ballard: "He was the leader of our defense. He started for us multiple year and was among our leading tacklers in each of those. He set the tone for our team every week. One of the most physical players I have ever coached."


LARGE SCHOOL ALL-STATE TEAM



Coach of the Year: DAVID ALEXANDER (Broken Arrow) – In his fifth year at Broken Arrow, Alexander improved to 44-16 with a perfect 13-0 campaign in 2018. The Tigers capped a run to their first championship with a 28-20 victory over Jenks in the Class 6AI title game, one that featured a weather delay of more than two hours. The Tigers averaged 44.5 points per game this season while giving up only 7.9 points.


Offense
QB: Ian Corwin (Jenks) – Passed for 2,905 yards and 25 touchdowns while leading the Trojans to the 6AI championship game.
RB: Sevion Morrison (Edison) – Junior tailback rushed for 2,728 yards and 36 touchdowns on 232 carries for the Eagles.
RB: Noah Cortes (Broken Arrow) – Amassed 1,958 yards and 35 touchdowns on 261 carries for the Tigers during his senior season.
RB: Qwontrel Walker (Stillwater) – Set a new Stillwater single-season record with 2,130 yards. Added 35 touchdowns on 284 carries as a sophomore.
WR: Jeff Foreman (Del City) – Caught 64 passes for 1,247 yards and 16 touchdowns as a senior.
WR: Brennan Presley (Bixby) – Hauled in 67 catches for 1,081 yards and 16 touchdowns as a junior.
OL: Andrew Raym (Broken Arrow) – Paved the way for the Tigers' high-powered offense as the most sought-after offensive lineman on the recruiting circuit. As a junior, Raym rotated all over Broken Arrow's offensive line to give defenses different looks.
OL: Chester Baah (Edison) – University of Tulsa signee anchored the Eagles' offensive line that saw Sevion Morrison re-write the Eagles' record books.
OL: Ricky Stromberg (Union) – Arkansas signee created an array of running opportunities for tailback Darius Boone Jr., and kept the pocket intact for quarterback Peyton Thompson.
OL: Brady Latham (Jenks) – Arkansas signee was the key cog for the Trojans' offensive line that allowed Jenks to score 464 points in 13 games.
OL: Trenzel Johnson (Ardmore) – Senior lineman graded out as the Tigers' top offensive lineman for a unit that guided Ardmore to 368.1 rushing yards and 35.8 points per game.


Defense
DL: Montrell Cozart (Bishop Kelley) – Junior nose guard had seven sacks and 128 tackles to lead the Comets' stingy defense.
DL: Trace Ford (Edmond Santa Fe) – Oklahoma State signee finished the season with 41 tackles, nine tackles for loss and three sacks.
DL: Alphonse Joseph (Carl Albert) – Junior lineman collected 98 tackles and 31 tackles for loss. Even had 16 sacks to pace the Titans' defense en route to their third straight 5A championship.
LB: Ethan Hall (Bixby) – Senior linebacker notched 82 tackles and 12 sacks for the Spartans on their way to another 6AII championship.
LB: Gavin Potter (Broken Arrow) – Senior linebacker led the Tigers with 102 tackles and 23 tackles for loss.
LB: Zach Marcheselli (Broken Arrow) – TCU signee completed his senior season with 101 tackles and 12 tackles for loss.
LB: Dylan Coffman (Tuttle) – Senior linebacker recorded 123 tackles, two sacks and one interception for the 4A champions.
DB: Aaron Stokes (Broken Arrow) – Snagged five interceptions and had 52 tackles for the Tigers during his senior season.
DB: Dax Hill (Booker T. Washington) – Finished with 93 tackles and nine tackles for loss before signing with Michigan.
DB: Cade Cavender (Bixby) – Senior safety had 64 tackles and two interceptions. On offense, rushed for 222 yards and three touchdowns in the Spartans' 34-13 win over Stillwater in the 6AII championship game.
DB: Sam Brandt (Bethany) – Recorded 76 tackles, seven interceptions and a fumble recovery for the Bronchos. Added 3,877 rushing and passing yards combined on offense with 52 touchdowns.


Special teams
K: Noah Rauschenberg (Union) – Set a school record with a 54-yard field goal and finished the season 10 of 16 on field goal attempts.
P: Andrew Wisniewski (Bishop McGuinness) – Averaged 42.7 yards per punt on 34 attempts during his senior season.
KR/PR: Jamie Nance (Blanchard) – Nebraska signee had four touchdowns on 15 kickoff returns, and he averaged 45.2 yards per return. On punt returns, he averaged 25.8 yards per return and two touchdowns.
ATH: Dadrion Taylor (Carl Albert) – Senior tailback led the Titans' offense with 1,365 yards and 24 touchdowns on 175 carries.


Let us know what you think. Leave a comment or send a tweet to Ben Johnson on Twitter. Small school All-State team will be published next week.

* Photo courtesy of Jimmy Gillispie/Stillwater NewsPress
|

Ben Johnson
Not to worry, the track is not set to repeat. It only feels like that.
Jenks is going after another Class 6AI gold ball this Friday. This time, it's not against Union, but instead against a Broken Arrow team that was been on a roll ever since coming out of the chute in August.
It'll be a traditional power taking on a program that is on the cusp of transforming itself into a traditional power. The Tigers could enter that lofty atmosphere, just one year after Owasso did the same thing.

Meanwhile, in Class 6AII, it's Bixby against the revolving door. Since the Spartans made a championship game appearance an annual trip since the advent of 6AII, Bixby has taken on varying number of opponents. Twice Bixby has played Lawton, then there was Sand Springs one time and last year it was Booker T. Washington.
In 2018, Bixby will welcome Stillwater into the title fold. The Pioneers, with perhaps the best quarterback-running back duo on Gunnar Gundy and Qwontrel Walker, will chase their first state title in more than 40 years. What a job Tucker Barnard has done in Payne County.

Now, on to the game previews….


*All games scheduled for Friday at 7 p.m.


Class 6AI


No. 1 Broken Arrow (12-0) vs. No. 2 Jenks (11-1)
Where: Chapman Stadium (University of Tulsa)

Road to the title game
- Broken Arrow: 49-0 vs. Moore in the quarterfinals; 10-7 vs. Owasso in the semifinals
- Jenks: 42-12 vs. Putnam City North in the quarterfinals; 27-24 vs. Union in the semifinals