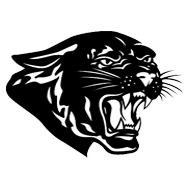 Pond Creek-Hunter Panthers
Pond Creek, OK 73766
Football
Boys Basketball
Girls Basketball
Baseball
Slow Pitch
Fastpitch
2019-2020 Football Schedule
Record: 0-0 | Unranked
vs Kremlin-Hillsdale
9/6
7PM
vs Sharon-Mutual
10/11
7PM
|

Michael Swisher
Basketball has been a part of Jade Jones' life as long as she can remember.
That's not going to change anytime soon.
The point guard who led Pond Creek-Hunter to a state championship and set records at Northwestern Oklahoma State University now has a program of her own.
Jones was hired Tuesday to become the new girls basketball coach at Burlington High School. Her assignment was approved unanimously by the board of education during a special meeting.
"She's got four starters back and a lot to live up to," said Randy Turney, a hall of fame coach and Burlington's athletic director who made the hire.
"But we're excited to have her. She'll do a great job."
Jones takes over a program that's been to the Class B state tournament six straight years under Kirsten Pruett. 
Pruett recently resigned to coach girls basketball at Cherokee.
The beginning of Pruett's string of state tournament appearances was the end of Jones' high school career, one that culminated with her hoisting the Class A gold ball in 2014, giving Pond Creek-Hunter its only basketball title.
Lifting that trophy with her was her coach, Tasha Diesselhorst, also Turney's daughter, who coached Jones since the sixth grade.
Standing nearby was Pond Creek boys coach Darin Jones, who just happens to be Jade's dad and was her fifth grade coach after grooming her for the game all the years before.
In other words, she's surrounded by basketball.
"I think I've had a couple of decent coaches to learn from along the way," Jones said. "Without them, I wouldn't think I'm ready to do this.
"But because of them, I think I'm ready."
After guiding PC-H to a championship, Jones played two years under Kelsi Bond Musick at Southwestern Oklahoma State University.
However, Diesselhorst was hired to turn around the NWOSU program and Jones knew she wanted to be a part of that with her and transferred.
After sitting out one season, Jones played two seasons for the Lady Rangers, wrapping up her career earlier this year.
All the while, Jones was absorbing the game from Diesselhorst.
"If I wasn't playing or in practice, we were constantly talking basketball," she said.
Turney, a mentor to his own daughter, was always nearby.
"After a game we'd talk about it," Jones said. "Maybe you didn't always want to hear what he was going to say, but you'd listen," she said.
Jones said learning from those two and the staff at SWOSU, plus a lifetime of molding from her own father, will shape the kind of coach she plans to be.
"They all made an impact on me," Jones said. "As I go into coaching, I'll take different things from all those people."
However, she didn't know it would be this soon.
Jones was prepared to work with elementary teams at Drummond prior to the Burlington job opening up.
Turney, however, had different plans for her.
"If she's paid attention to what she's been taught since the sixth grade, she'll be alright," he said. "She's been around it all her life. She's done it all in high school and in college. Now it's time for her to take the next step."
Jones feels that step is the right one.
"I think Burlington is without a doubt a good fit," he said. "I grew up in a small town playing basketball. Burlington is a small town and that's all they do there.
"I like the fact that starting the first day, we can be playing basketball."
* Photo credit Tim Billy.
|

Ben Johnson
Christian Heritage's coaching staff wanted to give Zach Hale a break. The Crusaders' senior quarterback/safety had Christian Heritage leading Stroud late in the second quarter, so his coaching staff wanted to give him a moment to catch his breath.
That's when Stroud's Colby Davis returned a kickoff 85 yards for a touchdown. Needless to say, Hale didn't come off the field the rest of the night.
"Funny story now, but it wasn't funny at the time," Christian Heritage coach Tony Merrell said. "One of our coaches asked if we could get him off our kickoff team for one play, because he looked tired or something. They immediately ran the next kick back, and Zach let me know -- as it was being returned for a touchdown -- that he is never coming off the field again."
Then Merrell had a quick second to think.
"I agreed with him," he said.
And once again, it was Hale and Co. crashing the Class A playoff scene last week. Hale passed for 214 yards and four touchdowns, and he also ran for 52 yards. After four of Christian Heritage's five touchdowns, Hale also had a hand in the successful two-point conversions.
On defense, Hale recorded 13 tackles, an interception and a fumble recovery to guide the Crusaders into their first semifinal appearance.
"He has been so good, and he's an All-State safety and he keeps getting better as a quarterback," Merrell said. "We have so many guys that are playing at a high level, and it's just fun to be part of."
Up next for Christian Heritage (9-4) is a date with third-ranked Rejoice Christian at Cushing High School in the semifinals. The Crusaders are a game away from the title game after taking down Ringling, Thomas and Stroud to this point.
"Oh man, what a run," Merrell said. "And really, you have to throw Crescent in there after playing them in Week 10. Those are really good football teams with great coaches. We are playing at a really high level, and to be honest, we are still getting better. We have guys playing their best games of the year these last few weeks."



Class 2A
No. 5 Sperry vs. Adair
Where: Lantow Field (Claremore High School)

Last week
- Sperry 44, Eufaula 13: Beau Teel passed for 132 yards and two touchdowns and rushed for 73 yards and two more touchdowns for the Pirates. Joe Whiteley added three sacks on defense, and he caught four passes for 96 yards for a touchdown for Sperry.
- Adair 38, Vian 27: Austin Hines passed for 360 yards and four touchdowns, and Barrett Bradbury caught 12 passes for 147 yards and three touchdowns. Bradbury then added 18 tackles on defense.

Need to know
- The all-time series is tied at 3-3. The last meeting was last season -- a 50-26 win for Sperry.
- Adair appeared in back-to-back semifinals in 2015 and 2016, going 1-1 with a win over Chisholm in 2015. The Warriors went on to win their only title the same season.
- Sperry has gone 1-5 in semifinal games. The Pirates' only win was in 1968 -- 8-0 against Marietta.


Metro Christian vs. No. 3 Beggs
Where: Collins Stadium (Sapulpa High School)

Last week
- Beggs 36, Kingston 31: TJ Austin scored the game-winning touchdown with 50 seconds left as Beggs rallied to knock off the Redskins.
- Metro Christian 34, Washington 28: Ryan Johnson rushed for 130 yards and caught nine passes for 130 yards. The Patriots turned back Washington on fourth-and-goal late in the fourth quarter to preserve the victory.

Need to know
- The all-time series is 1-1. The last meeting was in 2003 -- a 48-13 win for Metro Christian.
- The Patriots are 1-1 in the semifinals. The lone win was in 2010 against Anadarko.
- Beggs is 3-1 in the semifinals. The Demons beat Sulphur 37-28 in the semifinals last year before losing to John Marshall in the Class 3A playoffs.




Class A