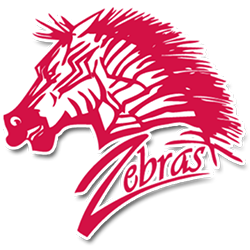 Claremore Zebras
Claremore, OK 74017
Football
Boys Basketball
Girls Basketball
Baseball
Fastpitch
Boys Soccer
Girls Soccer
2017-2018 Football Schedule
Record: 7-5 | Rank: 10
vs Carl Albert


OSSAA Quarterfinals

L
42-6
11/16
@ Edison Prep
W
7-34
11/9
vs Tahlequah
L
17-21
11/2
@ Pryor
W
28-42
10/26
@ Skiatook
W
14-17
10/18
vs Tulsa Memorial
W
34-14
10/12
vs Will Rogers
W
47-0
10/5
@ East Central
W
7-35
9/28
vs Collinsville
L
0-31
9/21
@ Edison Prep
W
21-23
9/14
@ Sapulpa
L
27-7
9/7
vs Bartlesville
L
14-21
8/31
|

Ben Johnson
Medals and trophies have been handed out to wrestlers across the state. Now it's time for basketball teams to start claiming hardware.
Ben and Michael dive into Class A & B state basketball tournaments on tap this week, and they guys also make their predictions in each class.
Ben breaks down what happened at the state wrestling tournament and some of the various highlights along the way. 
Also added a new segment where the guys named their MVPs of the week. Listen in and find out who they dubbed as last week's MVPs.
All that leading up to Michael's interview with Okarche coach Ray West. You don't want to miss what West had to say.
Thanks for listening & enjoy!
Have any feedback? Email the show at ben@skordle.com
|

Ben Johnson
OKLAHOMA CITY -- Time had not completely elapsed off the clock. Yet, Cody Hicks didn't care.
As the final seconds ticked down, Hicks exploded off the mat and ran toward his coaches. One just so happened to be his brother, Colby, standing alongside Durant head coach Jim Taylor in the coaches corner.
"I was just so excited," Cody Hicks said. "I just wanted to get to my brother and my coach, just as fast as I could."
Time expired right as the Hicks brothers shared an embrace, and it marked the first individual state championship for Durant. From now until the end of time, Cody Hicks' name will be listed first when it comes to state champions at Durant.
He etched his name into the Durant record books with a 6-4 victory over Glenpool's Gage Hight in the 145-pound finals of the Class 5A state tournament at Jim Norick Arena.
"It was an amazing moment," said Cody Hicks, a junior who failed to place at 145 pounds at the 2018 state tournament. "I've envisioned that for 12 years now. This is my 12th year of wrestling, and that's what I've dreamt about forever."