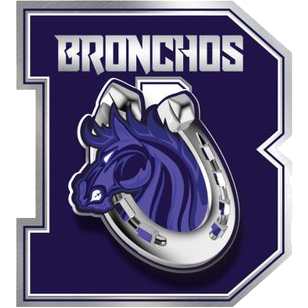 Bethany
Bethany, OK 73008
Football
Boys Basketball
Girls Basketball
Baseball
Fastpitch
Boys Soccer
Girls Soccer
2017-2018 Football Schedule
Record: 12-1 | Rank: 6
vs Tuttle


OSSAA State Championship at Yukon

L
35-28
11/30
vs Tuttle
L
28-35
11/30
vs Clinton


OSSAA Semifinals at Putnam City

W
31-30
11/23
vs Wagoner


OSSAA Quarterfinals

W
35-42
11/16
vs Weatherford
W
38-13
11/9
@ McLoud
W
42-59
11/2
vs Madill
W
56-7
10/26
@ Tecumseh
W
20-38
10/18
@ Cushing
W
22-46
10/12
vs Tuttle
L
7-30
10/5
@ Harrah
W
28-56
9/28
vs Blanchard
W
24-13
9/20
@ Kingfisher
W
35-38
9/14
vs Chisholm
W
40-6
9/7
@ Elk City
W
20-49
8/30
|

Ben Johnson
Drake Vannoy was pressed for time with wrestling season around the corner. Jenks' football season didn't end until Nov. 30, and the Trojans were slated to open their wrestling campaign less than a week later.
Good thing Vannoy had a championship pedigree to rely on.
The junior wasted little time reacquainting himself with the mat, starting the 2018-2019 wrestling season with a first place finish at the Chuck West Invitational in Bristow.
"My performances are starting to improve as I'm getting back into wrestling shape after football," Vannoy said. "I'm starting to like the pace and intensity that I'm going at."
And it would be hard to find any detractors right now, especially after coasting through the 152-pound field at the Jay Hancock Invitational in Yukon last weekend. Vannoy advanced to the finals with four wins by fall, and he capped the tournament off with a 19-2 technical fall triumph over Edmond North's Jayden Villalobos.
"Drake has been dominating this year," Jenks coach Ray Weis said. "He has had some learning matches, but he really imposes his will in most matches."
And he's been doing it since bursting onto the scene as a sophomore last season. Vannoy settled for a third place showing at last season's Class 6A regional tournament, but he avenged his regional loss to Broken Arrow's Brady Mattioda with a convincing victory between the two in the state tournament. Vannoy would eventually claim a state championship at 152 pounds, and this year he's out to defend it.
"Drake is learning what it is like to be a defending state champion," Weis said. "He has learned that everyone is going to wrestle him differently and he has to be intense every match. That has made him a better competitor and wrestler."
With a fourth place finish at the Las Vegas Classic and a second-place showing at the Larry Wilkey Invitational, Vannoy said his main focus is to constantly put his opponents on the defensive.
"The biggest key to my success is my conditioning and ability to push the pace," he said.
Jenks has two regular season duals left against Union and Owasso, and the Trojans will wrestle in the Glenpool tournament before venturing into postseason play, which includes dual state, regionals and the state tournament at the end of February.



Hoop notes…

**The last major tournament week of the basketball season means more than championship trophies and bragging rights.
It's also the last chance for teams to make a major push before Monday's rankings are submitted.
Those rankings are the last ones before the OSSAA releases playoff assignments for Classes 2A, 3A and 4A.
So, for a team like Bethany, which currently sits at No. 11 in 4A, could a win against No. 1 Kingfisher in the finals of the Buckle of the Wheatbelt (IF both make it there) be enough to vault the Bronchos into the highly-valued top-eight?
That's what teams on the edge of the top-eight, whether in or out this week, will be looking to achieve in the biggest tournament week of the year.


**When Oklahoma City Public School Superintendent Sean McDaniel revealed three possible plans as part of its "Pathway to Greatness" initiative to the district school board Tuesday night, there was one glaring fact that would affect the state's basketball landscape.
Each plan listed a number of potential school closings within the district. A few schools were listed in all three of them. One of them was Oklahoma Centennial Mid-High.
Barely a decade old, Centennial is already considered a basketball power.
It won back-to-back 3A championships in 2011 and 2012 and has contended for a title nearly every year since.
The Bison aren't necessarily a power player this year. They're currently 4-9 with two of those wins against home-school program OKC Storm North.
However, much of the rest of their schedule has been a brutally-tough one and the Bison will be a team nobody wants to see come playoff time.
But with the future of the school basically decided, what will become of the program?
Where will the current and future roster be going to school in the future?
What about head coach Kendal Cudjoe, part of one of the most respected basketball families in OKC?
All of that has yet to be decided, but when it happens, there will be a void in 3A and a boost to other programs who benefit from the school's closing.


**A team to watch? How about the Clinton boys.
Not necessarily known for their basketball prowess, the Red Tornadoes are 12-3.
They staked their claim to be ranked Tuesday by knocking off No. 4 Anadarko, 61-48.
They're the No. 1 seed in this week's Tishomingo Invitational. A win there - or at least a strong showing - and the Reds just might be ranked come Monday afternoon.
It likely won't affect their playoff draw much, but it will be a big boost to a program no doubt overshadowed by football.


**If you tuned into our Publics & Privates OKPreps Podcast this week, you heard me say Class B is as far down as I can remember.
That goes for boys and girls.
Doesn't mean there aren't quality teams on either side, but the depth and level of quality just isn't there like it was three, four, five and more years ago.
On the podcast, I was specifically talking about Class B girls.
And - literally - as we were recording that last Friday night, Seiling was hammering home that point.
Class A's top-ranked Ladycats took Hammon out to the ol' proverbial woodshed with a 70-32 beating.
Now, there's no shame in losing to Seiling. It is a team, after all, with two Division I signees in Macy and Karly Gore,
They embarrass lots of foes.
And I don't think the margin of victory would be quite so much should the teams play again.
But, still, there's a large gap between the best teams in A and the best teams in B.
That hasn't always been the case.
*****Michael Swisher contributed to this report



|

Ben Johnson
The high school football season can't come to a close until awards are handed out. Over the next week, Skordle will issue its first All-State football teams for large and small schools.

The large schools consist of teams in Classes 6AI through 4A. Small schools included every team from Class 3A through Class C. There are also Player of the Year, Offensive MVP and Defensive MVP named for each individual class.

The teams were chosen by those who covered high school football for Skordle all year long: Michael Swisher, Whitt Carter and Ben Johnson.

So let's get to it. Here is your large school All-State team and class superlatives…


CLASS SUPERLATIVES



Class 6AI
Player of the Year: NOAH CORTES (Broken Arrow) - Running behind the Tigers' massive offensive line, Cortes rushed straight into the Broken Arrow record books during his senior season. The 6-foot, 205-pound tailback compiled 1,958 yards on 261 carries, and he also set a new school record with 35 touchdowns. He finished his career with 4,453 yards and is now Broken Arrow's all-time leading rusher. Also led the Tigers to their first state championship, thanks to a 120-yard effort on 30 carries in the Class 6AI championship game against Jenks.
Broken Arrow coach David Alexander: "Noah was the heartbeat of our team. He led us in the weight room, locker room and at practice. And his hard work showed up big time on game nights."

Offensive MVP: IAN CORWIN (Jenks) - The Trojans' 6-foot, 185-pound quarterback engineered a high-powered offense to 464 points in only 13 games this season. The senior signal caller completed 176 of 290 passes for 2,905 yards and 25 touchdowns. Finishes his Trojans' career as the program's top passer with 8,988 yards and 548 completions. He's also second with 80 passing touchdowns. In a championship game loss to Broken Arrow, Corwin passed for 319 yards and three touchdowns while completing 17 of 28 passes.
Jenks coach Keith Riggs: "Jenks has had a number of great quarterbacks over the years, and yet Ian was able to re-write the Jenks record book for passing statistics. He was a great leader and role model in the offensive huddle, on the practice field and in the film room. As good as he was on the field, he is an even better person; he's humble, involved in a number of school groups and activities and always willing to help others."

Defensive MVP: GAVIN POTTER (Broken Arrow) - It was 1A and 1B in middle of Broken Arrow's defense this season with Potter and Zach Marcheselli. The nod goes to Potter ever so slightly after the Tigers' defense mauled seemingly every opponent it faced this season. Potter, a 6-1, 200-pound senior linebacker, finished with 102 tackles and 23 tackles for loss this season. He also added 11 quarterback pressures, five pass break-ups and two blocked kicks. Anchored Broken Arrow's defense in the state championship game with 10 tackles against Jenks.
Broken Arrow coach David Alexander: "Gavin's explosiveness and his unmatched effort on every play made him a tackling machine in every game we played."


Class 6AII
Player of the Year: QWONTREL WALKER (Stillwater) - In a dynamic offense that also featured quarterback Gunnar Gundy and wide receiver Anthony Bland, Walker stole the spotlight with his running ability this season. The 5-foot-8, 185-pound running back finished with 2,310 yards and 35 touchdowns on 284 carries. Accounted for Stillwater's only two scores in the 6AII title game, finishing with 150 yards on 31 carries against Bixby. He collected 234 yards and two touchdowns in Stillwater's semifinal win over Booker T. Washington.
Stillwater coach Tucker Barnard: "Q is an incredible back. His combination of speed, quickness, power, balance and vision is unlike any running back I've coached."

Offensive MVP: PRESTON COLBERT (Midwest City) - Senior quarterback guided the Bombers to the 6AII semifinals, thanks to 2,427 yards through the air on 147 completions. He completed 53.5 percent of his passes and also threw for 31 touchdowns. He also added 432 yards and eight touchdowns on 61 carries.

Defensive MVP: ETHAN HALL (Bixby) - The Spartans' defense featured plenty of playmakers, but none more so than Hall in the middle of it all at linebacker. The 6-foot-3, 225-pound linebacker racked up 82 tackles with 26 1/2 of those for loss. During a six-game span from Sept. 14 to Oct. 18, Hall notched 17 tackles for loss, including four against Sand Springs. Hall also mixed in 12 sacks, four forced fumbles and one fumble recovery.



Class 5A
Player of the Year: SEVION MORRISON (Edison) - A solid sophomore season in 2017 segued to a monster 2018 for Morrison, who turned in one spectacular performance after another. Against McAlester, Morrison logged 429 total yards and scored seven touchdowns, and he polished off the regular season with a 382-yard, 5-touchdown performance against Ada. That's when the Division I offers started rolling in for the 6-foot, 190-pound junior running back. Morrison finished off his junior campaign with 2,728 yards and 36 touchdowns on 232 carries. He currently holds offers from Arkansas, Iowa State, Mississippi State, Missouri, Nebraska and Nevada heading into this senior season.
Edison coach Tony Daniels: "Sevion is a special player. His vision and how hard he runs the ball down hill, or in open space, is what makes him that way. Track has helped him out a lot this past year, and we cannon wait to see what he can do next season."

Offensive MVP: DADRION TAYLOR (Carl Albert) - Missing a quarter of Carl Albert's season didn't keep "Rabbit" from turning in another monster season. While guiding the Titans to their third straight 5A championship, Taylor rushed for 1,365 yards and 24 touchdowns on 175 carries. The 5-foot-11, 180-pound Utah State commit wrapped up his career with 4,611 yards and 65 touchdowns for the Titans.

Defensive MVP: REISE COLLIER (Carl Albert) - Offenses found little success against Carl Albert this season, and in the middle of it all was Collier, a 6-3, 205-pound junior linebacker. Collier collected 175 tackles, five sacks and two interceptions while leading the charge in Carl Albert's march to a third straight championship.


Class 4A
Player of the Year: SAM BRANDT (Bethany) - Mr. Do It All -- aka Sam Brandt -- is listed first most places as a defender -- a 5-10, 180-pound defensive back. He performed there admirably during his junior season, amassing 76 tackles and seven interceptions while leading Bethany to a runner-up finish in Class 4A. But he also seems to have a handle on his offensive abilities, becoming dual-threat quarterback who put up monster numbers. Brandt completed 175 of 269 passes for 2,615 yards and 27 touchdowns, while also adding 1,262 yards and 25 touchdowns on 191 carries. But please, continue to tout the USA Today's All-State team, one that couldn't even bother to include Brandt anywhere on its roster.

Offensive MVP: CARSON BERRYHILL (Tuttle) - His numbers might not have been as electric as Brandt's, but Berryhill guided the Tigers all the way to the 4A title. The 6-foot-2, 210-pound senior quarterback completed 132 of 233 passes for 2,271 yards and 30 touchdowns. He also rushed for 440 yards and nine touchdowns on 93 carries.
Tuttle coach Brad Ballard: "Carson did everything that a quarterback could do to lead his team to a championship. He was a threat running and throwing the ball. His attitude and leadership was instrumental in our success."

Defensive MVP: DYLAN COFFMAN (Tuttle) - Anchoring Tuttle's stout defense was a 6-foot, 215-pound linebacker this season. Coffman logged 123 tackles, two sacks and one interception while the Tigers' defense yielded only 150 points over the course of 14 games.
Tuttle coach Brad Ballard: "He was the leader of our defense. He started for us multiple year and was among our leading tacklers in each of those. He set the tone for our team every week. One of the most physical players I have ever coached."


LARGE SCHOOL ALL-STATE TEAM



Coach of the Year: DAVID ALEXANDER (Broken Arrow) – In his fifth year at Broken Arrow, Alexander improved to 44-16 with a perfect 13-0 campaign in 2018. The Tigers capped a run to their first championship with a 28-20 victory over Jenks in the Class 6AI title game, one that featured a weather delay of more than two hours. The Tigers averaged 44.5 points per game this season while giving up only 7.9 points.


Offense
QB: Ian Corwin (Jenks) – Passed for 2,905 yards and 25 touchdowns while leading the Trojans to the 6AI championship game.
RB: Sevion Morrison (Edison) – Junior tailback rushed for 2,728 yards and 36 touchdowns on 232 carries for the Eagles.
RB: Noah Cortes (Broken Arrow) – Amassed 1,958 yards and 35 touchdowns on 261 carries for the Tigers during his senior season.
RB: Qwontrel Walker (Stillwater) – Set a new Stillwater single-season record with 2,130 yards. Added 35 touchdowns on 284 carries as a sophomore.
WR: Jeff Foreman (Del City) – Caught 64 passes for 1,247 yards and 16 touchdowns as a senior.
WR: Brennan Presley (Bixby) – Hauled in 67 catches for 1,081 yards and 16 touchdowns as a junior.
OL: Andrew Raym (Broken Arrow) – Paved the way for the Tigers' high-powered offense as the most sought-after offensive lineman on the recruiting circuit. As a junior, Raym rotated all over Broken Arrow's offensive line to give defenses different looks.
OL: Chester Baah (Edison) – University of Tulsa signee anchored the Eagles' offensive line that saw Sevion Morrison re-write the Eagles' record books.
OL: Ricky Stromberg (Union) – Arkansas signee created an array of running opportunities for tailback Darius Boone Jr., and kept the pocket intact for quarterback Peyton Thompson.
OL: Brady Latham (Jenks) – Arkansas signee was the key cog for the Trojans' offensive line that allowed Jenks to score 464 points in 13 games.
OL: Trenzel Johnson (Ardmore) – Senior lineman graded out as the Tigers' top offensive lineman for a unit that guided Ardmore to 368.1 rushing yards and 35.8 points per game.


Defense
DL: Montrell Cozart (Bishop Kelley) – Junior nose guard had seven sacks and 128 tackles to lead the Comets' stingy defense.
DL: Trace Ford (Edmond Santa Fe) – Oklahoma State signee finished the season with 41 tackles, nine tackles for loss and three sacks.
DL: Alphonse Joseph (Carl Albert) – Junior lineman collected 98 tackles and 31 tackles for loss. Even had 16 sacks to pace the Titans' defense en route to their third straight 5A championship.
LB: Ethan Hall (Bixby) – Senior linebacker notched 82 tackles and 12 sacks for the Spartans on their way to another 6AII championship.
LB: Gavin Potter (Broken Arrow) – Senior linebacker led the Tigers with 102 tackles and 23 tackles for loss.
LB: Zach Marcheselli (Broken Arrow) – TCU signee completed his senior season with 101 tackles and 12 tackles for loss.
LB: Dylan Coffman (Tuttle) – Senior linebacker recorded 123 tackles, two sacks and one interception for the 4A champions.
DB: Aaron Stokes (Broken Arrow) – Snagged five interceptions and had 52 tackles for the Tigers during his senior season.
DB: Dax Hill (Booker T. Washington) – Finished with 93 tackles and nine tackles for loss before signing with Michigan.
DB: Cade Cavender (Bixby) – Senior safety had 64 tackles and two interceptions. On offense, rushed for 222 yards and three touchdowns in the Spartans' 34-13 win over Stillwater in the 6AII championship game.
DB: Sam Brandt (Bethany) – Recorded 76 tackles, seven interceptions and a fumble recovery for the Bronchos. Added 3,877 rushing and passing yards combined on offense with 52 touchdowns.


Special teams
K: Noah Rauschenberg (Union) – Set a school record with a 54-yard field goal and finished the season 10 of 16 on field goal attempts.
P: Andrew Wisniewski (Bishop McGuinness) – Averaged 42.7 yards per punt on 34 attempts during his senior season.
KR/PR: Jamie Nance (Blanchard) – Nebraska signee had four touchdowns on 15 kickoff returns, and he averaged 45.2 yards per return. On punt returns, he averaged 25.8 yards per return and two touchdowns.
ATH: Dadrion Taylor (Carl Albert) – Senior tailback led the Titans' offense with 1,365 yards and 24 touchdowns on 175 carries.


Let us know what you think. Leave a comment or send a tweet to Ben Johnson on Twitter. Small school All-State team will be published next week.

* Photo courtesy of Jimmy Gillispie/Stillwater NewsPress
|

Ben Johnson
It's time to break down championship games for Classes 5A, 4A and 3A -- or I like to call it, the "no east side teams allowed" preview. For real, just look at whose left in these three championship games.
As for the quality in these three games, it's top notch. You have perennial powers, grind-it-out ball clubs and no shortage of extraordinary talent.
Looking for something to do on Friday night in the Oklahoma City area? You have plenty of options, stretching from Yukon to Edmond.

Now, here are your game previews….

*All games scheduled to start at 7 p.m. on Friday



Class 5A


No. 1 Carl Albert (13-0) vs. No. 2 Ardmore (13-0)
Where: Wolves Stadium (Edmond Santa Fe High School)

Road to the title game
- Carl Albert: 28-7 vs. El Reno in the first round; 42-6 vs. Claremore in the quarterfinals; 37-20 vs. Collinsville in the semifinals
- Ardmore: 42-13 vs. Piedmont in the first round; 48-13 vs. Coweta in the quarterfinals; 21-13 vs. Bishop Kelley in the semifinals

What to watch for
- Ground game galore: Carl Albert's Dadrion "Rabbit" Taylor is coming off a monster game against Collinsville - 313 yards and five touchdowns on 32 carries. Then there's Ardmore arsenal of ball carriers, including Tero Roberts, Jadrien Monroe and Cameron Petties. The Tigers are averaging close to 400 yards on the ground per game, and they're coming off a 21-13 win over Bishop Kelley where they ran for 318 yards on 43 carries.

- Ardmore's massive offensive line: Lost amid the big names in this one is the Tigers' massive offensive line. Anchored by 5-foot-10, 305-pound senior guard Trenzel Johnson, Ardmore may possess the largest offensive front, this side of Broken Arrow. Brayden Bryant, Ethan Phillips, Sitani Lemeki and Johnson all check in at more than 275 pounds, and Tafolla mans the center position at 210.

- Tradition or Tigers? Carl Albert has won 35 straight games, and the Titans are basically royalty when it comes to winning championships. Then there's Ardmore, looking for its first title since 1992.

Random facts
- Carl Albert head coach Mike Corley took over in 2017. He's gone 27-0 over the course of two seasons.
- Ardmore head coach Josh Newby took over in 2015. He's gone 40-9 over the course of four seasons.
- Ardmore is 3-2 all-time in championship games -- the last one being a 34-14 win over Douglass for the 5A crown in 1992.
- Carl Albert sophomore quarterback Ben Harris has completed 140 of 240 pass attempts this season for 2,224 yards and 19 touchdowns. For his career, Harris has logged 4,990 yards through the air.
- Junior linkebacker Reise Collier leads Carl Albert on defense with 160 tackles, five sacks and two interceptions.
- Carl Albert has won back-to-back 5A titles -- both wins over Bishop McGuinness in 2017 and 2016 by a combined score of 69-52.
- Carl Albert is 16-7 against Ardmore all-time, and the Titans beat Ardmore in both 2017 (28-12) and 2016 (38-21).
- A title would be ….. Carl Albert's 14th; Ardmore's fourth.

Prediction panel
Michael Swisher: Ardmore over Carl Albert - Man, if we could just stop at the first three classes, I would seem pretty smart. I've nailed all six title game participants so far. I went out on a limb with my Ardmore pick. Only a fool would pick against Carl Albert. Ladies and gentlemen, let me introduce myself, the fool. I could be embarrassed by this pick still, but I feel the Tigers' ground game and stellar defense do just enough to knock off the champs.
Ben Johnson: Carl Albert over Ardmore - Welp, I had Bishop Kelley making the championship game against Carl Albert, so strike one for me there. But I had Carl Albert winning it all, so I've still got that going for me. When the season started, it looked like Carl Albert was the run-away favorite to win another gold ball, and while I'm still picking the Titans, I think Ardmore's got a great shot. With guys like Tero Roberts, Cameron Petties and others, Ardmore will do its best to lean on it size and speed as much as possible. But when it comes down to it, Carl Albert has too much firepower. I know, I know -- what else is new?

Whitt Carter: Carl Albert over Ardmore - Again, this was my pick before the playoffs started and I've seen no reason to change it. Carl Albert is in the middle of an incredible run and they'll be hard to beat with a chance to go for the three-peat and their 36th win in a row. But it won't be easy, as Tero Roberts is the real deal. Again, major props to Tigers' head coach Josh Newby. He has this program at an elite level in 5A and they aren't going away anytime soon. But they will have to wait, as the Titans continue to add to their historic run.



Class 4A